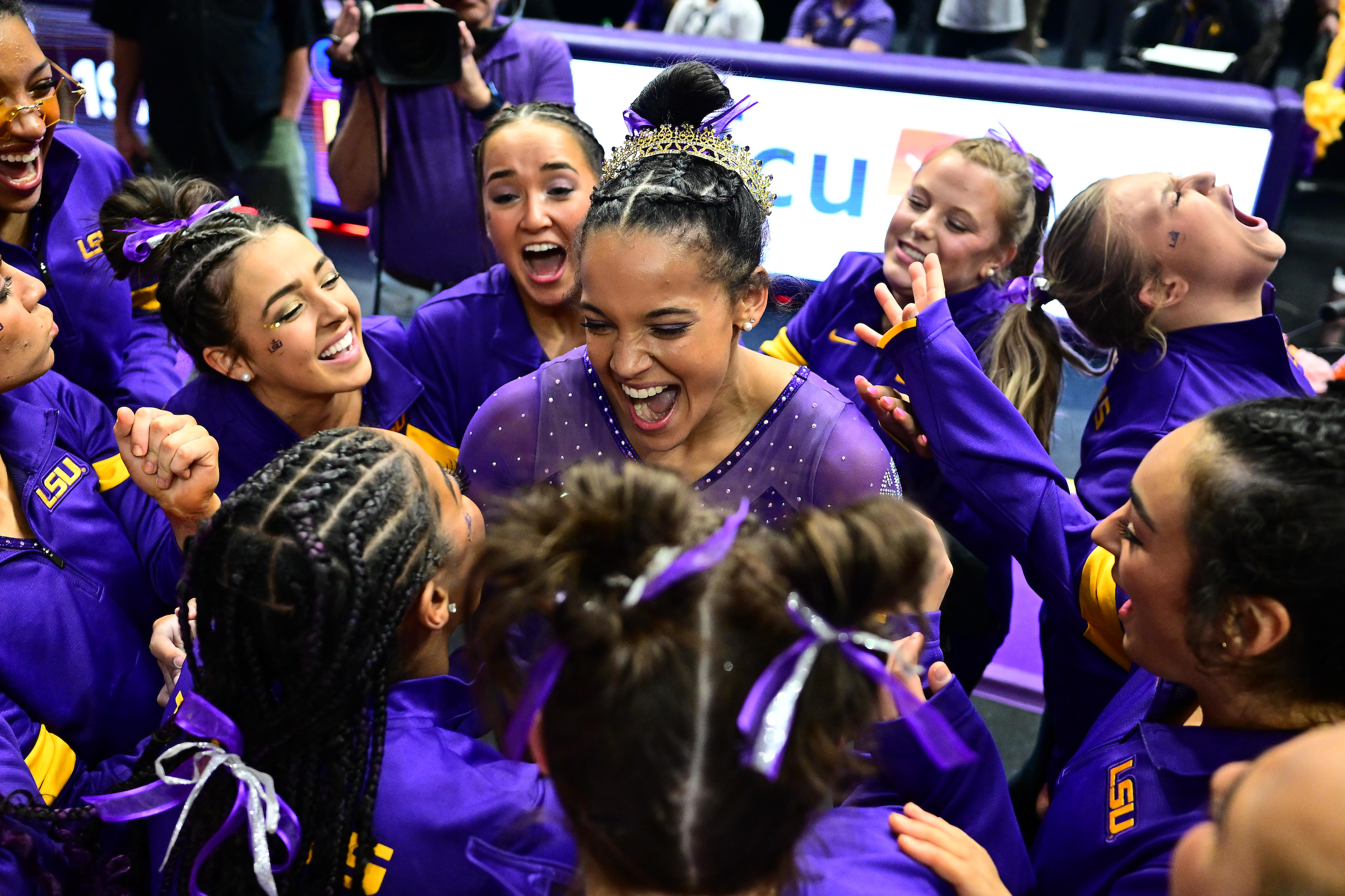 The LSU gymnastics team earned a No. 2 seed in the Denver Regional and will begin NCAA postseason competition on March 31 in Magness Arena.
The squad, which is ranked sixth nationally, will compete for a spot in the 2023 NCAA Gymnastics Championships at Dickies Arena in Fort Worth Texas from April 13-15.
"We are excited to take the next step in our climb out in Denver," LSU gymnastics coach Jay Clark said. "Their program does a good job at hosting these events. I'm sure it will be a good community out there and we hope to see some of our fans come out. There are no easy outs once we get into the bracket and we know we will need to be at our best to advance to the round of 16."
The Denver Regional is one of four regional competition sites held nationally. It will feature No. 14 Denver (host), No. 6 LSU, No. 3 Michigan, No. 11 Oregon State, Georgia, Nebraska, Minnesota, North Carolina and Arizona.
The NCAA Regional berth marks the 40th overall appearance for LSU and 38th straight for the program.
LSU will compete in Session I of the second round against No. 11 Oregon State, Georgia and Nebraska at 3 p.m. CT on March 31. Session II features No. 3 Michigan, No. 14 Denver, Minnesota and the winner of the first-round competition between North Carolina and Arizona at 8 p.m. CT.
All sessions will be streamed on ESPN Plus.
LSU begins the meet on beam. If the squad advances to regional finals they will begin on vault.
The top two teams from each second-round session will face off in the regional final at 6 p.m. CT on April 2. The top two teams from the final will then advance to NCAA semifinals on April 13.
Regional competition features the top 36 teams based on National Qualifying Score (NQS). The Tigers own an NQS of 197.804 heading into the NCAA postseason.
2023 NCAA Regional Sites:
Denver Regional (Denver, host)
LSU
Oregon St.
Georgia
Nebraska
Michigan
*Denver
Minnesota
Arizona
North Carolina
UCLA Regional (UCLA, host)
Utah
Auburn
Southern Utah
Washington
*UCLA
Missouri
Stanford
BYU
Boise St.
Oklahoma Regional (Oklahoma, host)
Alabama
Kentucky
Illinois
Iowa
*Oklahoma
Ohio St.
Arkansas
NC State
Ball St
Pittsburgh Regional (University of Pittsburgh, host)
California
Michigan St.
Western Michigan
West Virginia
Florida
Arizona St.
Maryland
Towson
Penn St.