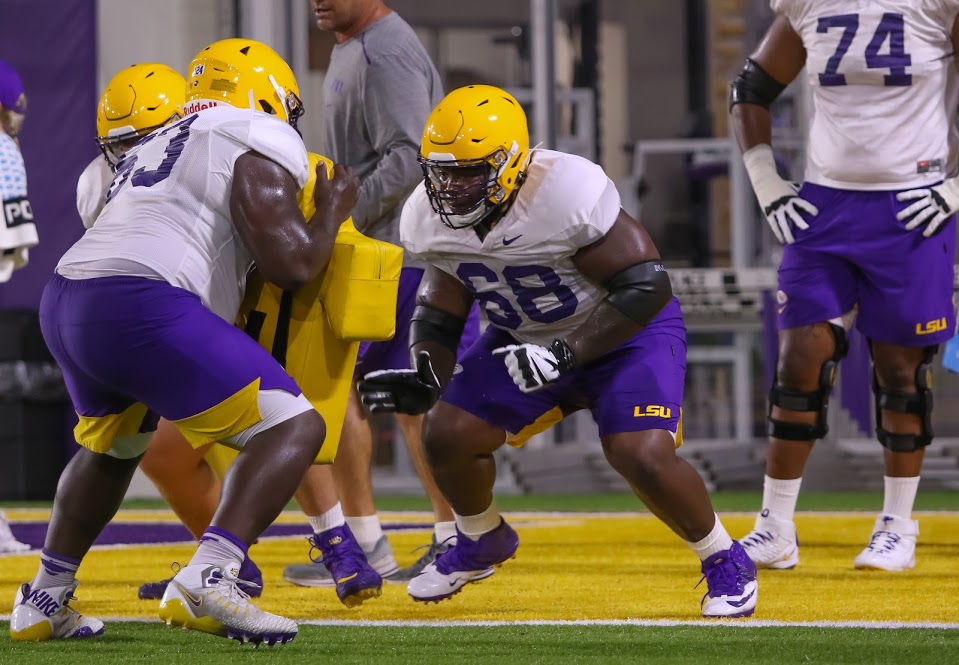 The purpose of the offensive line is simple: Keep the quarterback safe and push the defense back when necessary.
Unfortunately, those two tasks are much easier said than done, and LSU's offensive front hasn't received much help from the football gods in recent years.
Last year's team was riddled with injuries, and it wasn't until very late in the season that the Tigers played the same offensive line twice.
And their luck hasn't gotten much better in the weeks leading up to the 2019 season. Starting right guard Damien Lewis has missed much of camp with a lingering injury, left guard Chasen Hines' appearances have been spotty as he's recovering from a surgery he underwent over the summer and freshman guard Kardell Thomas will be out indefinitely due to an injury he sustained last week.
The blow to Thomas hits especially hard because he had begun to emerge as a real contender for playing time that would have given the Tigers some much-needed cushion.
"It was tough," said LSU center Lloyd Cushenberry. "Like last week before he got injured, he was really getting better. Things was starting to click for him. He was understanding the playbook and he was playing faster. It's just unfortunate that it happened that way."
As a result of playing thin with minimal backups, LSU has taken up cross-training its offensive linemen to play one of any positions along the line.
Hines, when available, can be seen working out behind Cushenberry at center. Senior Badara Traore has been discussed by head coach Ed Orgeron as someone who can play virtually any position along the line. Adrian Magee started last season's opener against Miami as a right tackle. Now he seems to be the favorite to get the left guard spot if Hines can't go.
"Honestly, to me, I feel like it really doesn't throw it off because everybody every day you prepare like your starter," said LSU offensive lineman Donavaughn Campbell. "So no matter where you play, and everybody plays two positions, so you've moved from right to left, left to right, tackle the guard; it doesn't matter. We all going to play the same. We all be on the same page.
"Everybody's playing everything. You never know what you're going to play one day, so you prepare to know the whole offense."
The whole situation has put the offensive line — one of the team's most tenuous units entering fall camp — in an interesting state much different than it figured it would be in.
Entering fall camp, the thought was that the interior offensive line was solid with Hines, Cushenberry and Lewis. With two of those three now questionable less than two weeks before the start of the season, it's the tackles like Saahdiq Charles and Austin Deculus that have emerged as the Tigers' most consistent linemen while the interior tries to figure itself out.
But the inclusion of Charles on the starting offensive line is proof the Tigers can throw someone in the fire to see him come out the other side a quality Southeastern Conference player. He got thrown into the lions den his freshman season and, despite some struggles last season, remains one of LSU's most consistent linemen.
The good news for the Tigers is that last season's injuries almost forced the unit to become balanced. So many players have played so many positions, coaches feel comfortable with any number of combinations up front.
"The more you can do, the more valuable you are to the team," Cushenberry said. "That goes a long way. During the season guys can go down and to be able to be so versatile and move around that's useful for us."