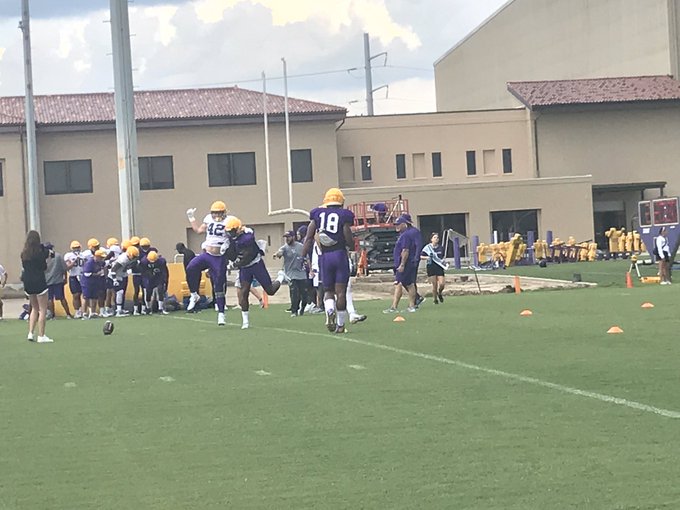 K'Lavon Chaisson knew what the reaction would be when missed practice with what Ed Orgeron called a "minor camp injury."
That's why LSU's star pass rusher took to twitter to defuse the impending public panic: his absence had nothing to do with his surgically-repaired knee.
"Obviously I feel like I'm a big part of the team, and I don't want anybody to be worried," Chaisson said Monday. "It had nothing to do with the knee. The trainers did a great job with the injury, but everything is fine. The injury was minor. We're back now."
The trio of Chaisson, safety Grant Delpit and cornerback Kristian Fulton haven't participated in either of LSU's two preseason scrimmages. All three returned to practice last week after multi-day absences and Orgeron said they'll ramp up their activity as LSU begins to prepare for the season opener.
Chaisson probably could've returned to practice sooner, but he and the training staff agreed it was best to get back to full health first. The season starts in a few weeks, and practicing on a minor injury can cause it to linger into the regular season when there's not much time to rest up.
But don't get it twister: Chaisson, Delpit and Fulton weren't simply sitting around doing nothing while getting healthy.
"Just because we're out physically doesn't mean we're out mentally," Chaisson said. "We're still getting those mental reps. We're still out coaching and getting everything that the other players are getting. Just because we're not out there physically doesn't mean were not getting reps. We're still practicing. We're just not physically practicing and putting the wear on our bodies."
Chaisson specifically spent extra time trying to learn the different techniques and assignments of every player on the field, meaning both offense and defense.
For instance, he was excited to see that the players who filled in knew what they were doing. That proved those back-ups were taking their mental reps seriously when he was out there with the first-team defense.
Those mental reps are especially valuable as LSU implements some of the exotic packages that Dave Aranda drew up this offseason.
Sometimes you'll see Chaisson lined up on the defensive line in rush packages, or even at inside linebacker with versatile players like Michael Divinity or Patrick Queen playing outside. A subtle change like Chaisson lining up on the strong side inside of the week can give an offense trouble.
"It's a good mix-up so offenses can get any tendencies on us," Chaisson said. "You never know who is coming, who is dropping or how everything will go."
That applies to everybody. Chaisson may be LSU's most disruptive pass rusher, but he'll drop out in coverage sometimes just like anybody else.
Chaisson has covered the likes of running back Clyde Edwards-Helaire, tight end Stephen Sullivan and slot receiver Justin Jefferson in practice. Jefferson is a tough matchup, but Chaisson said he can win when he's able to get physical with LSU's leading receiver.
"I can cover man. I'm like Antonio Cromartie in that thing," Chaisson laughed. "I've got a little hip movement in me."
Those coverage skills haven't produced an interception yet this fall camp, but one might be coming. If and when it does, the defensive backs better keep their head on a swivel.
"I'll get a sack-fumble before I get an interception," Chaisson said. "I don't really care too much about interceptions. I get paid for sack-fumbles man. I don't care about the interceptions. The DBs can have that. That's DBU. If I ever get an interception, I'm pitching it back to them. I can't do all that running."