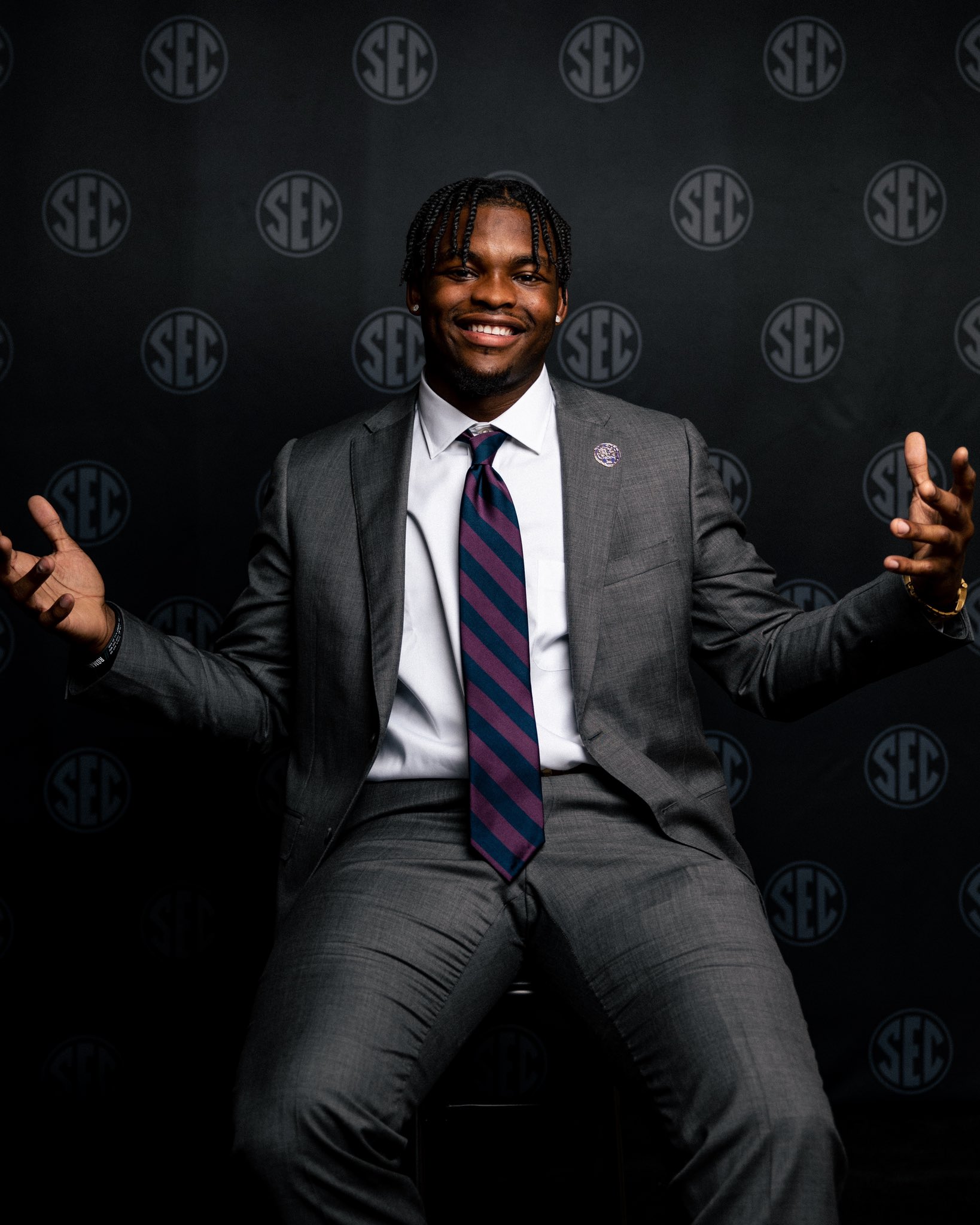 The mega-watt smile never flickered.

Projected starting middle linebacker Mike Jones Jr. was among three representatives from LSU during July's Southeastern Conference Media Days, spreading the gospel of a program geared toward a revitalization. Three seasons ago, the Tigers were the toast of college football, concluding a 15-0 season with a 42-25 victory over Clemson at the Superdome in New Orleans.

Jones could give a first-hand account of LSU's staggering offensive team that season. He spent the first three years of career (he redshirted in 2018) at Clemson playing outside linebacker, starting in seven of 28 games with 47 tackles – featuring a high of eight against Virginia Tech – and two interceptions.

He played on 181 snaps with 19 tackles in 2019, experiencing an increase in '20 to 359 snaps with seven starts in 10 games, with 26 tackles, four TFLs, two interceptions and a forced fumble which set up a touchdown after a 40-yard return.

Jones was voted to the ACC's second team by Pro Football Focus.

The 6-foot-1, 230-pound Jones opted to transfer and, in the summer of 2021, signed with LSU with the hopes of taking on the greater challenge of moving inside and playing middle linebacker. He was used to the unrealistic expectations that can follow prized recruits, the same ones that followed the nation's No. 15 linebacker from IMG Academy to Clemson.

They were waiting for him at LSU as well.

The arrival of Jones was expected to signify next-level performances for a defense philosophically constrained under head coach Ed Orgeron. Instead of flying around the field, making plays and complementing the play of Damone Clark, Jones was mostly parked on the team's sideline.

The workload for Jones was less than extensive, especially for someone with his background and acumen for the game. He played one snap in a season-opening 38-27 loss at UCLA, two snaps in a 24-19 home loss to Auburn and one snap two weeks later in a 49-42 home win over Florida.

"It was tough, man. It was tough," Jones said during Media Day. "But, you know, it's just adversity. It's just life. One thing for me, man: I just really relied a lot on my faith, you know? I'm big on my faith, and I just trusted in God's plan.

"There were times where things weren't going how I thought they were gonna go, but I knew at the end it would work out. That's just how I did it. I kept my head down, just stayed ready and prepared for whatever happened. I just tried to make the most of it."

During his time with LSU's contingent in Atlanta, a nationwide throng of sports journalists hung on every word from the gregarious Jones. If you listened closely, though, he wasn't just depicting the travails of his own team following a 6-7 record, which led to Orgeron's firing and the hiring of Brian Kelly. He was also giving an accurate account reflective of his own journey.

Jones flashed his signature toothy smile at the thought of the individual performance he provided over LSU's last four regular season games. It was an opportunity that presented itself, when after a philosophical shift during the Tigers off week under then-defensive coordinator Daronte Jones, LSU showed off Mike Jones in a much different light.

Eight weeks into the season, Jones broke through.

Against Alabama, LSU's defense played with a different fervor in its first game after the bye week. The lightning-quick speed that was part of the attributes Mike Jones possessed was evident in his first start of the season during a five-tackle, three-pressure performance that helped limit the Crimson Tide (20-14 winners) to a school-record low of 6 rushing yards.

LSU was on to something and allowed Jones room to roam, lining him up in different places on the field played further to his strengths. He was more involved in the Tigers' aggressive game plan, enabling Jones to average four tackles over the final three games in the regular season, including five stops in a 27-24 upset of No. 14 Texas A&M.

He closed with 23 tackles over his last six games, including five each against Alabama and Texas A&M, and had a total of 34 tackles stops for the year. There were also 2 ½ tackles for 16 yards of losses, one sack for minus-13 yards and two quarterback hurries.

"That's definitely … my college advice, for sure," Jones said of dealing with change. "Change is inevitable. It's gonna happen. The best ones are able to adapt to it and make the best of their situations." Rather than ponder a future other than at LSU, Jones adapted to playing for someone other than Orgeron when Kelly, the nation's winningest coach the past 11 years at Notre Dame, officially took over Dec. 1 as the Tigers' new coach.

That signaled changes throughout the program, and for Jones a third new head coach and third defensive coordinator.

"It's a lot of similar things. Everybody's putting in work," Jones said of the offseason differences between Orgeron and Kelly. "The main difference is the way we're working is a little bit different. (Strength and conditioning) Coach (Jake) Flint and guys in the weight room do an amazing job. They're really data based data driven with the way that we work.
"We're constantly working at things that are constantly going to track our speed, track how much we've been running around even with the way we lift. They're tracking our speed with the way that we lift. They've done a good job of taking care our bodies and made sure we're going to go into camp really healthy and be in position to make a run and have a good year of college football."

With Clark, a finalist for the 2021 Butkus Award and leading tackler in the SEC, gone to the NFL as the fifth-round draft choice of the Dallas Cowboys, Kelly and first-year defensive coordinator Matt House targeted Jones as someone who could be a leader on this year's rebuilt defense.

"You need a communicator in the middle of your defense," Kelly said. "He's doing that. He has the skill set. He has experience. So far, it's been a good transition for us with him in the middle."

After spending the majority of his college career playing outside linebacker, along with safety and nickel, where he backed up the eighth overall pick in the 2020 NFL Draft, linebacker Isaiah Simmons, at Clemson, Jones gets what he believes is the opportunity of a lifetime to lead LSU's defense at middle linebacker.

He feels it's a natural fit for the role of middle of 'Mike' linebacker that requires someone of his leadership qualities and on-field intangibles.

"One, my personality. I've always been an outgoing, talkative guy," Jones said. "So, being the Mike, you do have to be very vocal, you have to be kind of that connection between yourself and the defensive coordinator, just on the field. So, I've always been loud. I've always talked a lot. So, that was always easy.

"Also, being able to (do) – and having done – so many different things throughout my career, I think I've been able to see different angles. So, I perceive things differently whenever I'm playing. I can see things in the pass game, because I spent a lot of time out there at nickel, I've played some safety. All those things, I think, just combine.

"And I've got some long arms, and pretty big hands, and I'm not afraid to go hit. All those kind of tie into why I think Mike linebacker has been good for me."

LSU's expected to use a four-man front that may be among the best in the SEC, with two of the league's top defensive ends in BJ Ojulari and Ali Gaye sandwiching tackles Maason Smith and Jaquelin Roy. For the Tigers' defense to function at an elite level under House, a former linebackers coach with the Kansas City Chiefs, the play of the middle linebacker will be of a paramount importance.

The rest of the league, though, didn't hold Jones in very high regard when it came to selecting the preseason All-SEC defense in which nine players were chosen to fill the first, second and third teams. He was, though, selected along with Gaye to the national watch list for the Wuerffel Trophy, college football's award for community service.

Jones is comfortable having to prove his worth on the field at a new position he's brimming with confidence to play.

"Absolutely," Jones said of his being more comfortable at his new position. "A lot of it comes from coach House. I believe I play at a high level anywhere on the field. I got a lot more reps playing inside throughout the spring and now that's my job. It's not, 'I've got to learn how to do this because it's something different for me'.

"Every day when I go out on that field, I'm expecting something of myself, and I'm going to demand of myself, to execute to my coach's level every day at what he asks me to do. That's playing inside the box."

Starting with his ability to run and diagnose plays, Jones has a leg up on the competition to be special at LSU. At 230 pounds, he's big and physical enough in the middle of the defense to take on defeat the blocks of opposing 300-pound centers and guards.

He also has faith in House and the scheme the Tigers plan to run this season.

"I believe the world of our group," Jones said. "That's due to the expectations coach House has put on us but also the way we responded in the spring. Every day we got better. It can get tougher in day eight of practice, you're tired, it's Saturday and it's hot.

"But to see us battle and maintain the standard of running fast and running to the ball, tackling and just playing LSU defense. I've got big expectations for us. We know if we got out and play to the level we're capable of, and Coach House is going to expect us to play, it will be fine."

The intersection of Jones and House apparently couldn't have come at a better time, especially for Jones.

A veteran defensive coach, with a previous stop as an SEC defensive coordinator at Kentucky, House's resume includes back-to-back Super Bowls in Kansas City, where he coached the linebackers from 2019-21, including their '19 Super Bowl-winning team.

He's been a driving force in the alteration of the outlook Jones now brings to the field.

"I've learned a lot. I love Coach House," Jones said. "He's a great dude and I'm super blessed to be getting the opportunity to play for him, to learn from him any being around him every day. I can think of something about every aspect of his life, from the way he carries himself to the way he addresses us as players to the way he interacts with his staff.

"Everything's done at such a high level, and it's exposed me to another level that I didn't know. Just the way things could be done. He's taught me a lot about being a leader. There's different ways to lead throughout the team. I'm 100% super-blessed to be working with him and really our whole staff as well. This is what's best and catered to my skill set. I feel like Mike is where I should have been the whole time. Now, I have a lot of tools at this level to succeed."