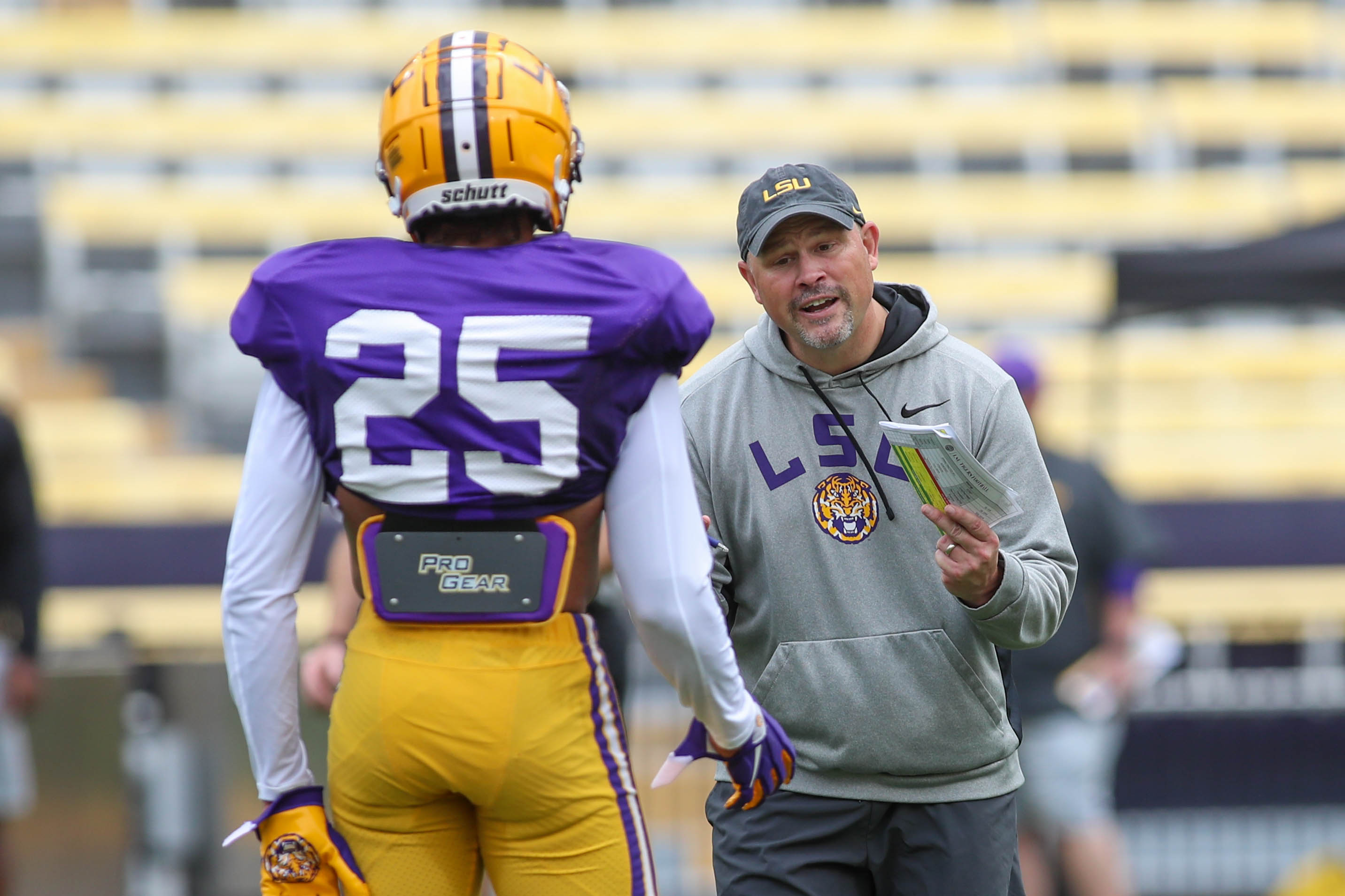 Offense, with its bells and whistles and explosive plays, sells tickets and is what fans
talk about most in the offseason.

LSU is looking to make algorithmic improvement in that area and seems to have a luxury surplus of quarterbacks to choose from along with one of the top playmakers in the SEC with wide receiver Kayshon Boutte.

But there's a good bet Brian Kelly, being your classic fundamentals coach, worries more about stopping foes, something LSU didn't do very well last season. The Tigers were 10th in scoring defense (26.6 points per game allowed) and total defense, and the bad news didn't stop there:

• Last in interceptions (8)
• Tied for last in turnovers created (12)
• Tied for last in TD passes allowed (29)

While the offense has its own issues to clean up, LSU must claw its way back into the top half of the conference defensively to compete. Although Ed Orgeron made a mess in the last two seasons – particularly with bad defensive coordinator hires – the talent is there for coordinator Matt House. He has the strongest resume' since Dave Aranda, whom Orgeron pushed out the door after winning a national title.

Daronte Jones, last year's DC, was a desperation hire when it was apparent Orgeron was on the hotseat. LSU looks far more stable this year.

House has NFL skins on the wall, including a Super Bowl title with Kansas City, and a year ago turned down offers from Auburn and Tennessee for the same position. The fact Kelly wants him should also be enough reassurance for LSU fans.

I'm sure he took the time to conduct a face-to-face interview. House also got a long taste of life in the SEC with two seasons as defensive coordinator at Kentucky, where his results were admirable considering the Wildcats don't attract the same level of talent as LSU.

The best news is he's going to have a strong front seven of seasoned players. They're going to have to bring the level of play up a notch to help cover for a secondary that will be a question mark if not a weak point.

Most strong defenses begin up front and LSU will have a nice homegrown tackle tandem of Maason Smith and Jaquelin Roy. Adding Missouri transfer Mekhi Wingo to the rotation was one of many NCAA transfer portal steals that arrived as a result of the LSU brand.

The end tandem of BJ Ojulari and Ali Gaye might be the most athletic twosome LSU has had at these posts. Ojulari is schematically considered a linebacker, but House emphasized his job will be to rush the passer. The pair's 14.5 combined sack total for two years isn't splashy but also isn't necessarily representative of their ability to create pressure.

Greg Penn III and Mike Jones Jr. appear to be the starters at linebacker and are a matched pair of highly touted, if unproven, talents. Jones left Clemson so he could play inside, and Penn was impressive as he got more snaps late last season. Micah Baskerville provides experienced depth and might find his way into the starting lineup.

Jarrick Bernard-Converse and Mekhi Garner appear to be first in line at corner- back with Greg Brooks Jr. as a nickel.

Bernard-Converse has the most experience with 47 starts at Oklahoma State and was a playmaker with 23 PBUs, three picks and five sacks. Garner comes from Louisiana, where he was an All-Sun Belt performer with three picks and 18 pass breakups in his career. He'll have to prove he can step up in class. Brooks started three years for Arkansas and had four career interceptions.

Ohio State transfer Sevyn Banks could also have a big impact at corner judging from the fact he started 15 games for the Buckeyes and comes in at 6-2, 205 pounds.
There is much more returning experience at safety with Jay Ward and Joe Foucha. Ward played well when he wasn't hurt and Foucha made plays all over the field at Arkansas. Sage Ryan, Major Burns and Todd Harris Jr. make this the deepest position on the defense and give House lots of pieces to work with.