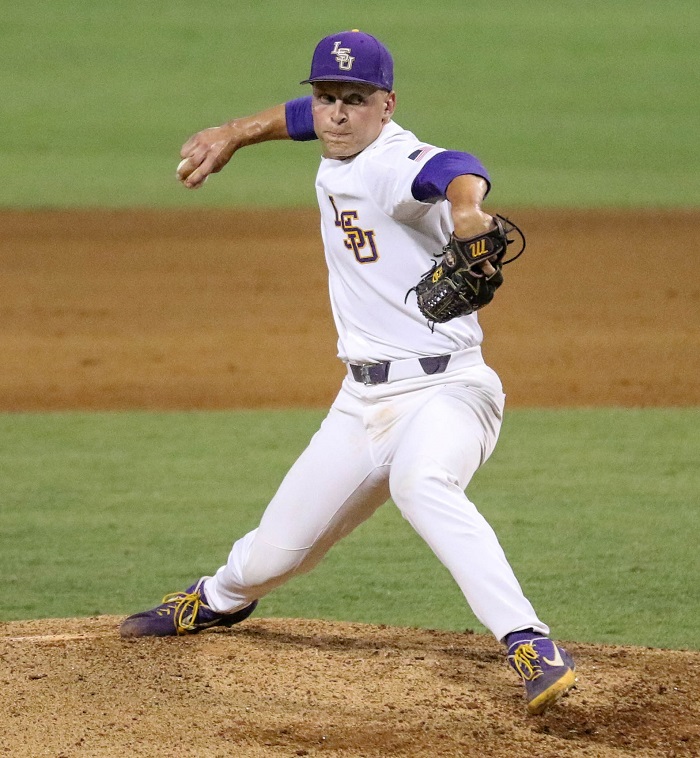 After months and months of arm soreness this and elbow discomfort that, maybe LSU was just owed a freebie. Paul Mainieri likes to bring up the big Tiger in the sky, and perhaps it was his divine wisdom that LSU was due to catch a break.
How else can one rectify the fact that Trent Vietmeier went from out for the season to playing the hero in a clinching game in the span of less than two weeks?
"The big Tiger in the sky has taken good care of me throughout my career, so I would never question anything that ever happens," Mainieri smiled. "But it was very nice that we got Trent Vietmeier back. You can see what a big difference he made for our team."
The sophomore right-hander had to be taken out from an appearance at Arkansas on May 10. Days later, he was diagnosed with a shoulder injury that was supposed to end his season. He only accompanied the team to the SEC Tournament because LSU didn't have enough healthy players to fill out the expanded roster.
But there Vietmeier was in the heat of the regional finals on Sunday night, pitching two scoreless innings that allowed LSU to rally for a come-from-behind 6-4 victory over Southern Miss and advance to the Baton Rouge Super Regional.
If it weren't for Vietmeier, LSU would probably be preparing for a perilous winner-take-all game on Monday afternoon. Instead they'll be preparing to face Florida State knowing only two wins separate the Tigers from Omaha.
A feisty Southern Miss club had turned a 3-0 LSU lead into a 4-3 advantage in the span of two grueling innings. Vietmeier was sent in to hold the fort, and though he can't recall the details, he was nails. He threw harder than he had all season over two dominant frames to earn the decisive win in relief.
"The experience out there is breathtaking," Vietmeier said. "I don't really remember too much. I went blackout. It was just awesome, being honest with you."
His unlikely return to the mound began in Hoover. Everyone involved thought Vietmeier was done for the season, but he wasn't in as much pain as someone with his diagnosis should be, so LSU's team doctor asked if he wanted to throw.
LSU trainer Cory Couture brought Vietmeier out to the field and played catch. He was able to do things that, medically speaking, were miraculous. LSU had him throw a bullpen session upon returning to Baton Rouge, and when that went well, he was added to the active roster for the NCAA Tournament.
"Just coming back from that was the hard part," Vietmeier said. "Just realizing that, is my season over or can I come back? When Dr. (Mark) Field said 'Let's go out there and throw,' my heart dropped."
Mainieri appreciated the opportunity to get Vietmeier into live action in a relatively low-leverage situation against Stony Brook. It was a chance to kick off the rust, but there didn't appear to be any.
That outing gave Mainieri enough confidence to turn to Vietmeier against a relentless Southern Miss team that had already rallied back from a six-run deficit earlier in the day. That faith was rewarded in a major way.
"He did a phenomenal job," the coach said.
Medically speaking, the prevailing wisdom is that Vietmeier didn't suffer a new injury in May, but rather irritated an old one. That's been LSU's best guess as to explaining the impossible, how Vietmeier could go from season over to game saver in a matter of weeks.
"He's made a miraculous recovery, and I kid you not when I use that word," Mainieri said before the NCAA Tournament began. "He must've been in mass every day … Whenever he had his MRI, we were told he had a significant injury."
In a year when the seemingly minor injuries kept key pitchers out for months at a time, maybe just chock this one up to the big Tiger in the sky.
Photo by Jonathan Mailhes