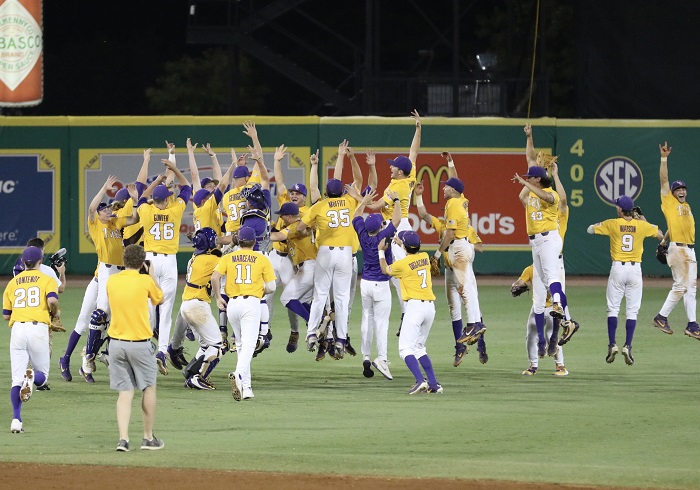 Through all the injuries, the ups and downs and the close calls, the saving grace of LSU's season has often been a knack for being able to roll with the punches and keep fighting.
That resiliency is why a team that appeared to be going nowhere fast a month ago will now host a Baton Rouge Super Regional next weekend.
LSU blew a lead to Southern Miss for the second time in as many days. Nobody panicked, and LSU came back for the win once again.
Zach Watson and Saul Garza delivered the clutch hits as LSU scored three runs in the seventh inning and held on for a 6-4 win to complete a sweep of the Baton Rouge Regional on Sunday night.
"Sometimes having to grind your way to victories is more beneficial than blowing teams out," LSU coach Paul Mainieri said. "This is NCAA Tournament baseball. Nothing comes easy. There's no gimmes left on the schedule, so you might as well grit your teeth and fight through anything that comes your way.
"I think we've done that most of the year, and the injuries and things we've had to deal with have helped prepare us for it. We've won an awful lost of close games."
Fittingly, the decisive rally began with an opposite field single from Antoine Duplantis, LSU's newly-crowned hit king. Daniel Cabrera followed with a single and advanced to second base as the throw came in late to third base,
That brought up Watson, who continued his utterly-brilliant regional with the go-ahead two-run single to center. Garza chased him home with a booming double off the wall in right-center field that set off a frenzy in Alex Box Stadium.
"I think a lot of people forget that we were the preseason No. 1 team," shortstop Josh Smith said. "This is a really good team, and some guys are getting healthy again. We've been down before. That just shows you how this team is. Nobody in that dugout thought we were going to lose."
The bullpen did the heavy lifting in getting LSU home against a scrappy Southern Miss lineup. Trent Vietmeier and his miraculously-healed shoulder stabilized the game with two shutout innings of relief that allowed LSU to ultimately come back and take the lead.
Devin Fontenot entered in the eighth and pitched himself out of a massive jam. Southern Miss put the tying runs in scoring position with one out, but Fontenot got a strikeout and a weak ground ball to escape with the two-run lead intact.
Fontenot returned in the ninth to nail down the six-out save, officially moving LSU to within two wins of Omaha.
"That's Devin," Vietmeier said. "He'll always find a way to do it. It's as simple as that."
LSU will now host Florida State in a best-of-three super regional to decide who advances to the College World Series. The No. 13 seed Tigers are a super regional host after Florida State swept through the Athens Regional to eliminate No. 4 seed Georgia.
LSU and Florida State, two of the sport's blue bloods, are headed for their 14th and 17th super regional appearances, respectively. They last met in the 2017 College World Series.
It may seem like an unlikely peak considering some of the valleys LSU encountered along the way, but apparently it isn't a surprise to the players who made it happen.
"Honestly, this team, the whole year we've known we've been good," Smith said. "We knew if we got some pitchers back healthy we'd have a chance to go a long way … A lot of people were doubting us a little bit, but to get back up and be hosting a super regional, it's just awesome."
For at least a few innings, it seemed LSU might have a relatively stress-free night to get there. A season's worth of adversity prepared them for the reality that such an easy night wasn't in the cards.
Eric Walker looked razor sharp to begin the game and mowed down the first nine batters he faced in a row. Smith's leadoff blast staked him to an early 1-0 lead, and his two-run triple in the second made it 3-0.
LSU appeared to be in cruise control. Southern Miss, who overcame a six-run deficit earlier in the day to stay alive, had other ideas.
Southern Miss left fielder Gabe Montenegro took Walker deep to lead off the fourth inning. Walker retired the next three to get out of the inning, but things unraveled for him the next frame.
The rally, like so many, began with a leadoff walk. An infield single and a wild pitch set the table for Southern Miss third baseman Danny Lynch to tie the game with a two-run single to right center field. Walker was pulled after walking Montenegro having thrown 31 pitches in the laborious inning.
Matt Beck came on and allowed the go-ahead single to be dunked into shallow left-center field. LSU flirted with disaster when Beck walked the bases loaded ahead of Southern Miss slugger Matt Wallner, but Beck fanned him on a 3-2 curveball to end the inning.
LSU squandered a golden opportunity to pull even in the sixth. After back-to-back singles, Mainieri had Chris Reid lay down a sacrifice bunt. The decision backfired as Hal Hughes popped out and Brandt Broussard grounded out after Southern Miss intentionally walked Smith.
Photo by Jonathan Mailhes