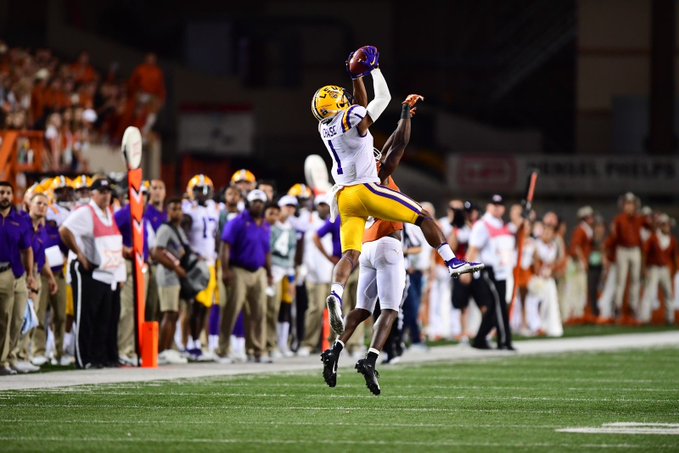 AUSTIN, Texas — It's a play LSU running back Clyde Edwards-Helaire will never forget.
In a game many billed as a battle for the title of "DBU," No. 6 LSU and No. 9 Texas engaged in a shootout at Darrell K. Royal Memorial Stadium on Saturday night, and the Tigers faced third and 17 while desperately clinging to a 37-31 lead with 2:34 showing on the clock.
Joe Burrow had cut and carved Texas' defense up all night, but LSU's defensive woes in the second half kept the Longhorns within striking distance, and the Tigers needed a first down to keep the ball out of Texas quarterback Sam Ehlinger's hands.
On the broadcast, ESPN's Kirk Herbstreit suggested LSU run the ball to either burn clock or Texas' last timeout, but that's not how anybody on the Tigers' sideline thought. Not head coach Ed Orgeron, not offensive coordinator Steve Ensminger or passing game coordinator Joe Brady and definitely not Burrow.
"They were playing cover zero, and I knew I was going to have to take a shot," Burrow said.
Burrow took the snap, stepped back and saw Texas' six-man rush collapse around him, but luckily Edwards-Helaire stepped in and cut a linebacker making a bee-line toward him. He knew Jefferson would eventually get open on a stick route, but he had buy time before that happened.
He ran forward in the pocket and got hit by Texas linebacker Jeffery McCulloch, but he maintained his balance just long enough to get the pass off and hit Jefferson, who caught the ball near the Texas 40, shed a tackle and sped past the rest of the defense for a 62-yard score that all but dashed any remaining chances Texas would have.
"The rest is history," as Burrow so bluntly put it after the game.
"A throw that I'll remember for the rest of my life," Edwards-Helaire said. "I had protection and cut a guy, Joe was getting hit and threw a ball off one leg, side-armed to Justin Jefferson. That's something that I'll take to my grave."
Burrow completed 31 of 39 passes passes for 471 yards and four touchdowns in LSU's 45-38 victory against the Longhorns, none more important than the last.
Jefferson caught 9 passes for 163 yards and three touchdowns, Ja'Marr Chase reeled in 8 receptions for 147 yards and Terrace Marshall had six catches for 123 yards and a touchdown.
It's the first time in LSU history three receivers have eclipsed 100 yards in a single game.
"(Accomplishing) that was so important, man," Marshall said. "To show the world that the Joe Brady hype, it wasn't just hype. It's actually what we said it is. It feels good to go out there and show the world what we got."
The performance shot Burrow into the national spotlight, something he's known he deserved for awhile now.
"I always kind of knew it," Burrow said of being talked about as one of the country's top quarterbacks. "I think everybody's starting to see it a little bit. But people who have been around me and myself always felt that way."
Texas quarterback Sam Ehlinger and the Longhorns' offense also had a productive night. The dual-threat quarterback completed 31 of 47 passes for 401 yards and four touchdowns, and he ran for for 60 yards and a touchdown on 19 carries.
Orgeron had high praise for Ehlinger after the game, saying he was even better than LSU thought he'd be, and that was pretty good to begin with.
"This guy is a phenomenal football player," Orgeron said of Ehlinger. "He wanted to take the game on his back, and he practically did.
He also had two receivers reach 100 yards, as Devin Duvernay caught 12 passes for 154 yards and a touchdown and Brennan Eagles had five receptions for 116 yards and a touchdown.
A pivotal sequence came during the first quarter when LSU was forced to defend its goal line not once, but twice to prevent the Longhorns from getting on the board.
After a penalty-riddled drive aided Texas in reaching the LSU two-yard line. But the Tigers force a fourth down, and Texas running back Keaontay Ingram dropped a sure touchdown pass despite being all alone in end zone to turn the ball over on downs.
The celebration was short-lived, however, as three plays later the defense was back on the field with its back against the wall after Joe Burrow threw a passed that was tipped at the line of scrimmage and intercepted, giving the Longhorns possession at the LSU 5.
But the Tigers' defense once again held its ground, forcing another turnover on downs as the Longhorns tried four straight rushing plays.
"It gave us energy," said LSU linebacker Michael Divinity. "Nobody was tired, and we fought. It motivated us to look forward to the fight."
Ironically enough, Texas finally took a 7-3 lead on a 55-yard pass from Texas quarterback Sam Ehlinger to receiver Brennan Eagles. LSU cornerback Kristian Fulton misplayed the pass, allowing the ball to get over him to Eagles who ran the rest of the way for the score.
LSU dominated the final minutes of the first half, reaching the end zone twice and kicking a field goal in its final three possessions before going to the locker room to take a 20-7 lead.
The most notable difference, aside from more favorable field position, was an improvement along the offensive line, which gave Burrow much more time to work than in drives prior to the spark.
Burrow attributed the offensive improvement to getting a better feel for how Texas was blitzing and getting the ball out of his hands faster.
The Tigers had a chance to blow the game wide open as they received possession at the start of the second half, but they went three-and-out, which served as the start of a momentum-shift in Texas' favor.
The Longhorns proceeded to march down the field for a 19-play, 86-yard touchdown drive capped off by a two-yard rush by Ehlinger that cut LSU's lead to 20-14.
After settling for a field goal on the ensuing drive, LSU once again let Texas march down the field with minimal resistance for a touchdown that brought the Longhorns within two points, LSU holding a 23-21 lead.
The two teams began trading blows, with Burrow connecting with Terrace Marshall for a 26-yard touchdown score on the first play of the first quarter followed by Ehlinger finding Devin Duvernay for a 44-yard score on fourth down.
Less than three minutes later, LSU running back Clyde Edwards-Helaire waltzed into the end zone from untouched from 12 yards out to put the Tigers back up by two possessions, 37-28.
Finally, the Tigers forced the Longhorns to settle for a field goal that put Texas within a touchdown with 3:59 showing on the clock.
That's when Burrow found Jefferson for the score that put the Longhorns out of reach.
Texas did march down the field and score with 24 seconds left, and nearly converted an onside kick, but the Longhorn who secured the ball failed to before going out of bounds, allowing Burrow to kneel the ball and make the win official.
LSU freshman kicker Cade York, who Orgeron revealed missed most of practice this week with an injury, performed up to muster under the lights. He successfully kicked three field goals from 36, 33 and 40 yards.
Edwards-Helaire had a solid night, receiving more than half of LSU's rushing attempts and earning 87 yards and a score on 15 carries. He also caught four passes for 14 yards
Photo courtesy of LSU Sports Information