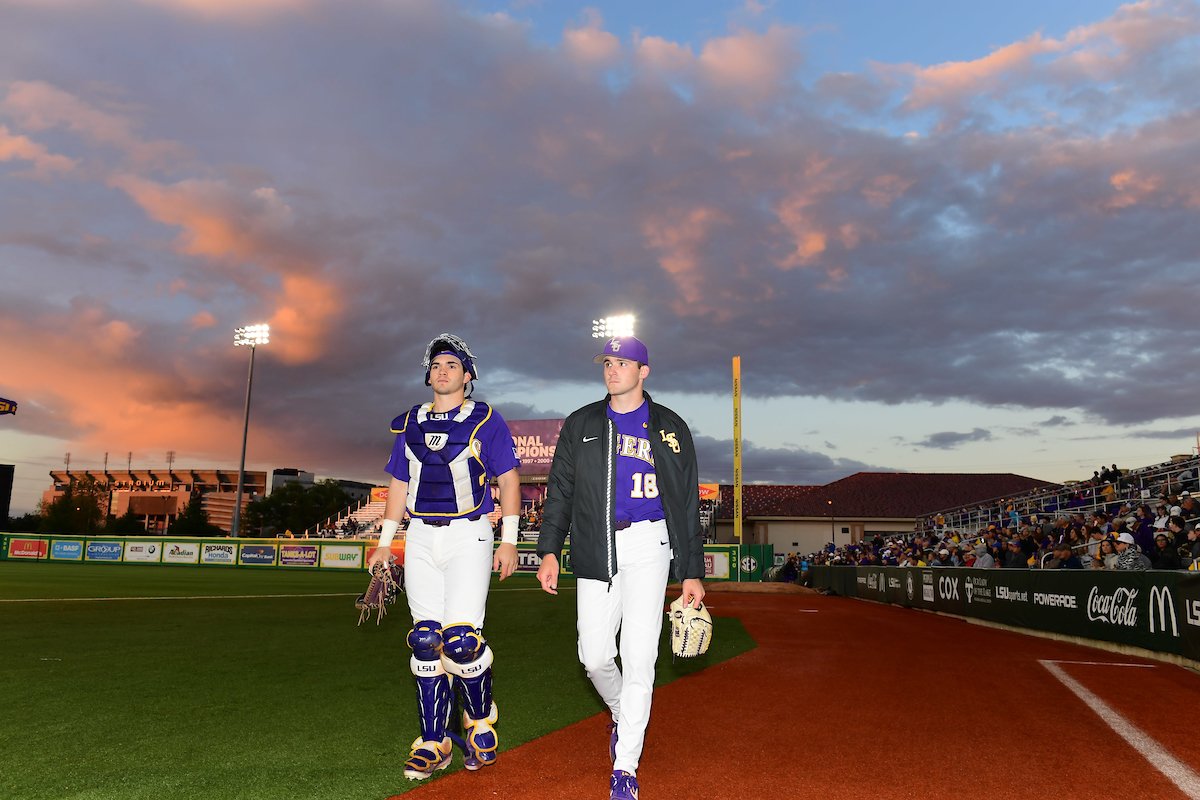 HOOVER, Ala. — After five long weeks on the shelf, Cole Henry was just excited to be back on the mound trying to help LSU win a game it needed to have.
As long as the star freshman's elbow feels good, it won't be the last time LSU hands him the ball in a pivotal game. The postseason has begun, so the stakes will only get bigger as time goes on. There's no runway left for a soft landing.
Henry was tagged for five runs (four earned) in LSU's 8-6 victory over South Carolina in the SEC Tournament opener on Tuesday night, but both Henry and LSU coach Paul Mainieri were adamant that Henry's ineffective stat line didn't tell the whole story.
"I actually thought he threw the ball exceptionally well," Mainieri said. "I really did. He threw the ball hard and he threw a lot of strikes."
The coach continued: "For the first time back in five weeks, I thought he threw the ball really well, and it was encouraging for me for next weekend. The most important thing is he felt healthy and threw the ball with no pain."
Henry struck out two in an impressive first inning before things unraveled a bit in the second. It started with two bad breaks as a routine groundball got stuck in the webbing of Brandt Broussard's glove for an infield single and another runner reached on catcher's interference.
Both those runs came around to score on a two-run double in the gap. An RBI single chased Henry from the game earlier than planned and two more runs charged to him came home while reliever Matt Beck was on the mound.
Henry's velocity dipped a bit in the second inning and his control looked a bit rusty, but all parties involved seemed to chock that up to simple fatigue more than anything else. The 42 pitches he threw were more than any of his previous bullpen sessions of simulated games.
"I was kind of laboring a little bit out there, but it was the first time I'd pitched in a month," Henry said. "I was just glad to be out there throwing and do what I loved."
The most important thing was that Henry felt like himself on the mound and shook of some rust before the NCAA Tournament, which begins next week. LSU would feel much better about its chances if Henry could rejoin Eric Walker and Landon Marceaux in the starting rotation.
It's been a long process for Henry just to feel like himself after the elbow discomfort that put him on the shelf.
Every MRI has come back crystal clear and showed no structural damage, but it took time and effort for Henry to feel comfortable on a mound again. It certainly helped that Henry was able to go home on weekends when LSU traveled and work with his father, a former pitching coach.
"I don't know if anybody else knew, but I was letting Coach know I was ready to come back," Henry said. "Once I got past the mental block, my elbow is fine and the MRI is clean. It's hard mentally, because I'm scared if I let one go and tear my UCL, I'm done for a year. I knew nothing was structurally wrong, but going out there and cutting it loose again, I felt like me again."
LSU's focus now shifts to having Henry ready for an NCAA Regional, but Mainieri isn't ruling out Henry coming back in Hoover should LSU advance deep into the SEC Tournament.
It'll depend on how Henry feels in the days to come, but if LSU advances to the finals on Sunday, Henry could come back and get one more game in before the big dance begins.
"I think next time he'll be better," Mainieri said. "Instead of worrying about his health, we'll pitch more to win by mixing up his pitches and letting him throw everything. I was very encouraged even though the stat line wasn't great."