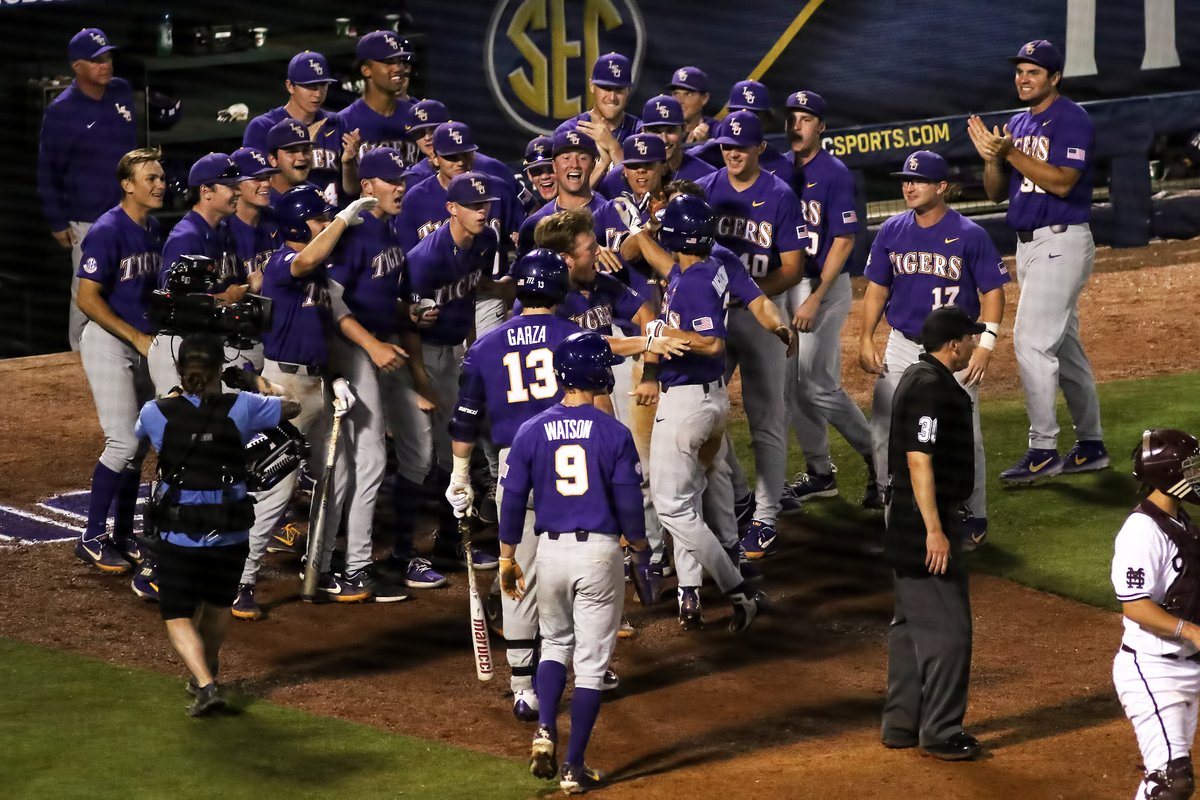 HOOVER, Ala. — Inside the dugout, LSU players fashioned towels and Gatorade cups into makeshift rally caps.
Some children, awake hours past their bedtime, sat and watched from the roof of the dugout. Even younger kids continued to run aimlessly up and down the hills located on either side of the Hoover Met.
These were just some of the sights and sounds of the longest game in the history of the Southeastern Conference Tournament.
LSU and Mississippi State had played the longest SEC Tournament game in terms of time, ending time and innings before a two-out walk-off single off Ma'Khail Hilliard in the bottom of the 17th sent the Bulldogs home winners of a dramatic, draining 6-5 game.
"It's hard to put into words what we just went through," LSU coach Paul Mainieri said. "One of the more memorable days of my coaching career, and probably LSU Baseball history. It's just a shame either team had to lose."
The 17 innings tied an SEC Tournament record previously shared by two other games. The length of game (six hours, 43 minutes) and finish time (3:03 a.m.) are SEC Tournament records. All three set new LSU program records.
LSU thought it had it won when Giovanni DiGiacomo lifted a sac fly in the 16th inning, but Mississippi State rallied to tie the game on a Brand Broussard error, so the game continued.
DiGiacomo had already played the hero some eight innings earlier. His game-tying two-run blast, the first homer of his college career, forced extra innings in the first place. He hadn't started a game since May 3 before Wednesday.
"That was insane," DiGiacomo. "I don't think I've ever been a part of a game that went so long … Wow, it's late. Goodness."
The game wouldn't have gone on for nearly so long without the heroics of Matt Beck and Zack Hess. They combined for eight shutout innings of clutch relief to push the game deeper and deeper into Thursday morning.
Beck worked four scoreless innings to allow LSU to dig its way out of a 4-0 deficit. He was at one point in a shouting match with Paul Mainieri to stay in the game despite a career-high in pitches.
DiGiacomo was the man responsible for tying the game and setting off the marathon of baseball that followed. The freshman cranked a game-tying two-run homer in the eighth inning, the first of his college career.
Mainieri eventually went to Hess when Beck allowed a leadoff single in the ninth inning. Hess picked up back-to-back strikeouts to strand the winning run at second base.
Hess has an even more impressive escape act on tap for the 10th. A leadoff double and a sacrifice bunt put the winning run on third base with one out. Hess retired SEC hit king Jake Mangum on a groundout and struck out the next hitter to end the inning. He exited with two fist pumps.
He upped his own ante again in the 12th inning after a one-out walk and a Mangum double. Mississippi State had runners on second and third with one out, but Hess struck out back-to-back hitters to extend the game once more.
"When the kids give it everything they have like that and still come up short, it's a tough pill to swallow," Mainieri said. "Somebody had to lose. It's a shame we couldn't hold onto the team once we got it."
Next up for LSU: a rematch of last weekend's series with Auburn in an elimination game set for early Thursday afternoon. The game will start shortly after the completion of Texas A&M and Ole Miss, which is set for a 9:30 a.m. first pitch.
That's not much rest for a team that played past 3 a.m.
"We're pretty tired," Mainieri said. "That's a long day. We're going to try to get a couple hours sleep and get back out here for a 1 p.m. game tomorrow."
Meanwhile Mississippi State will advance into a showdown of soon-to-be national seeds against Vanderbilt. The winner will get a bye into the weekend while the loser will face the LSU/Auburn winner in an elimination contest.
Failing to secure a second win in Hoover — a feat that some project could clinch LSU hosting duties for an NCAA Regional next week — is no doubt disappointing, but LSU appeared headed for a disaster in the early going.
Mississippi State jumped all over Walker from the start. The Bulldogs led 1-0 and had the bases loaded with nobody out in the first inning. After a long sacrifice fly, Walker induced a 4-6-3 double play to escape the inning with minimal damage.
Nothing came easy for Walker, but he did what he could to keep LSU hanging around and save the bullpen for the rest of the week. He gave up another run in the second inning and escaped another jam having allowed one run thanks to another inning-ending double play in the third.
LSU couldn't do anything with Mississippi State starter Brandon Smith in the early going, but LSU got to the freshman in the fifth inning. Antoine Duplantis drew a bases-loaded walk to get LSU on the board and Cade Beloso lifted a sacrifice fly to halve the deficit to 4-2.
Photo courtesy of the Southeastern Conference