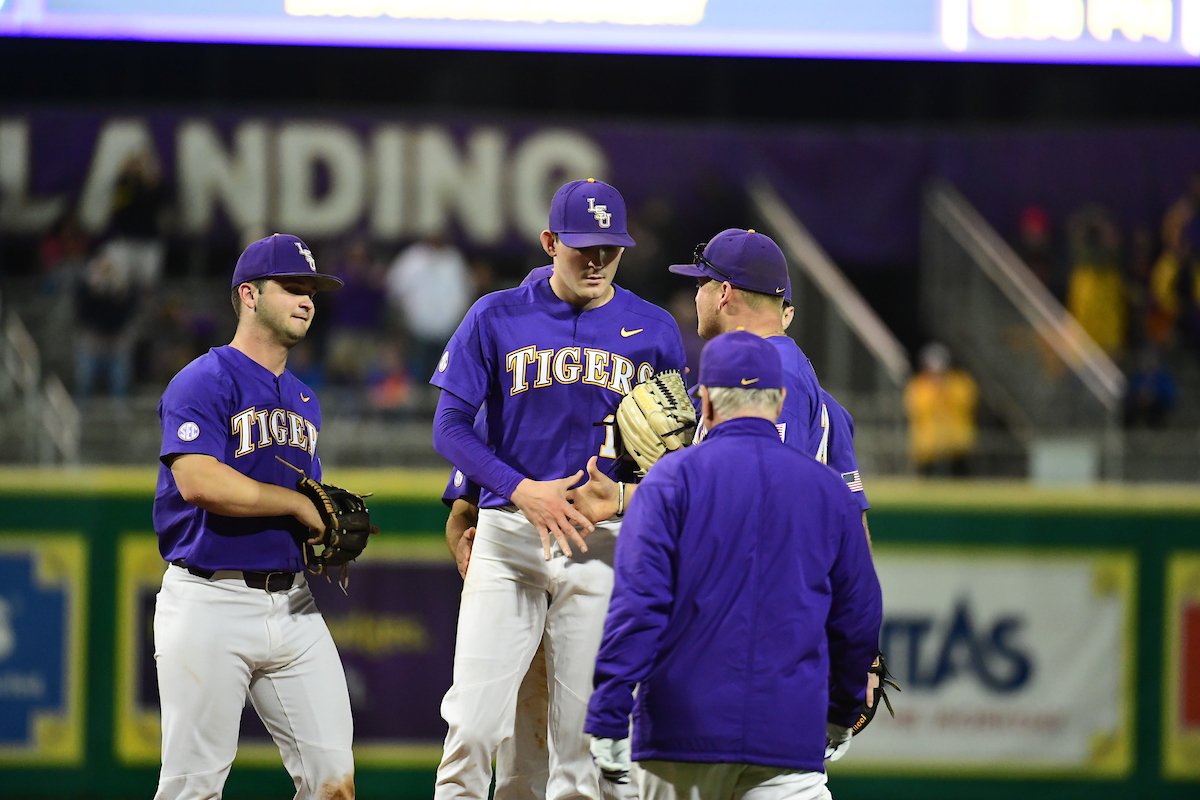 LSU had lost four games in a row and all seemed bleak after getting blown out of their own building on Thursday night, but momentum in baseball is only as good as the next day's starting pitcher.
Thankfully for LSU, that next day's pitcher came armed with pure, unadulterated filth.
Cole Henry struck out a career-high 12 and didn't walk a batter over 5.1 dominant innings of one-run, four-hit ball. That set the tone as LSU, despite missing a third of its starting lineup, bounced back with 16 hits to hammer Florida 13-1 and even the series at Alex Box Stadium on Friday night.
"After last night's game I knew I had to come out and be strong," Henry said. "I felt like our team was kind of down, and I had to come out and pick us up."
A big night from the makeshift lineup turned the game into a laugher, but Henry was unquestionably the key.
The freshman was bumping 94 mph heat up until he left to a standing ovation and his hammer of a 12-6 curveball will almost certainly make it on the Twitter account @PitchingNinja in the near future.
Henry's 12 strikeouts were the most by an LSU pitcher this season and the most by an LSU freshman or by any Tiger against a Southeastern Conference foe since Alex Lange struck out 13 against Kentucky in 2015.
"It's nice," left fielder Daniel Cabrera said of playing behind Henry. "Just sit out there. Get to hear the fans scream at the other team. I'm not doing much when he's pitching. I love it when Cole pitches."
"I'm not a strikeout pitcher," insisted Henry, who recorded 12 of his 16 outs via strikeout. "I don't consider myself a strikeout pitcher. I like ground balls, but they were just missing. I'd like to have some quick innings."
The series will come down to a rubber match with LSU (25-15, 10-7 SEC) and Florida (26-15, 7-10 SEC) having split the first two games in rather lopsided fashion.
Saul Garza got the start behind the plate after Brock Mathis took a foul tip off his right hand the night before. With Mathis out pending an evaluation, Garza got LSU on the board in the second inning with a run-scoring ground ball. Cabrera doubled home another run one inning later.
Thought they squandered some early opportunities, LSU began to pull away with some two-out magic in the fourth inning.
Third baseman Drew Bianco, starting for Chris Reid, sparked the rally with a double down the third base line. Florida then intentionally walked Josh Smith, a decision Brandt Broussard made them pay for with an RBI single. Smith scored on an error and an Antoine Duplantis RBI single capped the three-run rally.
LSU proceeded to blow the game open with five runs in the fifth inning, starting with a long solo home run from Cade Beloso. Bianco, Smith, Broussard and Duplantis each chipped in with an RBI as LSU batted around in the frame.
"We hit the (expletive) out of the ball tonight, honestly," Beloso laughed. "I'm just glad to win again."
The beat down did not stop there. LSU continued to pour it on when Cabrera launched a three-run homer — his seventh of the season — in the seventh inning.
The rubber match is set for 2 p.m. on Saturday, provided rain doesn't delay a third consecutive game. LSU will hand the ball to Eric Walker.
Photo courtesy of LSU Sports Information