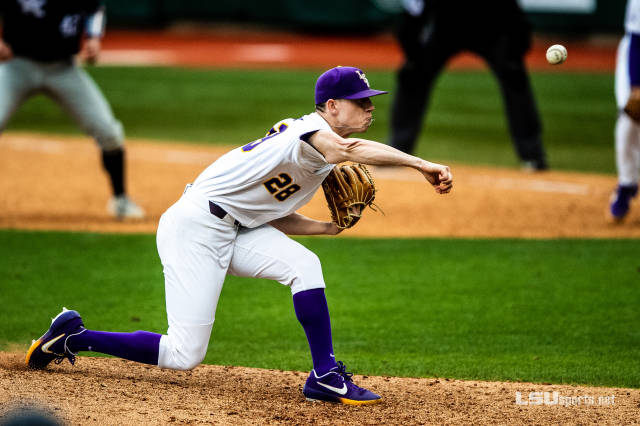 HOOVER, Ala. — It took until the wee hours of the morning, but LSU just kept hitting until it earned at least two more days of résumé building opportunities at the Southeastern Conference Tournament.
Cade Beloso drove in three runs and Josh Smith homered as No. 5 seed LSU dug its way out of an early 5-1 hole to outlast No. 12 seed South Carolina 8-6 in a late-night affair to close out day one at the Hoover Met.
Devin Fontenot came out of the bullpen with 4.1 scoreless innings to help LSU rally back and advance into the double elimination portion of the tournament. LSU will face No. 4 seed Mississippi State in the nightcap on Wednesday.
"I knew out guys wouldn't quit," LSU coach Paul Mainieri said. "And really the key to the game was Devin Fontenot coming in and putting the team on his shoulders. He took control of the ball game and he was awesome. It gave us time to get our feet on the ground."
Recent struggles had cost Fontenot his closing role, but he was fantastic in bailing LSU out of a tricky spot on Tuesday night. The Tigers overcame an inauspicious start and a litany of strange things that included three errors and a ball that actually got stuck in an infielder's glove.
Going one-and-done in Hoover would've been disastrous for LSU's chances of hosting an NCAA Regional. Fontenot entered in the third inning and bought time as LSU fought back from a four-run deficit. He allowed just one hit and struck out four.
"Coach kind of had a talk with me," Fontenot said. "He told me I've got to go out there and act like I want to be out there and don't pitch too timid. Don't be too fine, just let it rip. That's kind of what I've been doing."
LSU needed to go to the bullpen early because the highly-anticipated return of Cole Henry following a month-long absence started promisingly before fizzling out. Henry hadn't pitched since April 19 due to elbow soreness.
Henry looked like his old self in the first inning, but wavering command and bad luck cause the wheels to come off in the second. South Carolina tagged him for five runs (four earned) and chased him from the game having recorded one out in the inning.
"The second inning was kind of Murphy's Law," Mainieri said. "It just kind of snowballed from there."
Trailing 5-1 at that point, LSU began chipping away.
Beloso came through with a two-out, two-run single in the bottom of the inning. Smith, who led off the game with a home run, singled home a run and scored himself on a wild pitch in the fourth.
"We've been there before," Smith said. "We've been down. We knew we had a lot of game left."

Later in the inning, Daniel Cabrera put LSU in front with a two-out RBI single through the right side. Antoine Duplantis and Beloso drove in insurance runs with two-out knocks in the fifth inning as LSU began to pull away with Fontenot in control.
Fontenot appeared to tire and issued two free passes with one out in the seventh inning. LSU turned to SEC Tournament legend Todd Peterson, who pitched out of the jam.
South Carolina got a run back against Peterson in the eighth inning to pull within two, but the Gamecocks never got any closer. Peterson closed things out for an eight-out save.
LSU can now come back with Eric Walker and Landon Marceaux on Wednesday and Thursday, respectively.
Photo courtesy of LSU Sports Information