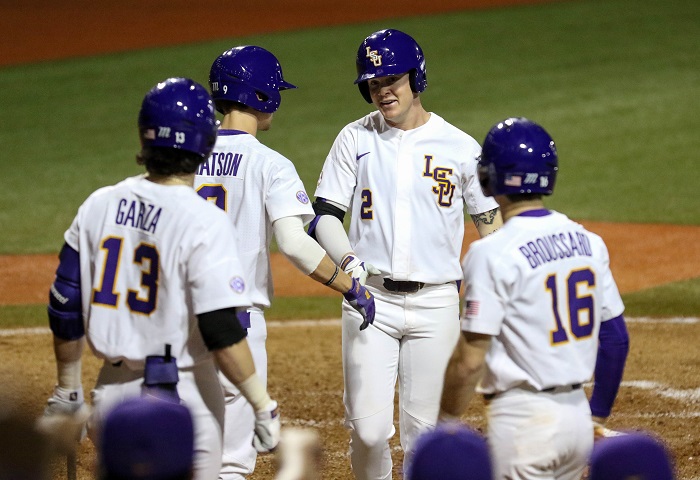 Before the season began, Paul Mainieri said Daniel Cabrera's ascension to being a top run producer in the Southeastern Conference would be one of the two biggest keys to the campaign.
As recently as last week, Cabrera had been dropped to seventh in the batting order. His sophomore season and path to stardom had seemingly been stunted by a nagging hand/wrist injury and the strikeout-heavy slump that followed it.
But Cabrera has rediscovered his power stroke at the plate of late, perhaps just in the nick of time as LSU heads into a pivotal regular-season finale series against Auburn this weekend.
Cabrera flicked an outside fastball into the left field landing on Tuesday night for his third home run in the past four games. He's now homered five times and driven in 10 runs in LSU's past 10 games.
"Listen, we're going to need Daniel Cabrera to be outstanding for us to have any hope of making a really good run in the postseason," LSU coach Paul Mainieri said. "So it's encouraging to me to see the way he's swinging the bat lately."
There's a couple of reasons that Cabrera is starting to regain his form when he is. For one, the wrist/thumb injury that kept him out for two weeks in the middle of the season has fully healed.
Cabrera return to the lineup for the Missouri series, which began on April 12, but the slugger pretty clearly wasn't himself. It took time to regain the proper grip strength in that right hand — the one that stays on the bat longer for the left-handed swinger.
"It's pretty hard," Cabrera said. "You rely on both of them to swing, and that's my bottom hand, so that hands on the bat longest. It was kind of tough, but I just battled my way through it."
It took a couple weeks for Cabrera to get back to feeling like himself swinging the bat. He had to spend that time building back his grip strength through various forearm exercises, including a rice bucket.
For the non-indoctrinated, a rice bucket is what it sounds like. You fill a bucket up with rice, dig your hand in and squeeze until you reach the bottom. The exercise is meant to strengthen the tiny muscles in your hands and wrist that are imperative to a hitter.
So just how much of a difference has that restored grip strength made for Cabrera? Take a look at the splits of his first 10 games back from the injury as compared to the past nine:
First 10 games | 1 HR | 7 RBI | 14 K
Last 9 games | 5 HR | 10 RBI | 2 K
The increase in bat speed has helped Cabrera catch up with fastballs, but the reduction in strikeouts — a stated reason why Mainieri dropped him in the lineup — comes from a much subtler change than simple health.
Whatever the reason — lack of bat speed, pressing for results, etc. — Cabrera got away from his usual approach upon returning from the injury. He became too passive and pull-happy at the plate in his own estimation and needed a mental reset.
Mainieri sat Cabrera down recently and talked to him about what made him such a feared hitter in the first place. The coach didn't want to give away any trade secrets to the upcoming foes, but Cabrera has clearly been more aggressive at the plate and made a concerted effort to hit the ball to all fields.
"I've kind of just simplified everything," Cabrera said. "Gone back to what I do best, trying to hit the ball the other way, and if they make a mistake in, then I can pull it. I'm going up there confident and sticking to my plan."
That simplified approach coupled with the regained grip strength have added up to Cabrera swinging the bat with the authority he's always been capable of. Here's the statistics from his past four games: 6-for-16 (.375) | 3 HR | 5 RBI | 0 K
LSU needs Cabrera to keep this heater going for the next few weeks if it wants to execute its own preseason plan: make it to Omaha.