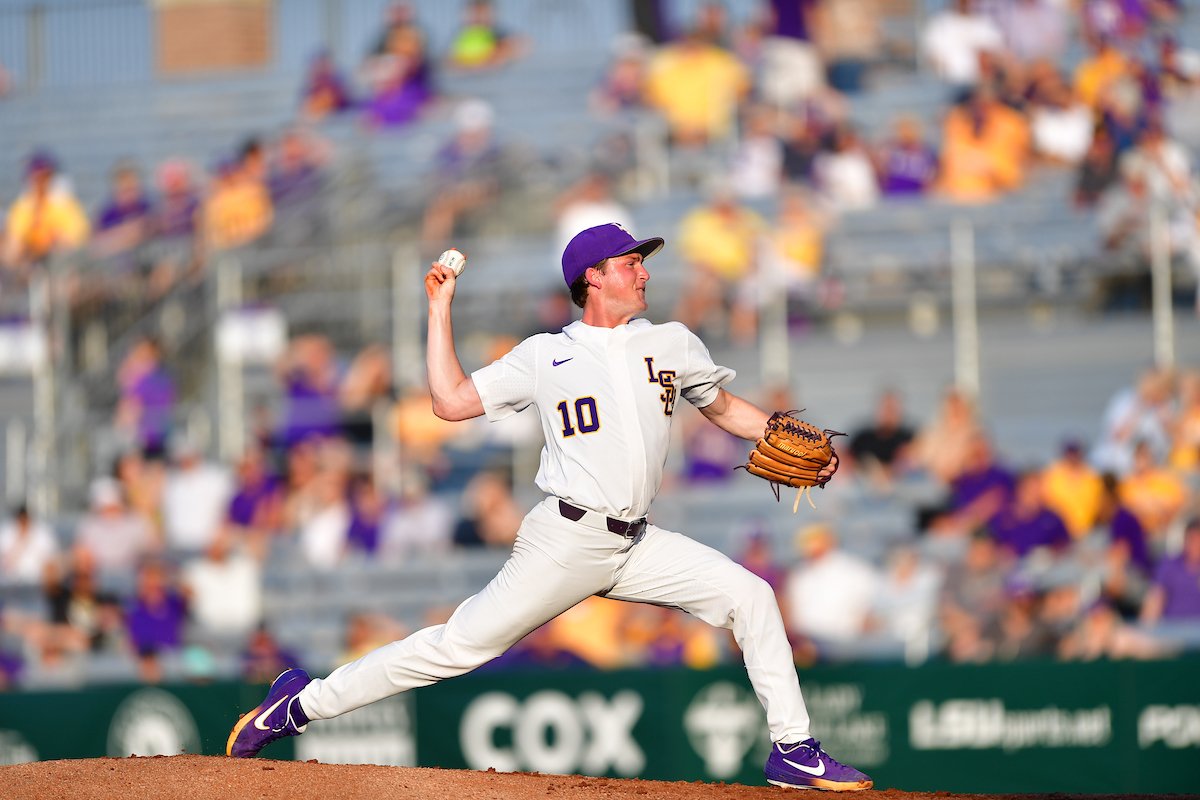 Eric Walker doesn't have the mid-90s fastball or filthy breaking ball of a typical ace in the Southeastern Conference, but that didn't stop him from pitching like one to start LSU off on the right foot in its most important weekend to date.
The veteran right-hander picked up his defense around two early errors and made clutch pitches when Auburn put runners on base, just like a good ace should. Walker got an inflated early pitch count under control to deliver LSU its first quality start in more than a month.
LSU took the opener of its critical series with Auburn, 7-1, behind six-plus strong innings from Walker, three solo home runs and a feverish two-out rally in the third inning at Alex Box Stadium on Thursday night. Walker held Auburn to just two hits and struck out five.
"Sometimes I look at Eric and I'm like 'How does he do it?'" LSU coach Paul Mainieri said. "He doesn't really have a spectacular breaking or changeup, and certainly not an overpowering fastball, but suddenly it's the sixth inning and the kid has given up one run. He's just that wily competitor."
Still without its actual ace, Cole Henry, LSU got the kind of start from Walker it had been starved for of late.
Before Thursday night, no LSU starting pitcher had recorded an out in the sixth inning since Walker did so at Alabama on April 27. The last LSU starter to complete six innings was Henry on April 13.  
Walker appeared headed for another quick exit in the early going. He needed 43 pitches to get through the first two innings, and LSU found itself in a 1-0 hole.
Something clicked between the second and third innings. Walker needed just 48 pitches to get through the next four innings and allowed just two baserunners during that span.
"I kind of came in the dugout, regrouped and took a deep breath," Walker said. "The best I've done this year is when I've relaxed and not tried to do too much. I was just trying to do too much is the bottom line. From there on out I felt much better and much more in control."
"From the third inning on, he was locked in," catcher Saul Garza added. "Back to being Eric Walker."
The win brings LSU (33-21, 16-12) one step closer in its quest to secure hosting rights for an NCAA Regional. The Tigers will look to clinch the series behind Landon Marceaux on Friday night. First pitch is set for 7 p.m.
That won't be an easy task as Auburn still has its top two starting pitchers left to go. LSU's situation is a bit more unsettled, which made it even more essential that Walker saved the bullpen for the rest of the weekend.
"Huge boost," Mainieri said. "I really don't know what we're going to do on Saturday, and I don't want to burn up too much of the bullpen."
Auburn (31-22, 13-15 SEC) lefty Elliott Anderson retired the first eight hitters of the game in order, but LSU seemed to figure out the converted reliever after that. Garza, the No. 9 hitter, singled up the middle to give LSU its first baserunner of the night.
That Garza single set off a feverish two-out rally that saw six consecutive Tigers reach safely with two outs. Zach Watson, Antoine Duplantis and Daniel Cabrera came through with successive RBI singles. Another run scored on an Auburn error.
Cade Beloso led off the third inning with a long solo home run to right, his ninth of the season. LSU racked up six hits off Anderson the second time through the order after coming away with just the one on the first pass.
"Seeing a guy for the first time, you begin to pick up on his tendencies," Beloso said. "He was a fastball-slider guy, so the more we saw him, the better. We just had a really good plan tonight and we stuck to it off a pretty good lefty."
Garza continued his huge night with a monster solo home run in the sixth that carried the bleachers in left field. His fifth home run of the season traveled an estimated 434 feet, according to Trakman technology. Duplantis went deep to left for his 11th of the season one frame later.
Walker exited to a standing ovation after issuing a leadoff walk in the seventh inning. Auburn put two runners in scoring position against Todd Peterson with one out, but Peterson pitched out of trouble. Garza helped by picking a runner off third base who strayed too far on a dirt ball.
Peterson returned to work a scoreless eighth inning with two strikeouts. He threw only 22 pitches, which is crucial with two more games to play this weekend and the SEC Tournament set to begin next Tuesday.