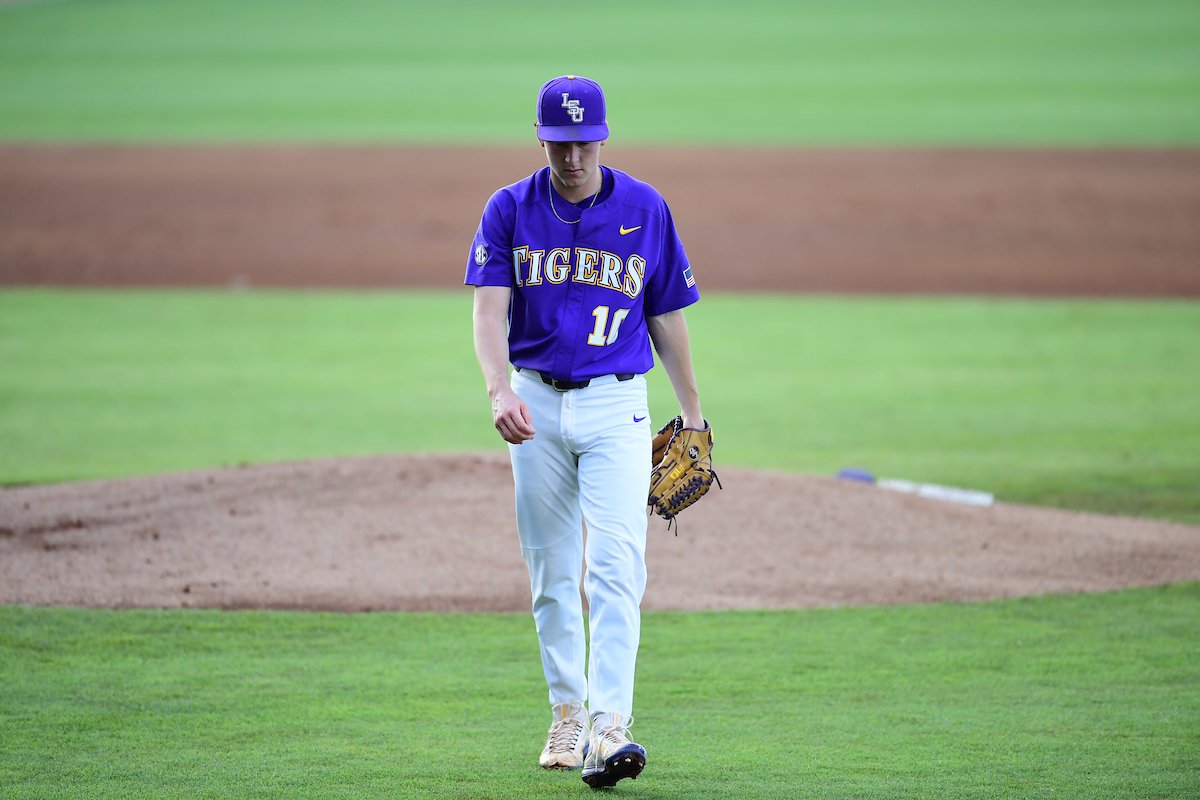 Postseason baseball is less than a week away, and with the chance to host an NCAA Regional within LSU's grasp, Paul Mainieri laid out the pitching plan for the pivotal five-day stretch to come.
It starts with revamping the weekend rotation for the regular-season finale series against Auburn, which will begin Thursday night.
Eric Walker and Landon Marceaux will slide up to start on Thursday and Friday night, respectively, Mainieri announced Wednesday. Ma'Khail Hilliard is going back to the bullpen and LSU will leave the Saturday starter spot as TBA going into the weekend.
LSU must also remain mindful of the SEC Tournament, which gets underway in Hoover on Tuesday. Barring a minor miracle, LSU will playing a single-elimination game on Tuesday. LSU would need to sweep Auburn and hope Mississippi State gets swept at home by South Carolina to earn a bye.
Who starts the series finale against Auburn and the SEC Tournament opener will be determined by happens over the next two days. Todd Peterson is an option to start on Saturday, Mainieri said, but he's too valuable to the bullpen at this point to be set aside for a potential start.
"I think Walker gives us the best chance to go out there on the opening night and have success," the coach said. "But I also have to have an eye on the week in Hoover, which is right around the corner."
If LSU is fortunate enough to win on Tuesday, Walker would be available to come back and start on five-day's rest against one of the top-four seeds. Marceaux would then become available as the SEC Tournament moves into the double-elimination portion of the bracket.
The wild card in these scenarios is the status of freshmen Cole Henry and Jaden Hill, who looked strong in bullpen sessions in recent days. LSU plans for Hill to throw a simulated game on Friday with Henry scheduled to do the same on Saturday.
"Hill and Henry are making progress," Mainieri said. "Henry threw a bullpen out there on the mound today. Zero pain and the ball came out of his hand really good. His command was a little rusty, as you might imagine, but his fastball was pretty explosive. So he looked good … if all goes well there's a strong possibility he could do something in Hoover."
The coach then spoke of Hill: "He threw yesterday and looked real good. So everything is pointing in the same direction. Now he's been out longer than Cole … If all goes well we might see him in action as well."
How soon could the rookie duo see action? Maybe as soon as Tuesday, provided everything continues to progress in their side sessions.
But the most immediate concern is Walker getting LSU off on the right foot this weekend as the Tigers look to bolster their resume for hosting an NCAA Regional. For what it's worth, both D1Baseball and Baseball America projected LSU as a top-16 seed in their latest field of 64 projections.
Walker has been LSU's most reliable starter since Henry went down and Zack Hess got moved to the bullpen. He's not a prototypical ace in that he's more of a control, pitch-to-contact hurler, but Mainieri considers him the clear cut top choice at the moment.
The veteran right-hander was clearly annoyed with getting a quick hook from his start at Arkansas, but Walker insists that's in the past now. His attention is fully turned to Auburn and getting LSU off to the proper start.
While the results have been mixed over the past month, Walker and Mainieri both feel he's fully back from the Tommy John surgery that kept him out all of last season. There's good days and bad days, just like any baseball player, but he's now at full strength.
"Honestly I think I've been like that for a while," Walker said. "The last four-or-five weeks, my lesser starts have just been baseball. I haven't made my pitches. I don't think it's anything where my stuff isn't as good. I think I've been pretty consistent. I just have to play the game like everybody else."