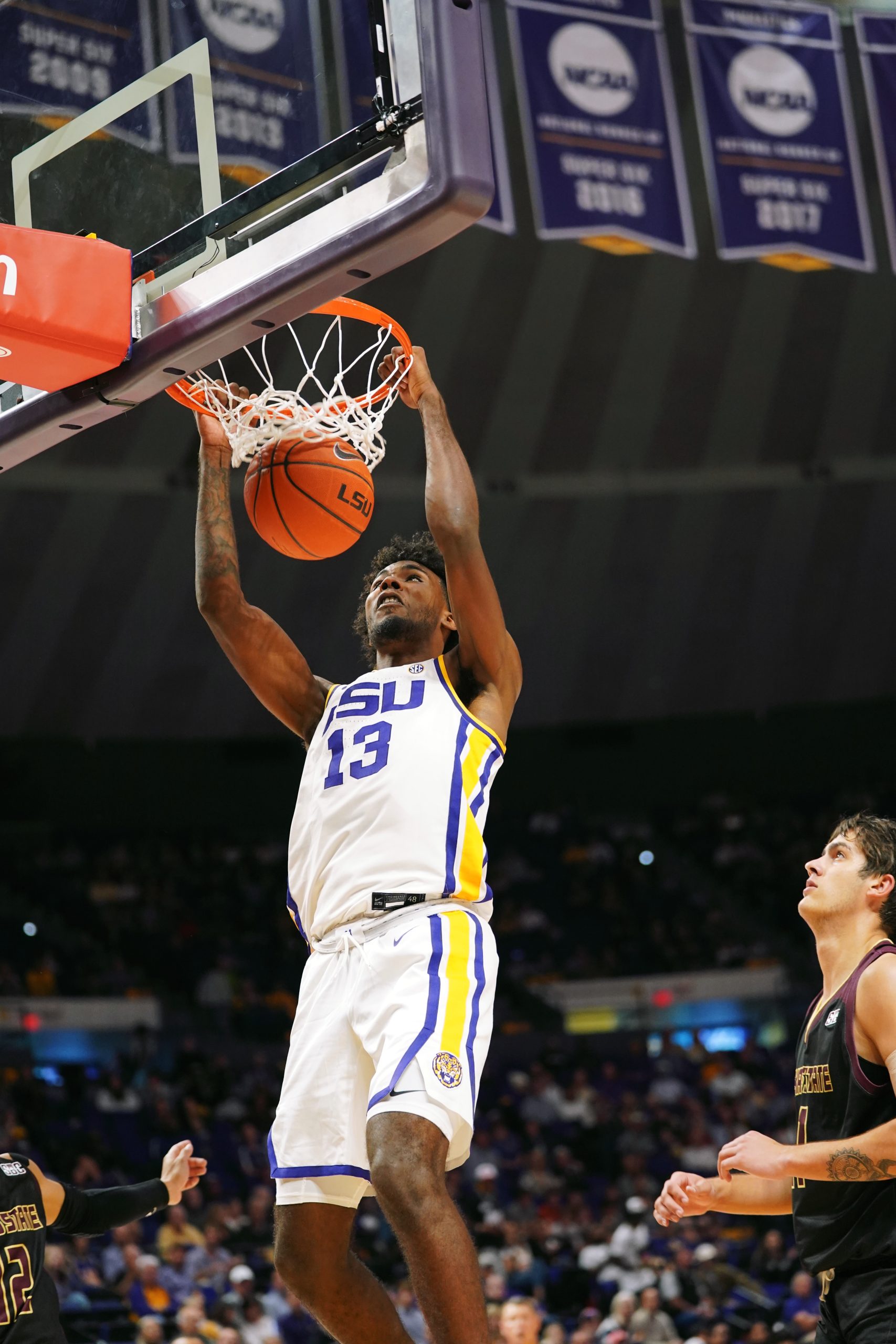 They had been targeting him for weeks as a possible pick with their second selection in the first round of the 2022 NBA Draft.
The rebuilding Houston Rockets got their guy when former LSU forward Tari Eason was available at No. 17 overall Thursday night.
Eason, who spent one season at LSU, is thrilled to get in near the ground floor at Houston, which finished an NBA-worst 20-62 (.244) in 2021-22, Rafael Stone's second season as general manager of the Rockets and Stephen Silas' third season as their coach.
"It's a dream come true," Eason said a day after the draft, while sitting between two other first-round picks headed to Houston, former Auburn forward Jabari Smith Jr., the No. 3 overall selection, and TyTy Washington, who was taken at No. 29 by Memphis but traded to the Rockets.
"I'm super blessed, super fortunate to be in this position. I'm just excited that a team had faith in me, and I'm just ready to get to work."
Two other draft-eligible former LSU Tigers, big men Darius Days and Shareef O'Neal, went unpicked.
But Days signed with the San Antonio Spurs summer league team, and O'Neal, The Athletic reported, agreed to sign with the Los Angeles Lakers summer league team.
   Days, who took part in the NBA Draft Combine, is just the third LSU player since 1977-78 with at least 1,300 points, 800 rebounds and 125 steals in his career. The three-year starter averaged a career-high 13.7 points per game, 7.8 rebounds and 1.5 steals in 2021-22.
O'Neal missed nearly a year due to a foot injury after transferring to LSU from UCLA, where he spent two seasons including a redshirt year. The son of LSU and NBA legend Shaquille O'Neal, who won three NBA championships with the Lakers, Shareef averaged 2.9 points and 2.1 rebounds in 14 games for the Tigers after returning from injury last season.
The 6-foot-8 Eason, last season's Southeastern Conference Sixth Man of the Year and a first team All-SEC pick, transferred to LSU from Cincinnati, where he played as a freshman in 2020-21.
Eason averaged a team-high 16.9 points, 6.6 rebounds, 1 assist, 1.9 steals and a team-leading 1.1 blocks while playing 24.4 minutes per game for the Tigers.
A semifinalist last season for the Naismith Defensive Player of the Year award, the wing player who can defend multiple positions was selected largely for his defensive ability.
But Eason scored in double figures in 29 times last season, including 11 games with 20 or more points and seven double-doubles for LSU, which finished 22-12 including a 59-54 first-round NCAA Tournament loss to Iowa State in Milwaukee.
"He's a transition wing with a 7-1 wingspan; very athletic, and is a defender, a rebounder, especially an offensive rebounder," ESPN analyst Jay Bilas said of Eason, whose wingspan actually has been measured at 7-2.
"He has a ton of value, and he came off the bench. He was a sixth man. … Never complained. He didn't, you know, demand to be a starter. He's a team guy. He can stretch it out and shoot it; 36% from 3, and an 80% free throw shooter, and top five in college basketball in player efficiency rating."
Eason, dressed in an electric green suit for draft night at the Barclays Center in Brooklyn, finished sixth in the SEC in scoring and ninth in rebounds.
He also tied for fourth in the SEC in steals.
"You talk about his defense, and you talk about what he brought defensively," ESPN analyst and former NBA center Kendrick Perkins said.
"I mean, he's busier than a fox in a hen house. He reminds me a lot of (New Orleans Pelicans and former Alabama forward) Herb Jones, a guy that's gonna shoot the passing lane, play with that tenacity, deny the wings, being able to switch out and play multiple positions, 1 through 5. I love his tenacity, and I love especially what he brings on the defensive side of the ball."
Smith and Washington saw all that while facing Eason, whose jump shot needs honing, and LSU in SEC play.
"How physical he is gives him the ability to guard multiple positions," Smith said. "Everybody knows how well he moves. … he's gonna get to the rim."
"Nobody can stop Tari from getting to the rim whenever he wants. He plays hard for the whole game, on both sides of the ball," Washington added. "And one thing about Tari: He didn't start, and he came in with the same mentality. Like, he never let that affect him. At the end of the day, he's just a hooper. He just wants to go out and win."
Not recruited heavily out of his Seattle, Washington, high school, Eason averaged 7.3 points, 5.9 rebounds, 1.3 assists and 1.2 steals over 19.5 minutes per game at Cincinnati, where he started eight of the 23 games in which he played.
His skill set grew, he believes, during his one season at LSU.
"I worked on a lot of aspects of my game – you know, my shooting, my ballhandling, things like that," he said. "I've always had a pretty good defensive mindset, just from my competitive nature."
That's what intrigued Houston from the get-go.
"His motor is exceptional, and his physicality and his speed and his ability to impact the game, especially offensively in transition, and offensive boards, and shoot it, but, really, defensively," GM Stone said of the traits that prompted the Rockets to eyeball Eason. "I think he just gets after it. And I think it's very much the way NBA has transitioned over the last 10 years."
Now Houston has a few more pieces for, perhaps, the next decade, a foundation first poured when Stone traded with Cleveland in January 2021 to acquire former USC point guard Kevin Porter Jr., a 2019 late first-round pick who averaged 15.6 points and 6.2 rebounds in his first full season with the Rockets, then selected shooting guard Jalen Green, who averaged 17.3 points in his rookie season, No. 2 overall in 2021.
Smith, Eason and Washington give the Rockets three former SEC standouts to add to the reconstruction effort, something Silas – the son of longtime former NBA coach Paul Silas – knows won't come easy.
"They're all talking about winning, and they're all talking about defense, which is great," Silas said of the picks, "but we have to build winning habits, and that takes a little bit of time."
Smith Jr., a candidate to go No. 1 overall, was the first SEC player selected. He was available for Houston after Duke's Paolo Banchero surprisingly went No. 1 to Orlando and Oklahoma City picked 7-foot Gonzaga center Chet Holmgren at No. 2.
Houston landed Washington as part of a four-team draft night deal that sent journeyman center Christian Woods, the Rockets' leading scorer and rebounder last season, to Dallas.
"I do feel like we're on track, and, you know, I think for our fans … I kind feel like one of my jobs is to explain to people what we're trying to do," Stone said.
"I'm not trying to hide the ball. This is what we're trying to do, this is who we're trying to be. These guys are our future, you know, and … we feel really good about it."
So does ex-Tiger Eason.
"The team is young. They like to get up and down. I feel like that matches my play style well," he said. "We've got a lot of young guys, so I think it's gonna be fun just learning together and growing through this experience."