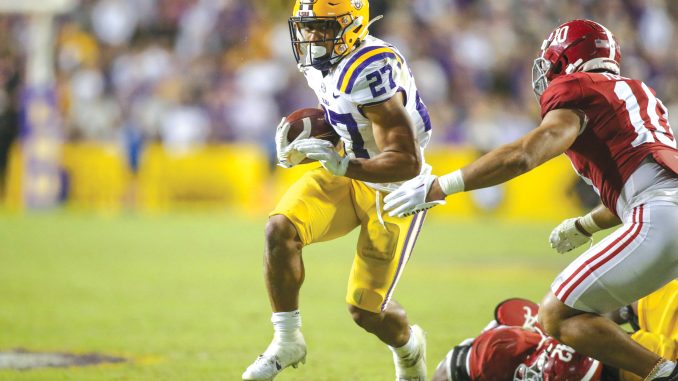 A former walk-on running back and scout team member was among the group of players accompanying LSU second-year head coach Brian Kelly to 2023 Media Day in July.
That's the kind of journey it's been for fifth-year senior Josh Williams who has covered plenty of ground from The Kinkaid School in Houston to being among the faces of this year's LSU team. Williams was joined in July by quarterback Jayden Daniels and defensive tackle Mekhi Wingo to handle more than a 1,000 members at SEC Media Day in Nashville, the unofficial start of a new season.
"It means everything in the world to me to be here in this spot that I'm in," Williams said at SEC Media Day. "Coming into LSU as a walk on and seeing the guys that participate in the SEC Media Days and what they meant for the team, and what they meant to the coaching staff. Just to be in this position I am now, it just feels amazing."
There's no greater representative of LSU than Williams and his presence at SEC Media Day spoke volumes about him as both a player and person. He carried a 3.4 grade point average in graduating last December with a degree in marketing, opening the door for his pursuit of a masters.
"Our team's whole mindset is to graduate champions," Williams said. "That's our slogan and to follow our morals, stay focused. Be respectful and do things Coach (Kelly) wants us to do. I want to just have more fun on the field, and be more vocal on the field and really just be myself. Don't really be shy and just kind of just let it all out."
Williams, who was elevated to scholarship status after fall camp in 2020, has no greater ally than Kelly.
"Josh is probably the least heralded player in the backfield," he said. "He ended up being a captain for us in three different games … all of those traits are what we've been looking for."

The 5-foot-9, 205-pound Williams was the team's second overall leading rusher in 2022 and first among running backs, signaling his arrival as one of the team's most dependable players in the backfield. He was capable of carrying out Kelly's tenants to remain an every-down back: running, receiving and pass protection.
Williams, who started in six of 11 games, carried 97 times for 532 yards – an average of 48.4 yards per game – and six touchdowns. He was also effective as a receiver with a career-best 21 receptions for 132 yards.
Kelly handed Williams his first game ball of the season after his first career 100-yard performance (14-106) in a 45-35 road win over Florida.
"He stopped the charge of the defensive ends, caught the ball out of the backfield, picked up blitzers," Kelly said. "He actually picked up the defensive end by himself a couple of times when we missed the slide, ran the ball coming in the third quarter with authority that gave us great momentum."
Williams said the gesture certainly resonated with him.
"That was a big deal for me," he said of the game ball. "It was the first time I ever actually noticed that I actually had some accomplishments."
With production limited from Daniels because of the flu, Williams was one of the team's bright spots in a hard-fought 13-10 victory over Arkansas, helping the Tigers nail down the SEC Western Division title. He had career highs in yards (118) and attempts (18) and a touchdown.
What became apparent, though, in the game was Williams' health which resulted in him having to leave, missing the following week's 28-23 road setback against Texas A&M and limiting him in a 50-30 loss to Georgia (6 carries, 50 yards) in the SEC Championship Game.
Williams missed the Citrus Bowl versus Purdue and was entirely held out of spring following offseason knee surgery.
"It's tough," Williams said of his injury. "It's tough mentally whenever you know that you can't play, and guys are looking for you to play. But I tried to take that time to be mentally tough and being a leader more vocally because I'm more of a leader by action. I tried to just use this time to be more of a vocal leader this whole spring and I feel like this has made me grow as a person."
Williams' recovery went so well he was cleared for summer weightlifting and conditioning, and drill work, with his teammates.
When LSU began fall camp on Aug. 3, they did so with eight scholarship running backs following the additions of Logan Diggs of Notre Dame, the return of Tre' Bradford and John Emery Jr., along with freshmen Trey Holly and Kaleb Jackson.
Clearly, those aren't the numbers that are bother Williams, only the team's win total and achieving the goal of winning a national championship.
"Ultimately, it all goes up to coach Kelly," Williams said. "We all understand we're trying to win a game. It's not about reps or who wants to get more yards. We're trying to win a national championship. He understands that and we all understand that."