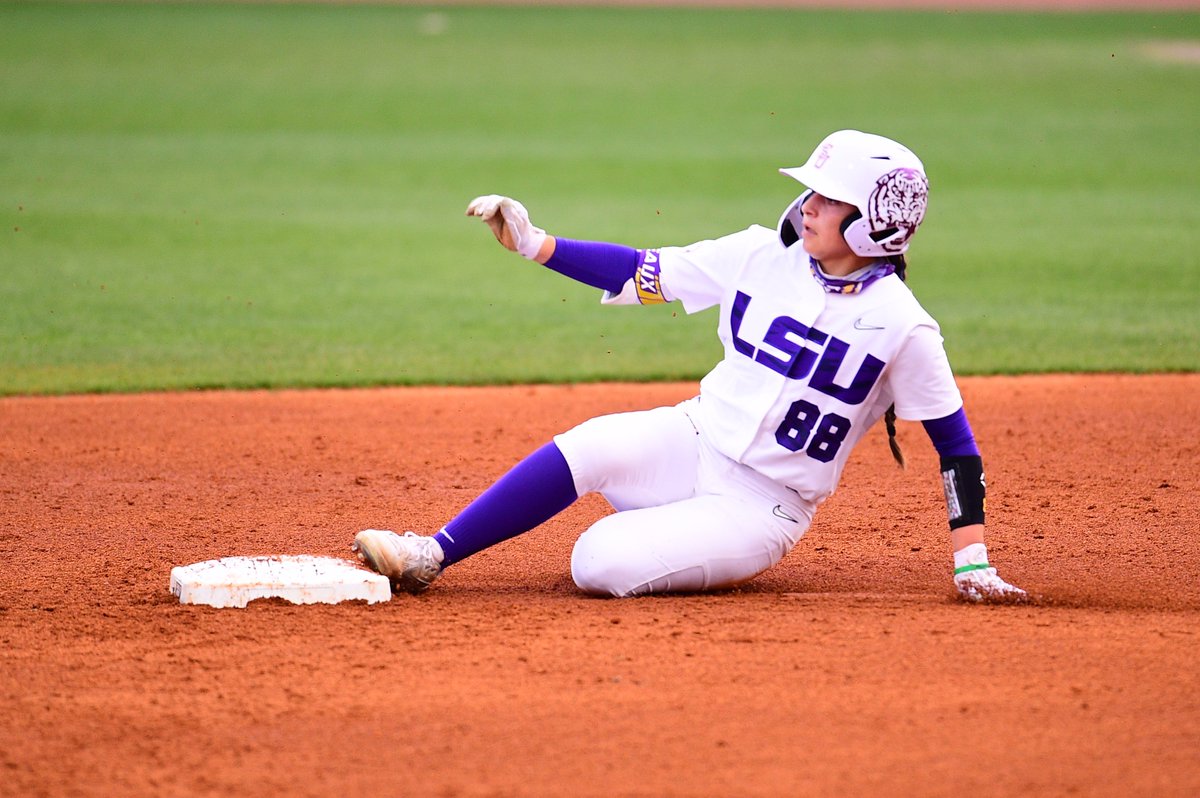 After her first full season in college, one that lasted four months and 57 games, LSU outfielder
Ciara Briggs doesn't break routine.

When she returned to her Southern California hometown of Yorba Linda last summer, Briggs resumed her daily ritual of an hour a day hitting in her family's batting cages five days a week.

The first 50 balls, she spends on her knees bunting before standing and hitting away and slapping.

It's custom to meet twice a week with a speed coach and the family's garage has long been converted into a workout room.

"There are two things that she wants, said Ken Briggs, a former college and minor league baseball player and Ciara's father. "She wants to win a (College) world series and wants to be an All-American. When she told me that, I told her that comes with great responsibilities. She knows what she wants, we try and give her the tools and the places she needs to do what she needs to do, and she does it."

A lifetime of commitment and working at her craft, the result of growing up in an athletic household surrounded by older siblings, placed Briggs on a fast track on a softball journey that's carried her to LSU and the start of a very promising career.

She was voted to the All-Southeastern Conference Newcomer Team and second team All-Louisiana after finishing second on the team in batting average (.339), tied for second in doubles (7), second in steals (11 of 12) and sixth in fielding percentage (.979).

"She wants to be great," LSU softball coach Beth Torina said. "Everybody that comes to the field loves watching this kid play. She's so dynamic. She runs, hits for power. That combination just doesn't come along all the time."

Don't refer Briggs as a slapper because you're likely to get raised eyebrow. The art of slapping is something the 5-foot-5 converted left-handed hitter is very adept at, but she also takes great pride in being able read defenses and finding the holes whether they're in the infield or the gaps in the outfield.

It was commonplace last season to see Briggs either drop down a bunt, slap or swing away – in the same game – where she registered four homers and compiled a .485 slugging percentage.

"My dad said to try slapping because I was pretty quick," Briggs said. "Over time, all the work has helped me have multiple tools that I can use. With all the tools I have, I have to do that much more work to make sure each one is being consistent."

Briggs arrived at LSU ready to contribute because of the sacrifices of her parents. Her mother Roseann played volleyball and softball in junior college and combined with Ken's baseball background, forged an athletic plan for Ciara to follow.

She didn't exactly resist. With an older sister that played softball and two older brothers who were baseball players, Ciara was grew up around the two sports at an early age and greatly admired her sister Kelsi, who played collegiately at East Carolina, and wanted to follow in her footsteps.

"There wasn't any doubt that I wouldn't play sports," Briggs said. "I played soccer growing up
until 10 years old and had to make a decision. My sister played a huge part in why I wanted to play softball. I grew up watching her play and thinking I wanted to do that and be as great as her. My whole life I was coached by my parents and so thankful I had them by my side through it all."

Briggs' family enhanced Ciara's development, introducing her to softball at the age of 5 and two years later placed her on one of their 8-year-old travel ball teams. At the age of 8, she played on a 10-year-old team, following a familiar refrain throughout her travel ball days – only once playing in her own age group (14U.)

"I let her play with her own age group," Ken Briggs said, "and it was enough of that." Because of her love of the game and natural ability Ken Briggs never saw his daughter's "playing up" as a drawback. Instead, it fostered her drive to become a better player because she not only played with talented players, it forced her to grow up against equally gifted opponents, some of which went on to play at Power 5 Conference schools across the country.

"For some kids it's not going to work out that way, for her it did," Ken Briggs said. "She had to step up. It wasn't good from the get-go. I would sit her because she had to earn her keep. Just playing with older girls that are really good, and watching the game being played the way it's supposed to be played, she fell right in there."

Maybe the ultimate challenge for Briggs was entering high school as a 14-year-old, skipping 16U for the ultra-competitive world of 18U where she more than held her own. At Orange Lutheran High, Briggs became a four-time All-County and All-CIF selection. She was a four-time All-American by MaxPrep.com, Perfect Game, Extra Innings Softball and FloSoftball.

Over her last two seasons in high school Briggs batted .547 with 12 home runs, 23 doubles, 8 triples, 45 RBIs and 18 stolen bases.

"She's a player with a really high school IQ, she's just learned how to play the game right her whole life," Torina said. "She just knows how to do the little things."

Like picking a school such as LSU which initially wasn't on her radar.
Briggs, who was an eight-grader when she committed to Torina, had visions of attending Arizona where her favorite outfielder, Caitlin Lowe, was on staff and eventually took over the program last season.

Only at the instance of her mother did Briggs take a visit to LSU which eventually led to a tearful phone call to her father who was not on the visit.
"She said she loved it, this is where she wanted to go," Ken Briggs said. "She was on the way to the airport. I told her to turn around and go tell Beth you want to be a Tiger."

Said Ciara Briggs: "It was incredible. The atmosphere, the culture, the traditions of LSU just blew
me away. The softball program really is a family."

Briggs got a small sample size of college softball during the coronavirus-shortened 2020 season. She started in 22 of 24 games, batted .393 with eight RBIs and was 9-of-9 in stolen bases when the season was halted after 24 games, easing her adjustment to the '21 campaign where she was one of three players to play in every game.

She recorded 13 multi-hit games and never went more than two games without a hit, finishing second on the team with 58 hits. During her first postseason play Briggs batted safely in five of six games (.409 average) and scored four runs, setting the stage for a greater role this season which will see her transition from left field to center field, taking over for former All-American Aliyah Andrews.

"I'm trying to get the job done out there, show people what I can do," Briggs said. "Aliyah had an amazing career here at LSU and no one's going to forget that. I want to step into those shoes and continue the greatness out there."