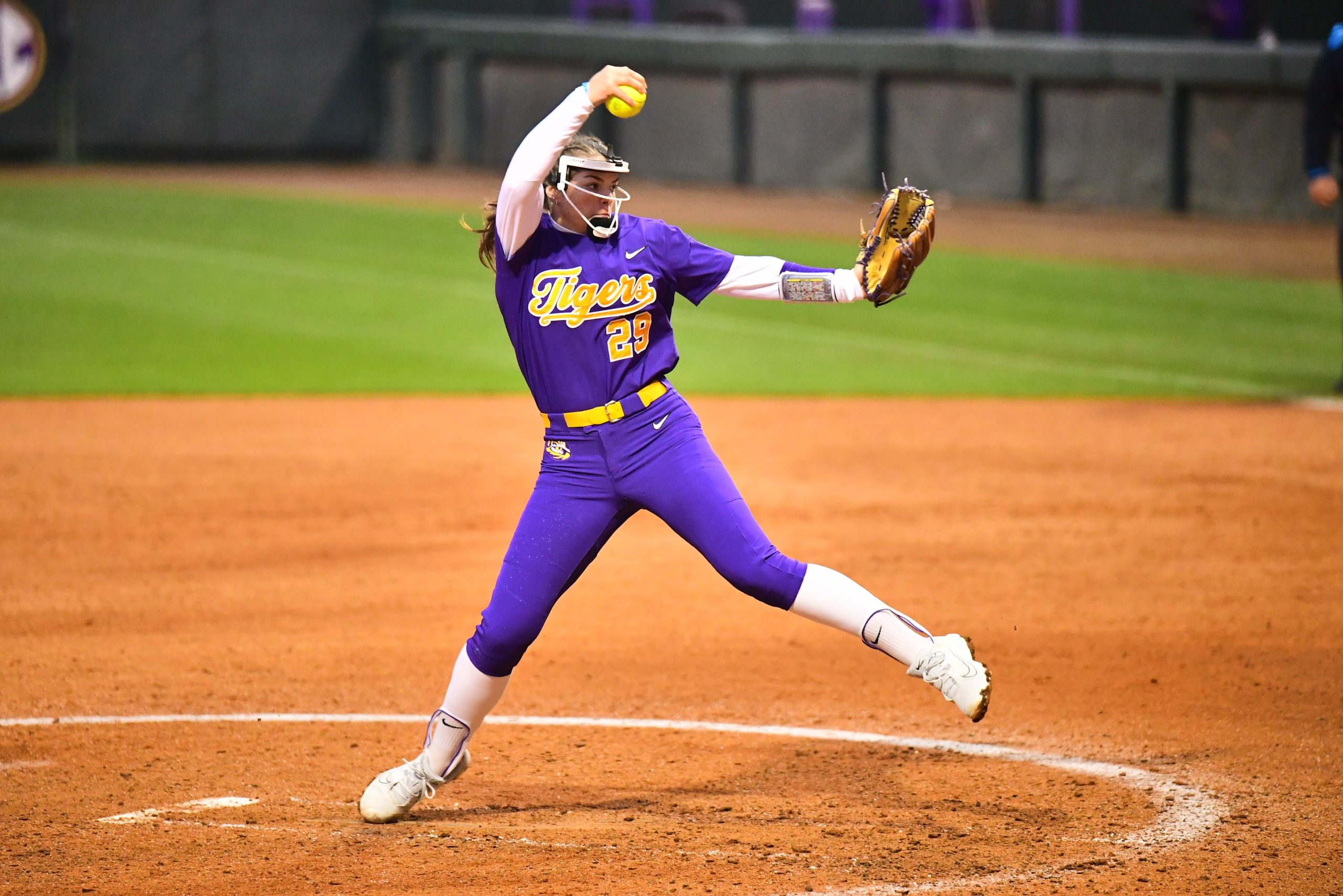 The wounds of last year's late-season freefall are still evident.
Never had an LSU softball team exited a season the way they did in 2022 with four straight losses to close the year, including a startling 0-and-2 showing in the NCAA Regional.
"It definitely fueled their fire," said LSU softball coach Beth Torina, who begins her 12th season with the Tigers. "It's something they never want to let happen again."
Such a collapse could have threatened the foundation of the program, but you get the feeling it's going to make the Tigers stronger in '23.
LSU began compiling such evidence last weekend with a 5-0 showing in its own LSU Invitational with three mercy-rule wins that featured a pair of shutouts.
The return of such program pillars – pitcher Ali Kilponen, first baseman Georgia Clark, shortstop Taylor Pleasants and center fielder Ciara Briggs – help form the nucleus of a team that's been given somewhat lukewarm notoriety. The Tigers have been ranked between No. 20-25 and picked in the preseason to finish fifth in the Southeastern Conference which sent 12 teams to postseason play last season.
"We definitely learned from last year what we could have done better, and we did a lot of great things last year," Briggs said. "We're going to take that as our motivation and drive us for this year. We have one goal in mind and that's to go to OKC (Oklahoma City). We're using that as motivation because we definitely don't want to feel like that again."
LSU's 34-win total a year ago was the fewest under Torina in a non-COVID season. The former Florida pitcher and native of Orlando is familiar with the program's standard because she's helped add to it with a pair of 50-plus win seasons, five 40-plus win seasons and four of the school's seven trips to the Women's College World Series.
But the Tigers haven't returned to Oklahoma City since 2017 and want last year's late plunge to serve as more of an outlier than an indication of the where the program is headed.
There have been some tough lessons to learn along the way.
Torina strategically downsized her roster from 27 players to a more manageable number of 21 this year, led the by the aforementioned group. She has 13 letterwinners back and seven starters from '22.
"We kind of got ourselves in a spot where we thought things would just kind of happen because we're LSU and forgot we had to earn them," Torina said. "We understand and they've been trying to make up for that ever since."
This marks the fifth season for Kilponen, who for the first time in her career, garnered All-SEC first team honors in '22. She was also second team All-South Region and is the pitching staff's undisputed leader.
Kilponen won 18 games, pitched 171.1 innings with 145 strikeouts last season and despite all of those career-high statistics may be even better in '23. She will also serve the leader of a talented, yet youthful, pitching staff that has only Raelin Chaffin back from last season.
Torina landed one of the nation's top recruiting classes and it's easy to understand her giddiness with the arrival of freshman pitchers Sydney Berzon, Alea Johnson and Emma Strood – all of whom are expected to give the Tigers a different look in the circle where they ranked sixth in the SEC in the ERA (2.90) last year.
"I'm most excited about this pitching staff than in years past because of how talented and wide-ranging we are," Kilponen said.
If there's heartbeat to LSU's team it's usually pumping through the play of Clark who put up career-best power numbers a  year ago. The fifth-year graduate student led the Tigers with 16 homers, 61 RBIs and .667 slugging percentage and was named second team All-SEC.
The Tigers wound up with four players on the All-SEC second team – a group that included Briggs, Pleasants, third baseman Danieca Coffey and Clark. Briggs joined Kilponen and Pleasants on the All-South Region first team.
Coffey became the team's lead-off batter, leading LSU with a .379 average and 72 hits, and starter at third base. Briggs was right behind Coffey, batting .368 with 70 hits, and was rewarded with a Rawlings Gold Glove for her exemplary work in the center where she made highlight-reel catches and didn't commit an error.
You see Pleasants' eyes light up at the prospect of making amends for last year's offensive numbers in which she batted less than .300 (.295) for the first time in her career. She also had 12 homers, 16 doubles and 48 RBIs despite persistent pain in her knees in the latter stages of the season.
"I have arthritis, so it's not the best," she said.
For the first time since the advent of the transfer portal, Torina added a pair of players in catcher/designated player Hannah Carson of Michigan and infielder Karli Petty of Oklahoma State with both players expected to either start or contribute immediately.
Two-time Gatorade Player of the Year Maci Bergeron of Notre Dame in Crowley is a freshman revered for her prodigious bat and ability behind the plate, infielder McKaela Walker is the program's first mid-year enrollee in 21 years and Maia Townsend is another member of a talented freshman class expected to help in the outfield, and on the base paths with her speed.
"We're really excited about this team," Torina said. "Top to bottom, it's kind of the team we've been trying to put together here for a few years."