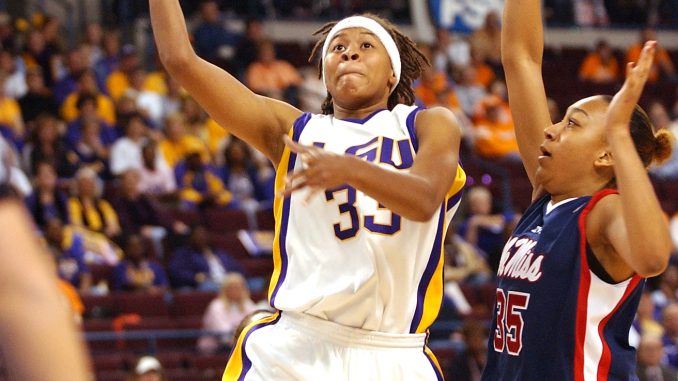 NATCHITOCHES – Women's basketball great and eight-time WNBA All-Star Seimone Augustus, along with college, Olympic wrestling star and coach Kevin Jackson are the LSU athletes in a star-studded nine-member group of 2024 "competitors" ballot inductees chosen for the Louisiana Sports Hall of Fame.
NFL record-setting passer and Super Bowl XLIV MVP Drew Brees of the New Orleans Saints also headlines the Class of 2024 which includes mixed martial arts icon Daniel Cormier; Perry Clark, who guided Tulane basketball to unprecedented success in the 1990s, and McNeese football great Kerry Joseph.
Also elected for induction next year are high school football coach Frank Monica, who won state titles at three different south Louisiana schools; and Ray Sibille, a Breeders' Cup-winning thoroughbred jockey from Sunset who ranks among the nation's elite as a rider.
The class also includes retired Grambling baseball coach Wilbert Ellis, the second-ever recipient of the Louisiana Sports Ambassador Award. During his coaching career and since, Ellis has made local, statewide and national impact not only in his sports field but also in other endeavors.
The LSHOF's Class of 2024 will be enshrined at the Hall of Fame's home in Natchitoches to culminate the 65th Induction Celebration. The dates for the three-day celebration will be announced soon.
A 40-member Louisiana Sports Writers Association committee selected the 2024 inductees. The panel considered 149 nominees from 28 different sport categories on a 35-page "competitors" ballot.
Also spotlighted next year will be three other Hall of Fame inductees, a winner of the Dave Dixon Louisiana Sports Leadership Award and two recipients of the 2024 Distinguished Service Award in Sports Journalism presented by the Louisiana Sports Writers Association, the parent organization of the Hall of Fame. Those inductees will be announced later this year.
Arguably the greatest women's basketball player in state history, Augustus played point guard/forward while starring at high school, college and professional levels. The Baton Rouge native was part of three gold medal-winning USA Olympic teams and four WNBA title teams.
Foreshadowing her incredible career, Augustus was on the cover of Sports Illustrated for Women as a high school freshman. LSU unveiled a statue in her honor in January 2023. Augustus led Baton Rouge's Capitol High to a 138-7 record, with Class 4A titles in 2001 and 2002 and a finals appearance in 1999. She scored 3,600 points, had 1,728 rebounds and 869 assists, becoming a four-time Class 4A MVP and the LSWA's Miss Basketball in 2001 and 2002. She played in the first McDonald's Girls All-America game, finishing with 16 points and 12 rebounds.
At LSU, Augustus scored 2,702 career points, averaging 19.3 points. 5.2 rebounds and 2.0 assists over four seasons while leading the Tigers to a 114-17 record and three Final Fours. Augustus was the USBWA National Freshman of the Year in 2003 and swept National Player of the Year awards (Wade, Naismith, Wooden and Honda) in 2005 and 2006.
Augustus was the WNBA's No. 1 draft pick in 2006 by the Minnesota Lynx and was its Rookie of the Year in 2006. She won WNBA titles with the Lynx in 2011, 2013, 2015 and 2017. The 2011 finals MVP, she made the WNBA's 20th anniversary and 25th anniversary teams. Augustus scored 6,005 career points (tied for 13th in WNBA history), averaging 15.9 points a game for the Lynx and 15.4 overall.
Overseas, Augustus was the Euro Cup MVP in 2009 and led her teams to Euro Cup titles in 2008 and 2009. A member of the U.S. Olympic gold medal-winning teams in 2008, 2012 and 2016, she was inducted into the National High School Sports Hall of Fame (2019).
An LSU star from 1984-86, Jackson, wrestling in the 82kg (181-pound) freestyle class, became only the second Black wrestler globally to win an Olympic gold medal when he beat Elmadi Zhabrailov of the Unified Team in the 1992 Barcelona Games. Jackson also won swept the gold medals in the 82kg division at the 1991 and '95 World Championships and Pan Am Games — giving him five major wins in a five-year period. He's one of only six U.S. men's freestyle wrestlers to claim at least three career world-level (Olympics/World Championships) titles.
A three-time All-American for LSU before the school dropped the sport, Jackson moved on to national powerhouse Iowa State to finish his career where, after being voted team captain, he won his fourth All-America honor with a runner-up finish in the 167-pound class — helping the Cyclones win the 1987 NCAA title.
He joined the USA Wrestling coaching staff in 2001 and was freestyle coach for the U.S. at the 2004 and 2008 Games when Cael Sanderson (2004) and Henry Cejudo (2008) won gold medals. Jackson also was the primary coach for Brandon Slay, who won Olympic gold in 2000.
Jackson is a member of the FILA International Wrestling Hall of Fame, the United States National Wrestling Hall of Fame and was inducted in the LSU Athletics Hall of Fame in September 2019.