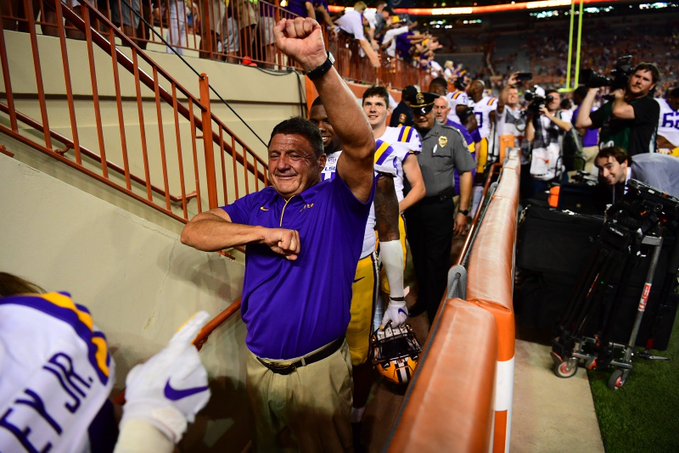 TUSCALOOSA, Ala. – They went to Texas, put up 45 points and 573 yards and beat a 9th ranked team coached by someone who turned his nose up at the LSU coaching vacancy in November 2016.
Maybe the defense isn't national championship caliber, said the critics. Gave up 530 yards and 31 of the Longhorns' 38 points in the second half.
They handled No. 7 Florida by 14 points, scoring 42 points and gaining 511 yards in just 48 plays.
Yep, the defense still was suspect. Got nailed for 310 passing yards and three TDs to a quarterback with only a couple of college starts to his name.
They got past No. 9 Auburn by a mere three points, scoring a season-low 23 points against the SEC's best defensive line.
Let's see what happens when they a play a quality defense, the naysayers bellowed. Wait until they play Alabama. Tuscaloosa is where undefeated opposition and Heisman Trophy candidate hopes die.
No doubt, they – the No. 1 AP ranked LSU Tigers – will be revealed as an national championship contending fraud, as will quarterback Joe Burrow's phony Heisman hopes.
As of 6:24 p.m. Saturday when Burrow knelt one last time here in Bryant-Denny Stadium after accounting for 457 of his team's 559 yards and three TDs in a historic 46-41 victory over the unbeaten No. 1 coaches poll ranked Crimson Tide, all the doubters disappeared quietly into the night as did losing streaks.
Eight straight losses to Alabama? Rest in peace, said the former 90 LSU players including 76 seniors and 14 underclassmen who declared early for the NFL, all that never enjoyed a win over the Crimson Tide starting with the 2012 signing class.
Tigers' fourth-year coach Ed Orgeron's 0-6 lifetime record (including his three seasons coaching Ole Miss) against Alabama coach Nick Saban now has a mark in the win column.
Failing to score a point vs. the Tide two of the last three years. How about the most points ever scored vs. Alabama in Bryant-Denny?
Stick THAT in your houndstooth hat.
There's good reason why Orgeron and his wife Kelly had matching red eyes as he conducted network postgame interviews on the field. They had already wept tears of joy for the 58-year old Cajun-born Orgeron, whose 3-21 three-year Ole Miss SEC record and subsequent firing in 2007 had circled his career like a buzzard.
Behind the closed doors of the LSU dressing room after Saturday's win, he could no longer contain the fire within him.
"We're going to beat their ass in recruiting, we're going to beat their ass every time they see us," Orgeron roared in a postgame locker room video posted on social media. "You understand that? Roll Tide what? F-you!"
Not exactly a picture of sportsmanship. But Orgeron's explosion is the feeling of every LSU fan fed up with the Alabama football fan base arrogance, much like the Kentucky basketball fan base.
Because both schools have won more national titles in their respective sports than all the other SEC members, they have fan bases who believe their programs are entitled. They are convinced their programs practically invented the games of football and basketball respectively.
Roll Tide and Big Blue fans are long winded on bragging with zero humility. So, when they are taken down a notch, like Alabama did Saturday in getting a 31-game home winning streak snapped, emotions flow like lava from someone like Orgeron.
His Tigers had scored just one TD in the previous three games he faced the Tide, not to mention the frustration of losing recruiting battles in his backyard to current Alabama and former LSU coach Nick Saban.
Here two years ago, LSU quarterback Danny Etling misfired on three deep routes to wide-open Tigers' receivers in a 24-10 loss to then-No. 1 Alabama. In Orgeron's postgame press conference, he believed his program was closing the gap on the Tide.
"We comin'," he said with his eyes burning a hole through the media questioner.
It seemed last year's 29-0 loss to the No. 1 Tide in Baton Rouge was a major regression for LSU. Actually, it was one of the Tigers' old-school anemic, predictable plodding offensive performances that pushed Orgeron to change to a spread offense, hire a 29-year old passing game coordinating wunderkind named Joe Brady from the New Orleans Saints and place their complete trust in fifth-year senior Burrow.
It can be said that Burrow's decision to enroll at LSU in June 2018 as a graduate transfer from Ohio State probably saved Orgeron's job as the Tigers went 10-3 last season.
"I'm just glad we went to Mike Anderson's (seafood restaurant when Burrow visited LSU shopping for a new school to play) and ate crawfish that night when he decided to come," Orgeron said of using Louisiana cuisine as the ultimate recruiting tool.
There's also the feeling Orgeron salvaged Burrow's college career after the 2014 Mr. Ohio Football signed with Ohio State but fell from the backup QB in 2016 as a redshirt freshman to third-teamer as a third-year sophomore in 2017.
When Burrow was carried to midfield on teammates' shoulders Saturday after surgically dissecting Alabama's defense with some of the most pinpoint throws you'll ever see, not to mention his four first-down conversion runs, it touched his heart.
"That was pretty special," he said. "For a quarterback who came from Ohio last June before the (2018) season, it means a lot to me the way they (his teammates) and the state have embraced me."
So far, it has been a magical season. But if the Tigers want to win their fourth national championship, they're just now past the midway point.
Six more wins – three to close the regular season and three in the postseason – gets LSU the title Orgeron wants to bring back to his home state.
But with the win over Alabama, are the Tigers still "comin'"? Or are they finally there?
"We're there tonight," Orgeron said. "We'll have to see where this leads us. I told our team when we beat Alabama there are bigger games down the line."
Maybe bigger, but considering almost a decade of consecutive failures against Alabama, definitely not as personally gratifying.