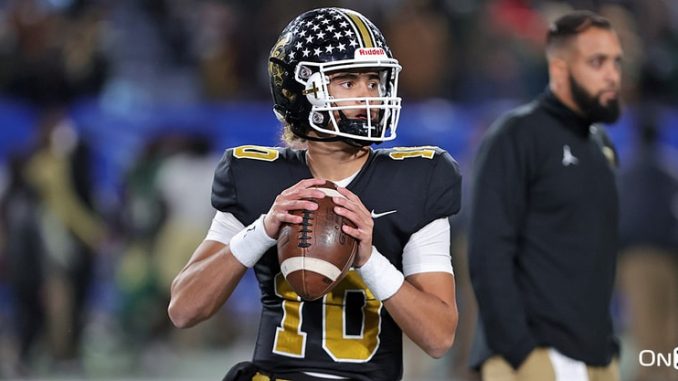 One of the nation's top quarterbacks in the Class of 2026 said Wednesday that LSU's among his top eight school going into his sophomore season.
Julian Lewis, a 6-foot-1, 185-pounder at Carrolton (Ga.) High School, was named national Freshman of the Year by MaxPreps after leading his team to the Class 7A state championship in his first season.
"The vibe at LSU fits me," Lewis told On3.com. "The stadium, the colors, the uniforms and the coaches. (Quarterbacks) Coach (Joe) Sloan has a plan that would have me prepared for the next level."
LSU's also hosted Lewis on an unofficial visit and looks to continue developing a bond that could ultimately lead him to sign with the Tigers.
"Coaching stability is a big deal," Lewis said. "I don't want to be in a situation where there's going to be change every year. Coaches have goals just like players, so I know they have to make business decisions. The offensive coordinator or QBs coach is going to almost always change unless the head coach is the OC; that's the reality at top programs."
Head Coach Brian Kelly's going into his second season at LSU along with offensive coordinator Mike Denbrock and Sloan. The Tigers are going to graduate projected started Jayden Daniels after the 2023 season and are scheduled to return Garrett Nussmeier and Rickie Collins and have a commitment from Class of 2024 quarterback Colin Hurley of Jacksonville, Florida.
"Coach Sloan is my guy," Lewis said. "I really like him and his plan for me as a player. I don't think many schools can play with Alabama and Georgia, but they can. If I went to LSU we would be loaded with guys in my class. That's attractive because there's only a few schools that I know I can build a top class at."
Lewis said LSU's amongst a group of schools that include two-time reigning national champion Georgia, Alabama, Florida State, Ohio State, Oregon, Texas A&M and USC.
Carrollton reached the 7A state title game behind the stellar play of Lewis who was named the region's Player of the Year. He completed 283 of 432 passes for 4,118 yards with 48 touchdowns.
Against Mill Creek, Lewis threw for 529 yards and five touchdowns in a 70-35 setback.
Moreover, Lewis has already been invited to play in the All-American Bowl following his senior year in 2025 season followed by his graduation in the spring of '26.
"My goal is to make a decision soon," Lewis said. "Some schools want me in 2025, others in 2026. A lot is going on. I feel like this is for me and the schools that are recruiting me. There were a few schools that I really liked but they never offered. So, I feel like it's time for me to move on and get them off my mind as well and focus on the schools that are recruiting me for real."