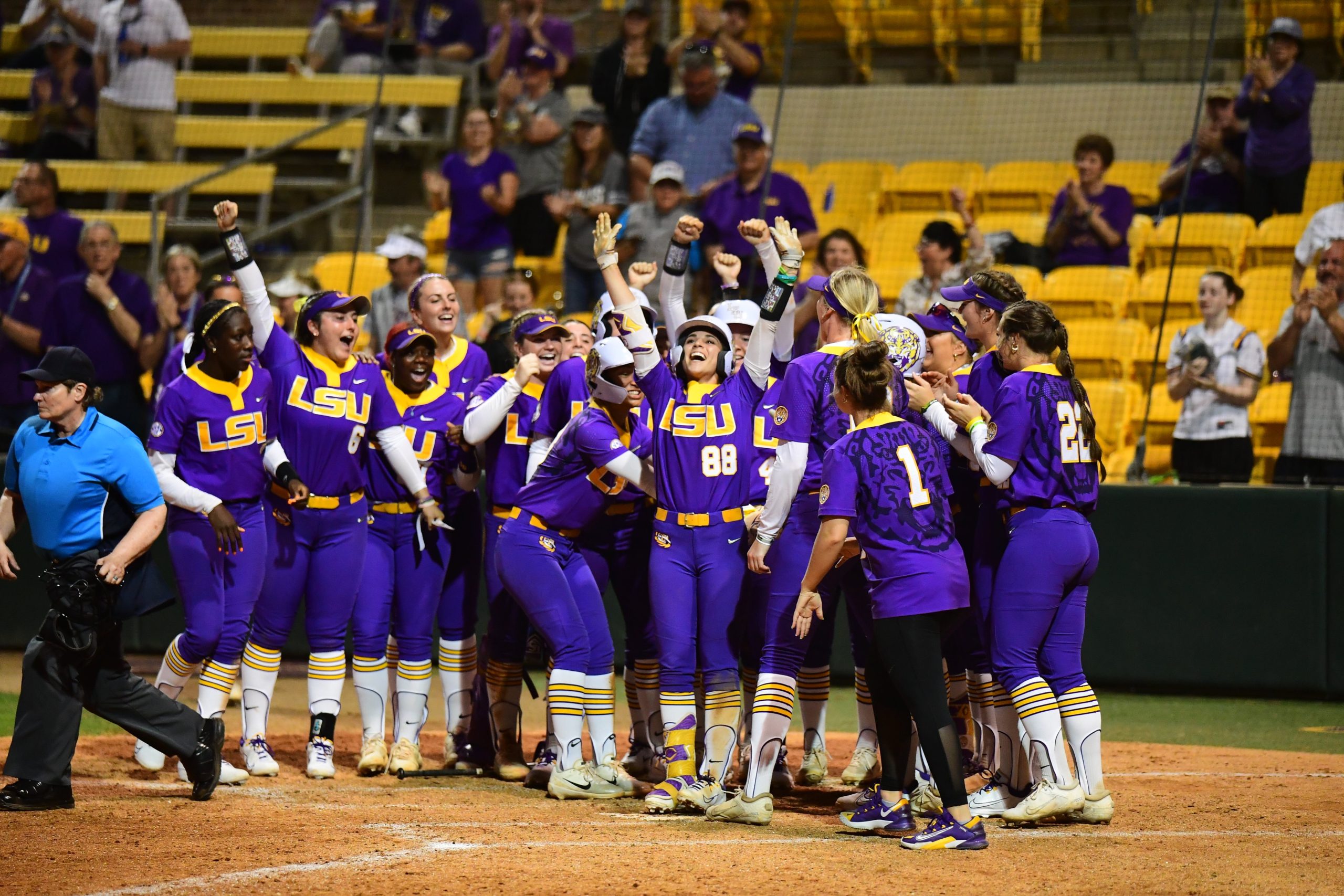 LSU freshman pitcher Aleah Johnson received plenty of support in her complete-game victory Friday over North Carolina State.
The No. 14 Tigers, who scored four times in the opening inning, batted around and scored eight run for a 12-0 mercy-rule victory in five innings over the Wolfpack in the Purple & Gold Challenge at Tiger Park.
LSU (29-6) completed a doubleheader sweep with a 10-2 mercy-rule victory over Brigham Young. The Tigers continue play in the event with a 4 p.m. game Saturday against Louisiana Tech.
"It was good, I liked what the offense did," LSU softball coach Beth Torina said. "The offense did a good job continuing to apply pressure throughout the game. We scored in big numbers, so you always like to see that. Overall, it was a good day for the offense."
LSU 12, North Carolina State 0 (5): Johnson (6-0) allowed three hits over four innings and walked one and struck out four. Fellow freshman Emma Strood pitched a perfect fifth inning in relief.
LSU piled up 10 hits off four pitchers from North Carolina State (12-21) with starter Rylee Wyman (1-7) taking the loss.
The Tigers had four players with multiple hits led by Georgia Clark with a 2-for-4 performance and a team-high four RBIs. Raeleen Gutierrez also went 2-4 with two RBIs.
Clark drove in two runs with a single to right-center field in the first, followed by a run-scoring single from Gutierrez. Taylor Pleasants also drove in a run on a groundout.
The Tigers, which sent 11 batters to the plate, scored eight times on five hits and also took advantage of an error in the fourth inning.
Clark had another two-run single to make it 6-0, while LSU also picked up RBIs from Gutierrez and Maci Bergeron on a sacrifice fly. McKenzie Redoutey had a run-scoring single through the right side, designated player Maia Townsend added a bases-loaded walk and an error off the bat of Karli Petty resulted in another run.
LSU 10, Brigham Young 2 (5): LSU broke open a scoreless tie with eight runs in the second inning – powered by Ciara Briggs' grand slam – to pull away from BYU after a 3-2 win over the Cougars on Thursday.
The Tigers sent 10 batters to the plate in the second that included a run-scoring hit from Redoutey that preceded Briggs' grand slam homer.
Petty tripled in two runs to right-center field and Raeleen Gutierrez added a sacrifice fly.
Gutierrez had a pair of RBIs with a double to center in fourth inning.
Sophomore Raelin Chaffin (4-1) picked up the win, allowing two runs on four hits. She walked two and struck out four.