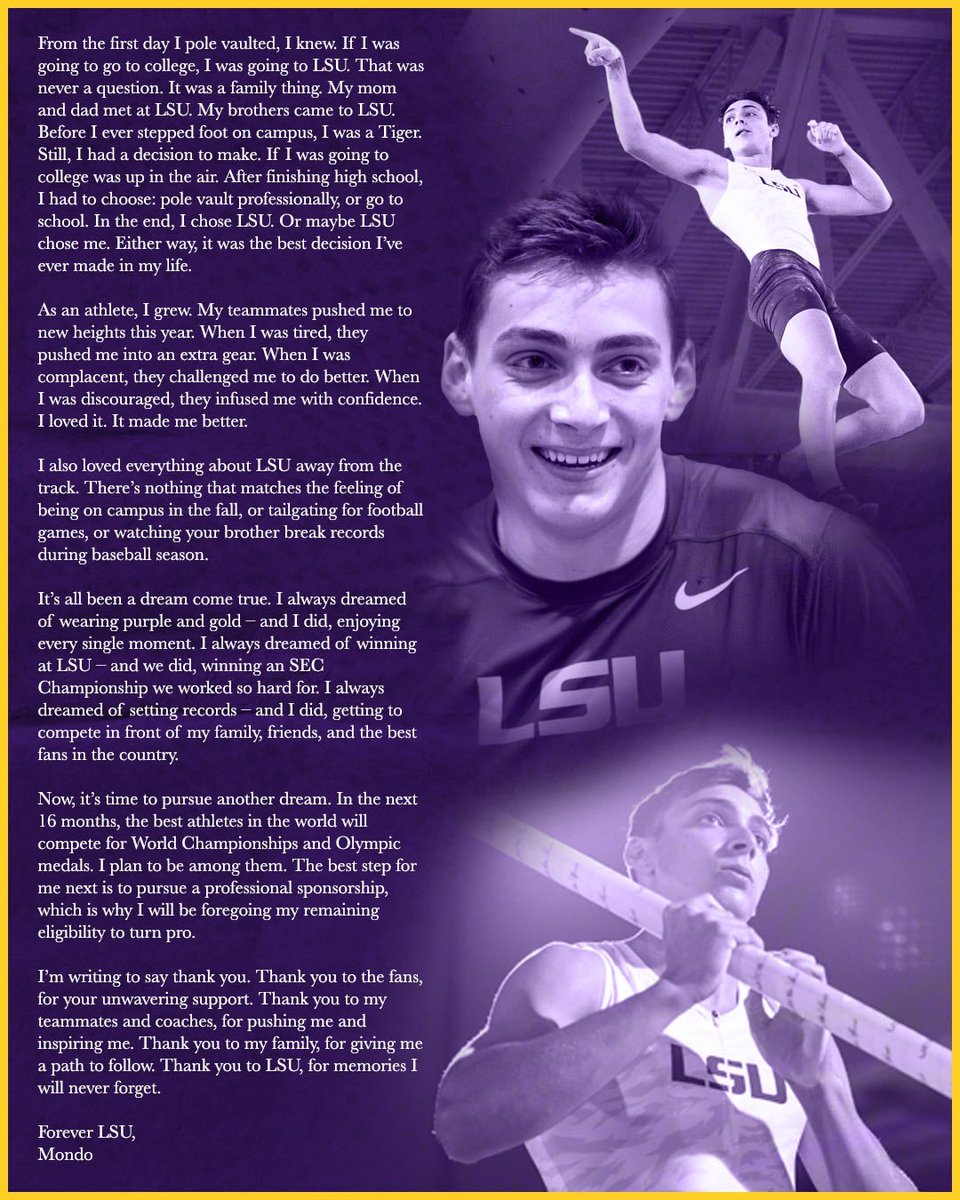 He didn't stay in Baton Rouge long, but LSU pole vaulter Armand "Mondo" Duplantis didn't need much time to make a significant impact in the college track and field world.
After a freshman season in which he won an indoor national championship, broke the NCAA indoor and outdoor records and finished runner-up in the NCAA outdoor championships, Duplantis announced his decision to forgo the rest of his NCAA eligibility and begin his professional career.
"From the first day I pole vaultied, I know, if I was going to go to college, I was going to LSU," Mondo said in the announcement he posted on Twitter. "That was never a question. It was a family thing. My mom and dad met at LSU. My brothers came to LSU. Before I ever stepped foot on campus, I was a Tiger."
Mondo went on to thank his teammates and coaches for pushing him and helping him excel at the collegiate level before announcing he intended to focus on the upcoming World Championships and the 2020 Olympics.
" Now, it's time to pursue another dream," he said. "In the next 16 months, the best athletes in the world will compete for World Championships and Olympic medals. I plan to be among them. The best step for me next is to pursue a professional sponsorship, which is why I will be foregoing my remaining eligibility to turn pro."
Duplantis won the NCAA Indoor Championship and broke the NCAA indoor record with a vault of 19-feet-5-inches in the process.
He failed to win the outdoor championship, but on his way to the NCAA Championship meet, he broke the collegiate outdoor record with a leap of 19-8 1/4.
Moving forward he told Tiger Rag in April that he plans to continue competing for Sweden as a professional, and he has already qualified to compete in the 2020 Olympics set to take place in Japan next summer.
Photo courtesy of Mondo Duplantis