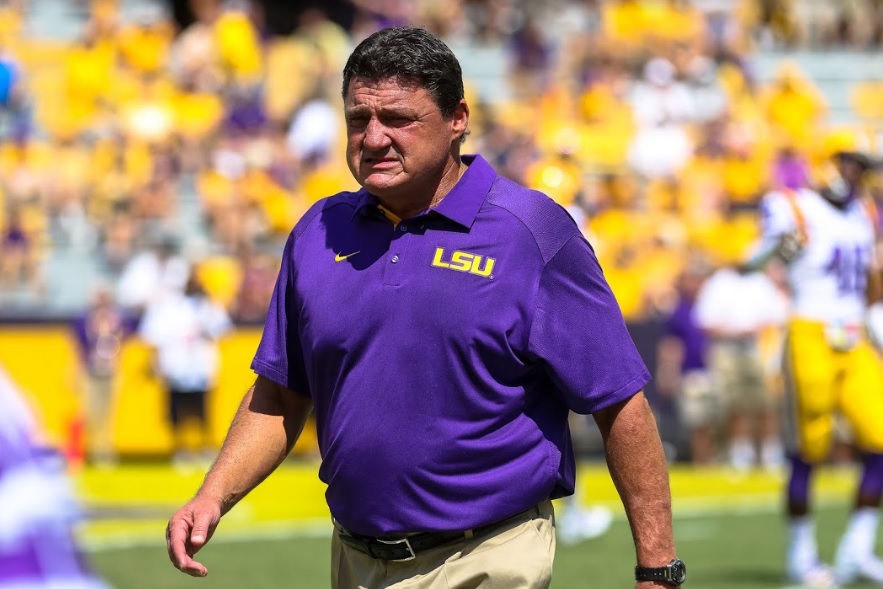 The addition of Joe Brady to LSU's coaching staff has given Ed Orgeron the offense he's always wanted, and apparently that modern passing game was humming during a 110-play scrimmage on Saturday.
LSU coach Ed Orgeron said his quarterbacks completed 74 percent of their passes and didn't commit a turnover during the live scrimmage.
"Joe Burrow and Myles Brennan were throwing the ball and we were running a lot of four-receiver sets and five-receiver sets," Orgeron said Tuesday. "Those guys are doing a tremendous job."
That has to be music to the ears of LSU fans who're starved for the kind of modern spread attack that Steve Ensminger, Brady and the rest of the offensive staff is installing, but be advised: you're not going to see much of it at LSU's annual Spring Game at Tiger Stadium this Saturday afternoon.
"We're not going to show everything," Orgeron said, as expected. "It will be a very basic spring game. We'll get our guys out there and show some things we've been doing, but we're not going to open up the playbook."
Truth be told, LSU might not tip its hand in the season opener against Georgia Southern if it doesn't have to. The more the offense maintains an element of surprise going into a pivotal game at Texas on Sept. 7, the better.
Orgeron also shared that the new offense isn't fully installed yet. Both Ensminger and Brady will be held back from the recruiting trail at times this offseason specifically to work on the offense and develop an installation schedule for fall camp once August rolls around.
"We still have a lot of work to do," Orgeron said. "We're still going to be putting in stuff. In June we can meet with our guys twice a week, so we're going to have football school again. There will be more installation coming."
There clearly is more to do, but Orgeron is pleased with how the group has progressed through 12 spring practices. He cited the return of a seasoned quarterback like Burrow to pilot the ship as a key reason for the quick process.
Ensminger himself said the 2018 offense was held back at times by an inability to stay on the page. Orgeron said the players have been much quicker to grasp the new concepts.
"I couldn't be happier," Orgeron said. "Our guys have got a pep in their step. This offense has been fantastic."
NOTES
– Linebacker Jacob Phillips and cornerback Kristian Fulton practiced on Tuesday, but they're "not even close" to being able to scrimmage in the spring game, Orgeron said.
– LSU went 11-for-12 kicking field goals in last Saturday's scrimmage, according to Orgeron. The coach did not specify how many were attempted by Connor Culp as opposed to Avery Atkins, but he praised both.