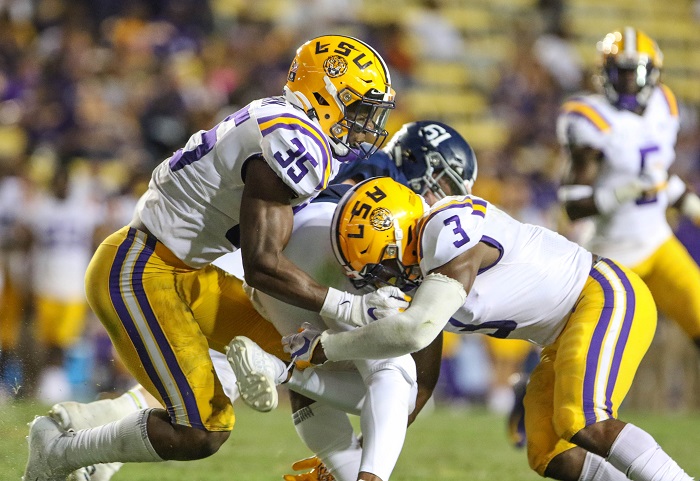 Damone Clark must take blocking out the noise exceptionally seriously.
The sophomore was shocked to learn an hour before kickoff that he was starting at stack linebacker in LSU's season opener against Georgia Southern. Announced starter Michael Divinity dressed out but never played, presumably because of an unannounced suspension.
"I was shocked," Clark said. "But I've been putting in a lot of work since last season. My hard work paid off."
Clark must not have read much of the media coverage surrounding fall camp.
Ed Orgeron gave everyone a heads up.
Rumors of possible suspensions swirled all week. And from the day LSU started practice, not a press conference, media availability or radio show has gone by without Orgeron mentioning how well Clark performed.
"I said it in every interview, watch out for Damone Clark," Orgeron said. "I look at the linebacker grades on a daily basis and I see some 67 percent (grades), and I see 100 (percent) for Damone Clark every day. He came to work. He showed (defensive coordinator) Dave (Aranda) that he could play tonight."
Clark admitted to being nervous when he took the field for his first career start. He'd played in every game as a freshmen last season, but most of that action came on special teams. Rarely, if ever, did he get play on the first-team defense.
You'd never know it based on the way he played. The Baton Rouge native was all over the field and finished with nine tackles, second-most on the team before Jacob Phillips.
"At first I was a little nervous out there," Clark said. "We've got the best fans in the world. Just being out there and people screaming your name, that's a surreal moment."
The nerves subsided by the second series of the game as LSU smothered Georgia Southern's triple-option attack and raced out to a huge lead. The visitors averaged an anemic 1.9 yards per rush and finished the game having compiled just eight first downs.
Even without Divinity, who offered instruction and support from the sideline, LSU's linebackers put on a clinic in terms of assignment discipline and sure tackling.
Nose tackles Tyler Shelvin and Apu Ika clogged the middle against the dive. Georgia Southern struggled to get outside of outside linebacker K'Lavon Chaisson and safety JaCoby Stevens. Stevens looked particularly at home playing the "field" linebacker spot in LSU's 3-4 base.
One false step or over-aggressive play by an inexperienced defender is all a triple-option offense like Georgia Southern needs to break a chunk play. LSU didn't allow a run of more than 11 yards all night, which speaks to disciplined play from the linebackers.
That includes the guy who found out he'd be starting an hour before kickoff and was ready to go. Then again, Clark seemed to be just about the only person who was surprised.
"You see how he looked, huh?" Chaisson grinned. "He looked good! He looked good! But that's just a true testament to man down, man up. I have great faith in anybody on this team. That just showed he deserved the opportunity to play tonight, and he took full advantage of it."
Photo by Jonathan Mailhes