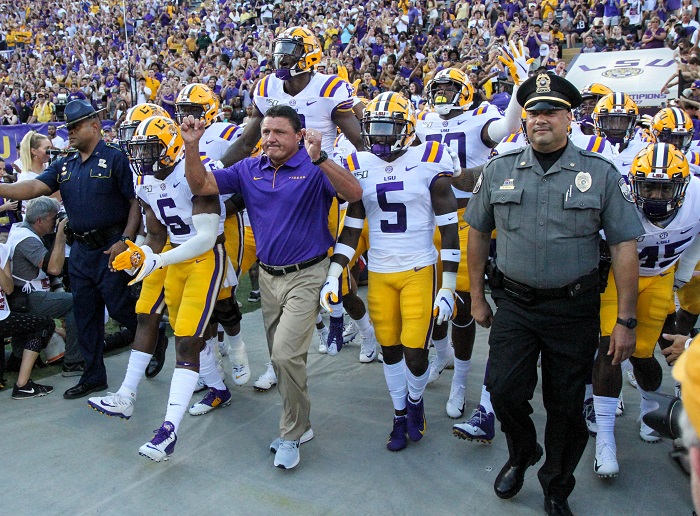 The first week of play on the college gridiron is a time when hope springs eternal. In Baton Rouge, fans swelter through the summer with conviction that this is The Year. Every year brings hope of championship banners being hoisted to the masses at the conclusion of the season. It's been a dozen long autumns since LSU beat Ohio State to close the 2007 schedule. Much too much deprivation for a rabid fandom that invests much residual income to see the Tigers up close and personal.
Eight months without a football fix have spectators streaming one of America's most beautiful campuses with religious fervor. This passion unites a region that is embarrassed by awful quality of life statistics, but takes enormous pride when its team of choice kicks ass on Saturday. Louisiana has ranked first among states in its homicide rate every year for a generation, so fans take solace that twice in the last 16 years, the Tigers have scored NCAA titles in the nation's signature sport. That sentiment is shared by residents in other SEC states which are also battling crime, poverty and poor education.
As much as LSU hates Alabama, I would bet that at least half of the Tiger fan base roots for Nick Saban when his crew faces a foe from another conference in a championship game. Blood is thicker than water in the SEC, even when the Crimson Tide is taking on Clemson.
Alumni and college degree wannabees flock to their cathedral of choice in school colors to pay homage to a roster of young men averaging 20 years of age. These are often African-American recruits from impoverished backgrounds performing in a stadium filled to capacity with less athletic observers who generally are white and hail from more privileged backgrounds.
Nate Northington of the University of Kentucky broke the color barrier as the first black player in the SEC in 1967. That move enabled legendary Coach Paul "Bear" Bryant to integrate the Alabama football squad in 1971, only eight years after Gov. George Wallace attempted to stop the integration of the university and proclaimed in his inaugural address in January of 1963: "Segregation now, segregation tomorrow, segregation forever." Sixteen years later, Bryant won his sixth national crown at Tuscaloosa in 1979 with a team featuring a bevy of black superstars.
Current Bama Coach Nick Saban has collected five national titles in the last decade, fielding a unit that is more than 75-percent African-American. Across the league, a fan base that is solidly white cheers heartily for athletes who a few generations ago would not have been permitted to attend universities which benefit enormously from their contributions. Athletic department budgets fueled by revenues from a dozen Saturdays in the fall frequently exceed $150 million annually.
Saban was awarded the stratospheric sum of $1.2 million per year when he arrived at LSU 20 years ago. His base pay for 2019 is $8.7 million. Every move on game day is an opportunity to generate cash from loyal backers who open their wallets for parking and concessions after paying handsomely for tickets. Their presence enables the university to reap revenue from signage in the stadium that is viewed by thousands of eyes held captive in the stands.
Game day tailgating in Baton Rouge is so prevalent that tens of thousands congregate before kickoff and retreat to their homes to see the action in big screen, high definition splendor. Not so long ago, fans would gather by the radio and listen to the deep resonance of the Voice of the Tigers John Ferguson, who became more famous than most of the players he talked about. Televised offerings have diminished the impact and intimacy of radio play by play voices, but schools continue to derive huge windfalls for broadcast rights.
Those who invest in luxury suites watch the games in air conditioned comfort with an abundance of alcoholic beverages available to celebrate or mourn the performance of the Tigers. For the first time, ticket holders throughout the stadium will be permitted to purchase and consume beer. It's nice to know the common folk can drink for most of the game while big donors imbibe more potent concoctions in their boxes above the madding crowd.
There are few black patrons in the high priced suites at Tiger Stadium a few yards removed from the field where minority players pursue professional riches. Last year, 44 LSU standouts played for NFL employers, and many are self-made millionaires.
Fifty years ago, the best teams in the South were members of the now defunct Southwest Conference. No. 1 Texas clipped No.2 Arkansas, 15-14, for national honors on a frigid December day in Fayetteville with President Nixon braving the elements from a regular seat. It was the last time an all-white team won the NCAA title as Nixon crowned Texas champion in a raucous Longhorns' locker room.
While the game has shifted from almost all white to mostly black participation in the last half-century, politics in the states located within the SEC have changed from bright blue to fire engine red. President Jimmy Carter beat President Gerald Ford in 1976 by winning the eleven current SEC states (Texas, Louisiana, Mississippi, Alabama, Georgia, Florida, South Carolina, Kentucky, Tennessee, Arkansas and Missouri). President Donald Trump swept those states in his 2016 victory.
President Trump opened his triumphant campaign in Mobile, AL at Ladd-Peebles Stadium where Bear Bryant coached his first game at Alabama against LSU in 1958. The stands collapsed at the arena 61 years ago as LSU outpointed Bama, 13-3, before 34,000 in attendance. Trump's appearance in the Alabama city was also the start of a victorious march through the SEC as he secured 150 electoral votes available in the eleven states.
Blacks and whites from the SEC gather for a common purpose on the field and in the arena, but their choices in voting booths are polar extremes. There is about a 95-percent chance that an African-American who voted in 2016 cast their ballot for Hillary Clinton. And there is about an 85-percent chance that is you are white in Louisiana, you voted for Donald Trump.
The Death Valley crowd that comprises more than two percent of the Louisiana population is solidly white and cheers for a collection of mostly black athletes. This optic presents some compelling questions about equity and fairness, but at least for one brief shining moment, good people of different races are working together for a common goal and hoping that LSU patrons and players, black and white, leave Tiger Stadium with a smile.
Photo by Jonathan Mailhes