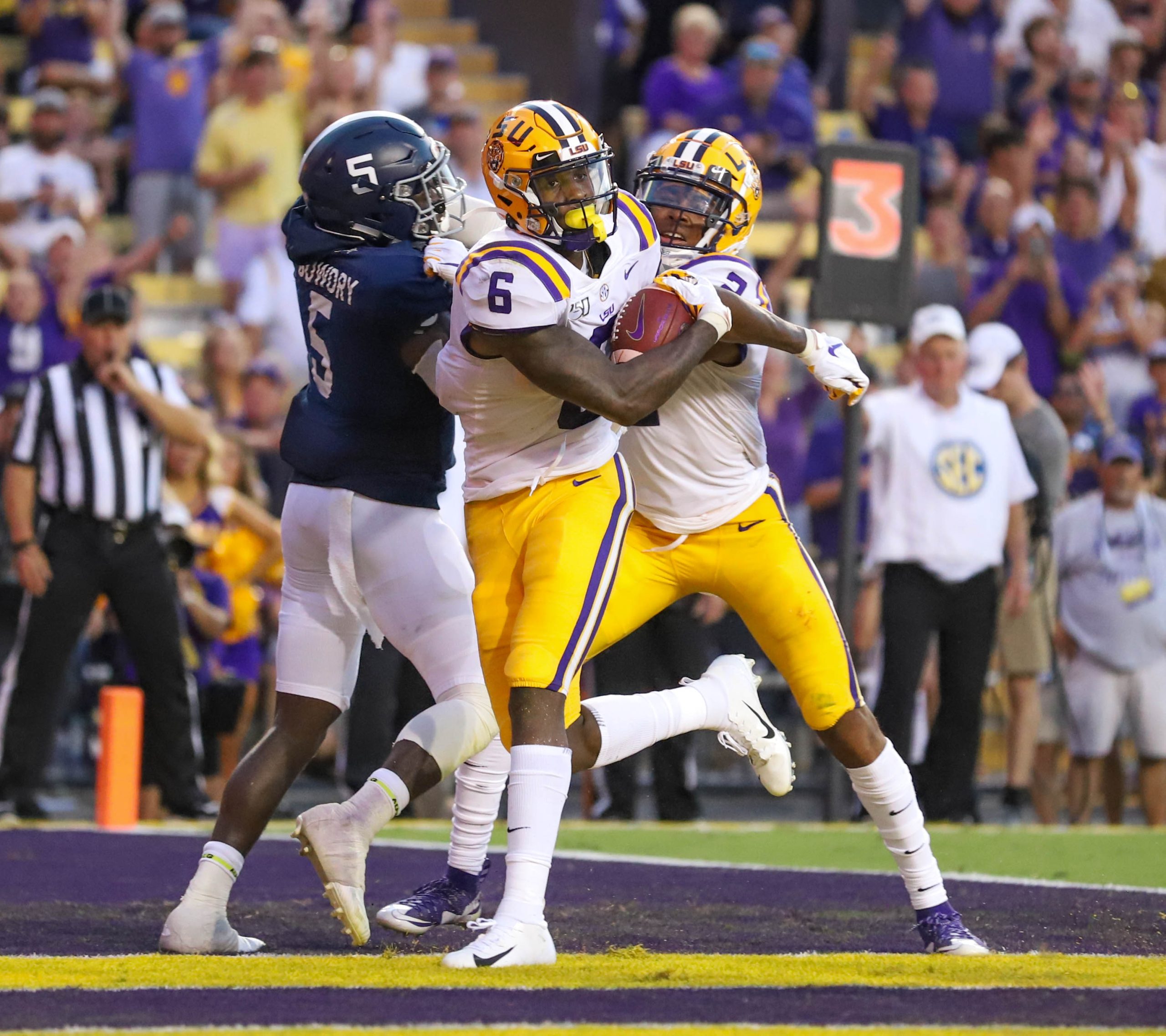 It had been nearly three years since Terrace Marshall had seen the end zone.
The last time he recorded a touchdown, he was junior wide receiver at Parkway High School in Bossier City.
The young receiver with elite speed played only one complete game his senior season after suffering a severe leg injury that kept him out of action until he arrived at LSU.
And though he showed promise throughout his freshman season, earning more and more playing time as the year progressed and he felt more comfortable on his rehabbed leg, he never felt 100 percent.
He caught 12 passes for 192 yards, and he never reached the end zone.
Marshall— and his coaches, for that matter — knew that would change, probably sooner rather than later, and he fantasized about what his first collegiate touchdown would look like. He told reporters he wanted it to be a SportsCenter Top 10-worthy play in which he made multiple defenders miss.
That didn't happen, but he did make up for lost time, nabbing three touchdown passes in the first half of LSU's 55-3 rout of Georgia Southern on Saturday night.
His first collegiate touchdown reception was a pretty standard 8-yard reception on a route in which he used his speed to force two defenders to over-commit before abruptly stopping and turning to see the ball zipping toward him. Just like they practiced it.
After the play he immediately pointed his finder to the sky to give thanks for the long-awaited moment.
"When I caught it what through my mind was just, I knew it was all God," Marshall said. "I'm just thankful for him. He gets all the glory. I waited for this moment. It was very special."
Marshall was actually the third LSU receiver quarterback Joe Burrow connected with in the end zone.
The first touchdown of the game featured Burrow sneaking in a pass on a slant route to Ja'Marr Chase, and the second was a fade to slot receiver Justin Jefferson on a designed fade.
But Burrow had Marshall in mind throughout the first half, and when the opportunity presented itself, he made sure the sophomore receiver got a chance to shine.
"I was so happy for him," Burrow said. "He didn't get any touchdowns last year, so I was kind of looking for him tonight. I was looking for him on the first (Marshall touchdown), and the play call just ended up going to him on the other two."
The reception from his fellow receivers was as positive as ever. They spent the first half congratulating each other and patting each other on the back.
And for good reason. They entered the game with plan of showing the world that a new era of LSU offense — and especially pass offense — is afoot, and they executed that plan to near perfection.
"Everybody eats" has been the motto for this LSU offense, and it proved accurate Saturday night as Burrow and backup quarterback Myles Brennan completed passes to 11 different receivers, eight of them multiple times.
But Saturday night was Marshall's night to shine, and why not? He waited long enough.
"I have goals, but at the end of the day, my biggest thing is getting the team win," Marshall said. "I did went out there and did my part. I was just blessed to have the most touchdown on the team."