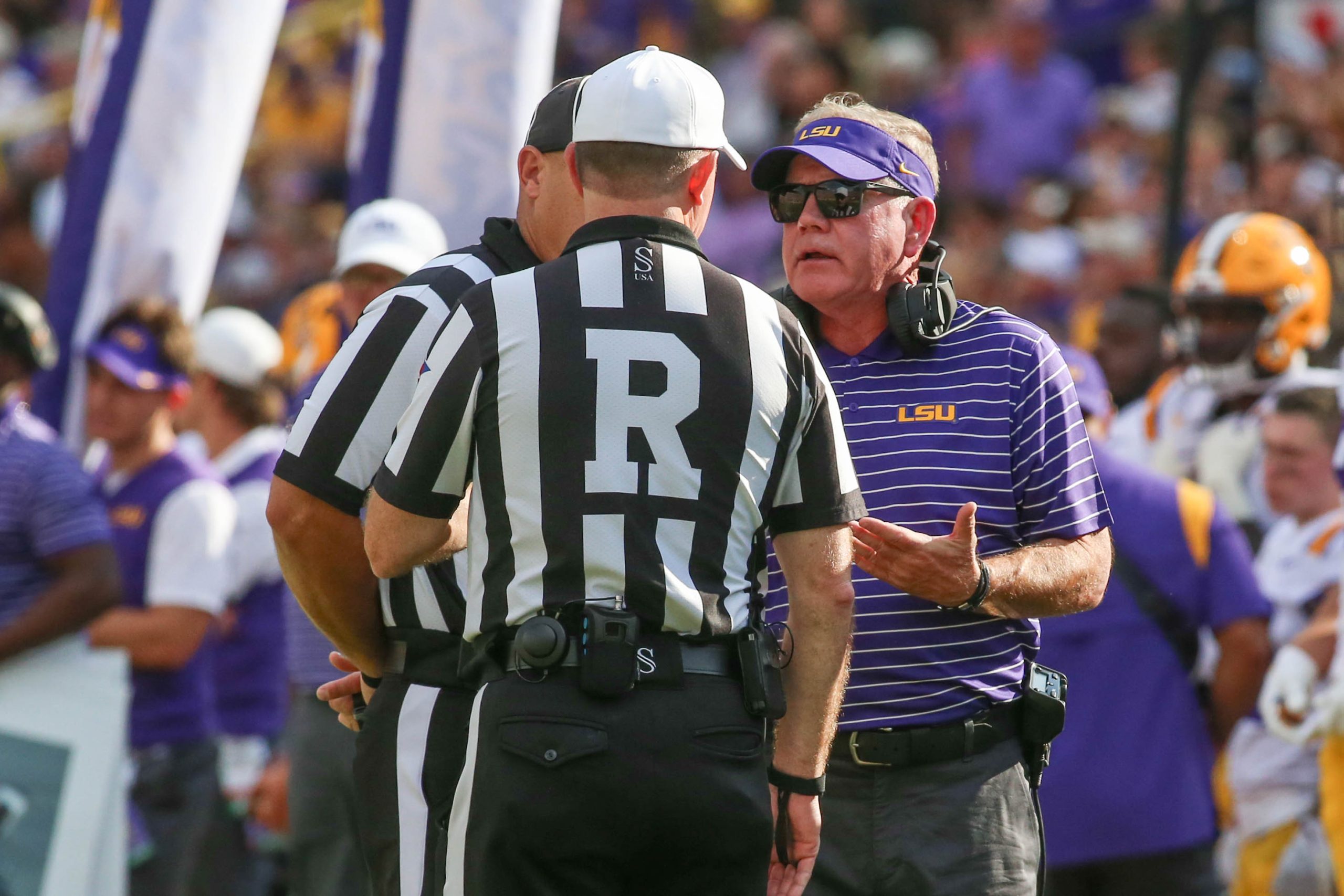 As LSU Football First Lady Pacqui Kelly observed her 57th birthday on Feb. 9, Tiger Rag editor Todd Horne reported that her husband Brian had filed a divorce petition at the Baton Rouge Courthouse. A local television station parroted the Tiger Rag story, and the world wide web lit up with reaction.
Amid predictable bloviation from the mental and physical weaklings and anonymous keyboard cowards who troll on Tiger Droppings, there was significant concern for the gallant, two-time cancer survivor who is married to the highest paid public official in Louisiana.
Hours later, the couple's daughter posted photographs of Brian and Pacqui together, indicating a reconciliation was possible for the Kelly's, who married in July of 1994. When they wed, Brian was about to start his fourth year as head coach at Grand Valley State where he was a largely unknown personality for 13 seasons.
Kelly went 41-1 in his last three years at GVSU, migrated to Central Michigan at age 41, to Cincinnati at age 44, to Notre Dame at age 47 and to LSU at age 59. Through every move, his partner has been the former Francisca Craig, a gracious lady who softens the edges of her sometimes taciturn husband. Together, they have forged a coaching empire that is a multi-million-dollar enterprise.
"This is an especially mean filing," said Lewis Unglesby, one of Baton Rouge's best-known lawyers. Kelly not only filed to end the marriage, he requested exclusive use and occupancy of their magnificent home located at 3267 East Lakeshore Drive down the street from the residence of LSU President Bill Tate. Kelly's petition also states there is no need for spousal support to his wife of nearly 29 years.
The divorce petition is a document devoid of compassion. It seeks a restraining order against Kelly's wife and reads, "Petitioner fears the Defendant may dispose of, alienate, or otherwise encumber assets."
Coach Kelly will hopefully follow through with dismissal of this action. If this move had occurred during his tenure at Notre Dame, he would likely be out of a job.
If Kelly did not inform LSU Athletic Director Scott Woodward of this move, the coach is acting in a world with impunity from any sanctions from his current employer. He has a contract with a 90-percent buyout clause, and getting a divorce may be bad form, but it is not illegal.
Kelly was hired in part because of his reputation as a family man, who would not embarrass the university. His predecessor caught ample grief when he was photographed in bed with a much younger woman.
Ed Orgeron was already divorced when photos of him and his girlfriend appeared for the masses to consume. The bet here is that Brian Kelly will stay with his spouse. Let us hope there is not a 40-year-old girlfriend in the shadows to coax him into making the mistake of his life.
Pokey Chatman Hall?
Governors come and go and so do LSU Board members. But politics always rules at the Ole War Skule. Former LSU Chancellor Mike Martin observed as he left town in 2012 after four years as the campus leader, "LSU is the most political place on the planet."
On Feb. 10, LSU's Board reversed a 12-3 vote by the same group of Supervisors just 17 months earlier to reject a motion from Mary Werner to place Sue Gunter's name on the court at the Pete Maravich Assembly Center next to the name of Dale Brown, who is far and away the best coach of any gender to lead LSU at the PMAC.
Only three members of the board defied instructions from LSU President Bill Tate and Governor John Bel Edwards, who voiced support for the Brown-Gunter Court. The result was to honor a coach who has been deceased for 18 years and dishonor a man who is 87 years old and is the most revered coach of any sport in LSU's storied past.
The move to honor Gunter is also a blatant snub of Pokey Chatman, who reigns as the greatest LSU women's coach in basketball history. In four years, Chatman captured two SEC regular season championships and advanced to three Final Fours. Sue Gunter failed to win SEC regular season honors in 22 years and never coached in a Final Four.
This is not the first time the Board of Supervisors has intervened on matters of names at campus facilities.
In 2020, The LSU Board approved a resolution to remove General Troy Middleton's name from the university library because he was an opponent of desegregation. This may have been the proper move, but it should be noted that Middleton fought heroically for America in WWI and WWII. The West Point graduate was singled out as racist while another prominent building curiously retains its name of an infamous racist located just ten yards from the library where Middleton's name was excised.
In the most prominent location for viewing on campus, David Boyd Hall overlooks the LSU Parade Grounds. David French Boyd was president of LSU and of Auburn University and was a professor of mathematics and moral philosophy.
His moral compass guided Boyd into serving as a stellar member of the Louisiana Tigers regiment that fought for the Confederacy against America in the Civil War. Boyd was a traitor to his country and yet no action has been taken to remove his name from LSU. He was not the American patriot that General Middleton was, and yet LSU President Middleton's name was stripped from the library because he wrote a letter in support of segregation to his counterpart at the University of Texas.
Former U.S. Senator Russell Long, who like Middleton, moderated his views on race over time has a statute outside the LSU Law Center, despite voting against the Voting Rights Act, The Civil Rights Act, the confirmation of Thurgood Marshall to the U.S. Supreme Court and signing the Southern Manifesto to undo the Supreme Court Brown vs. Board of Education decision.
Why was General Middleton used as an example of racial insensitivity when others were not?
President Tate pushed for Gunter's name to join Brown on the PMAC court at the expense of Pokey Chatman, the greatest minority coach LSU has produced. The LSU Board has consistently manipulated the spirit of open meetings laws, so the panel can surely find another legal loophole to allow it to display the name of a living person on a structure at the Ole War Skule.
There is a wonderful opportunity for Tate to brandish his progressive credentials and command the Board to change the name of David Boyd Hall to Dana "Pokey" Chatman Hall. LSU has precious few buildings named in honor of Black graduates of the university.
Chatman, unlike Sue Gunter, is a graduate of LSU and a much superior coach. She also never fought against our country in a bid to overthrow the United States government.
It is time for Boyd to go and for Pokey to receive her proper reward.