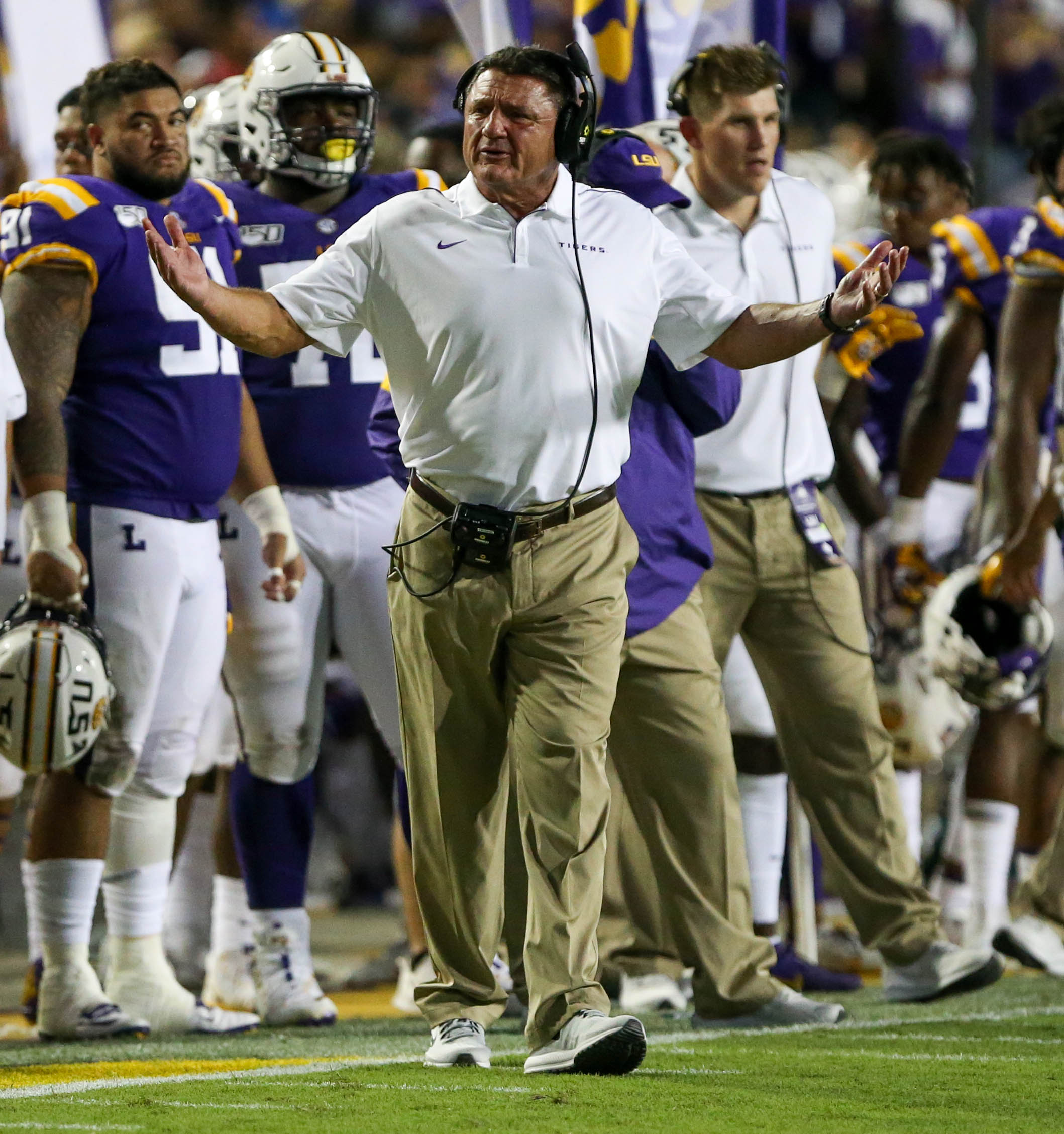 Maybe, we were all wrong.
Maybe the game LSU has been waiting for and has been waiting to win with foam coming out of its collective mouth was not Alabama after all.
Was it Texas A&M all along?
Maybe not for the LSU fans, who were 0-for-8 against Alabama before the Tigers won, 46-41, on Nov. 9. But the players don't carry those burdens as much as the fans, and in some cases the media. At worst, the current LSU players were only 0-3 or 0-4 going into the Bama game. Quarterback Joe Burrow was only 0-1. And LSU did lose the previous Alabama game, 29-0, in 2018. It's not like there was anything to argue about, and there was no sudden hurt as the game ended. It was a gradual death by paper cuts.
What has been eating at the Tigers and their coaches since Nov. 24, 2018, is the sudden, unfair death, 74-72, at Texas A&M last season.
And after beating Arkansas, 56-20, here Saturday night, their wait is at last over.
Never mind that LSU (11-0, 7-0 Southeastern Conference) won the SEC West against Arkansas.
Never mind that LSU will play in its first SEC Championship Game in eight years on Dec. 7 against No. 4 Georgia (10-1, 7-1 SEC) at 3 p.m. on CBS in Atlanta.
Never mind that LSU is on the verge of its first-ever College Football Playoff appearance on Dec. 28 in Atlanta or Glendale, Arizona.
Never mind that the national championship game is in New Orleans on Jan. 13.
LSU wants Texas A&M (7-4, 4-3 SEC) bad as if it is Alabama West after what happened last year in College Station. The Aggies might as well by 11-0 and 7-0, too, the way LSU is viewing this game, which kicks off at 6 p.m. Saturday on ESPN at Tiger Stadium.
Never mind that Texas A&M is going nowhere this season.
Never mind that LSU could lose to Texas A&M and possibly still make the College Football Playoffs with a win over Georgia in the SEC title game.
"It's already redemption time," LSU tailback Clyde Edwards-Helaire said minutes after the Arkansas game.
Never mind that he gained a career-high 188 yards with a career-long 89-yard touchdown run to go with TD jaunts of 27 and 26 yards. Never mind that he also caught seven passes for 65 yards. All he is thinking about is the Aggies.
"The gear's already been switched," he said. "We owe those guys a lot for last year. The gear's already switched."
And Edwards-Helaire and company are singing their version of Bob Marley's 1980 classic, "Redemption Song" off his "Uprising" album that he wrote while dying of cancer, which claimed him on May 11, 1981.
"Old pirates, yes, they rob I," he sings in the opening line.
LSU took a 31-24 lead at Texas A&M with 6:41 to play in the game. before the Aggies tied it and sent the game into overtime with :00 to go on a 19-yard touchdown pass from quarterback Kellen Mond to Quartney Davis.
The Tigers took a 34-31 lead with the first possession of overtime on a 50-yard field goal by Cole Tracy. Then they apparently won the game, 34-31, when safety Grant Delpit forced a fumble from Texas A&M tight end Jason Sternberger and recovered it. Game over. But no, officials incorrectly ruled it an incomplete pass, even though Sternberger clearly tucked the ball. It was quick, but they missed it. The efficiency of Delpit's hit was so fast, they thought it looked like an incomplete pass. But it wasn't.
LSU also was one first down away from winning the game in regulation, but it couldn't get it done.
Delpit also intercepted a late pass in regulation that apparently sealed the game. Players gave Orgeron the Gatorade shower. But Mond's knee hit the ground before he threw, so the interception was nullified and A&M's game-tying drive stayed alive. Close, but in this case the right call.
"That pain. Sitting in that stadium after the game. It doesn't get any worse than that," Edwards-Helaire said.
"While we stand aside and look. Some say it's just a part of it. We've got to fulfill the book," Marley sings.
"No question. It's going to be on," LSU coach Ed Orgeron said moments after the Arkansas game.
Never mind that he just won his first championship of any kind as a head coach.
"No question. I'll never forget that game last year. We'll be ready," he said.
There LSU was victorious SEC West champions and undefeated, untied and No. 1 in the nation. But it was almost as if the Tigers had already traveled back in time. There they were right back there in College Station a year ago.
Never mind the new and great offense, never mind quarterback Joe Burrow, pass game coordinator Joe Brady, the Alabama win, the 11-0 start, the Heisman Trophy, and the national championship on the way.
"Excited for Saturday," Burrow said with a grin, holding his tongue.
Instead of 11-0, LSU sounded like it was 0-1 after that exhausting loss that should not have happened one year ago Sunday.
Never mind that LSU has not lost since, winning 12 straight games.
"There was nothing we could do at the end of that game," Orgeron said. "We felt helpless. But we can do something this week."
LSU must "emancipate" itself from Texas A&M, to use Marley's word.
"Minutes after they took I
From the bottomless pit
But my hand was made strong."
Should LSU win, it will be a freeing game for sure.
THE GUILBEAU POLL: 1. LSU (11-0, 7-0 SEC). 2. Alabama (10-1, 6-1). 3. Georgia (10-1, 7-1). 4. Florida (9-2, 6-2). 5. Auburn (8-3, 4-3). 6. Texas A&M (7-4, 4-3). 7. Tennessee (6-5, 4-3). 8. Mississippi State (5-6, 2-5). 9. South Carolina (4-7, 3-5). 10. Kentucky (6-5, 3-5). 11. Ole Miss (4-7, 2-5). 12. Vanderbilt (3-8, 1-6). 13. Missouri (5-6, 2-5). 14. Arkansas (2-9, 0-7).
THIS WEEK'S GAMES: THANKSGIVING: Ole Miss at Mississippi State, 6:30 p.m., ESPN. FRIDAY: Missouri at Arkansas, 1:30 p.m., CBS. SATURDAY: No. 3 Clemson (11-0, 8-0 ACC) at South Carolina, 11 a.m., ESPN; No. 4 Georgia at Georgia Tech (3-8, 2-6 ACC); Louisville (7-4, 5-3 ACC) at Kentucky, 11 a.m., SEC Network; No. 5 Alabama at No. 16 Auburn, 2:30 p.m., CBS; Vanderbilt at Tennessee, 3 p.m., SEC Network; Texas A&M at No. 1 LSU, 6 p.m., ESPN; Florida State (6-5, 4-4 ACC) at No. 8 Florida, 6:30 p.m., SEC Network.
LAST SATURDAY'S GAMES: No. 16 Auburn 52, Samford 0; No. 5 Alabama 66, Western Carolina 3; Vanderbilt 38, East Tennessee State 0; No. 4 Georgia 19, No. 24 Texas A&M 13; Kentucky 36, Tennessee-Martin 7; No. 1 LSU 56, Arkansas 20; Tennessee 24, Missouri 20; Mississippi State 45, Abilene Christian 7.
NOTES OF THE WEEK: LSU quarterback Joe Burrow's 327 yards passing against Arkansas made him LSU's first 4,000-yard passer at 4,014. He is fourth all-time in the SEC behind No. 1 Tim Couch's 4,275 yards for Kentucky in 1998, No. 2. Johnny Manziel's 4,114 for Texas A&M in 2013, and No. 3 Chad Kelly's 4,402 for Ole Miss in 2015. Burrow's 41 touchdowns on the season is also No. 3 all-time in the SEC behind No. 1 Drew Lock's 44 for Missouri in 2017 and No. 2 Tua Tagovailoa's 43 for Alabama in 2018.
LSU also broke the school record for total yards in a season Saturday as it reached 6,172 through 11 games after gaining 612 against Arkansas. The previous record was 6,152 set in 13 games in 2001. The Tigers also broke the school record for touchdowns in a season that was 66. LSU scored eight Saturday and has 70 on the season.
QUOTE OF THE WEEK: "There wasn't going to be a big celebration for beating Arkansas. They haven't beaten anybody in a long time."
… LSU coach Ed Orgeron as the Hogs have now lost 18 straight SEC games.