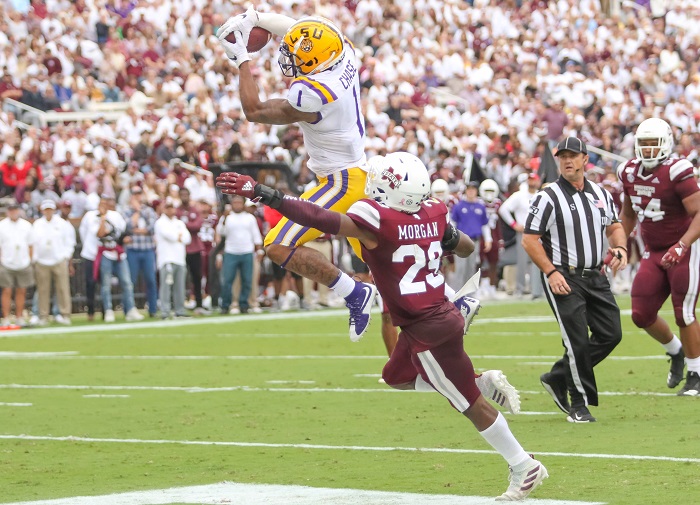 LSU sophomore wide receiver Ja'Marr Chase entered the season with high expectations, and he hasn't disappointed.
The 20-year-old receiver broke the LSU record for touchdown passes in the Tigers' 10th game of the season, he leads the Tigers in receiving yards with 1,260 and now he's a finalist for the most prestigious award at his position: the Biletnikoff Award.
"I had that as a goal of mine since the summer," Chase said after the announcement. "I came into the season thinking I wanted to accomplish something like that. It means a lot to me that I got this far."
The award — voted on by acknowledges college football's most outstanding pass-catcher, and previous winners include Randy Moss, Larry Fitzgerald and LSU's own Josh Reed.
Chase has 63 catches for 1,260 yards and 15 catches on the season, tallying 126 yards per game and an absurd 20 yards per catch.
Other finalists include Oklahoma's CeeDee Lamb (46 receptions, 999 yards, 14 touchdowns through 10 games) and USC's Michael Pittman Jr. (95 receptions, 1,222 yards, 11 touchdowns through 12 games.
Chase has exploded as one of a profound trio of receivers that includes himself, Justin Jefferson and Terrace Marshall.
Chase and Jefferson make up the first duo of receivers to receive for more than 1,000 yards in a single season at LSU since Odell Beckham Jr. and Jarvis Landry accomplished that feat in 2013, and they're only the third duo to do it in the history of the Southeastern Conference.
While Marshall won't make it to 1,000 yards, he's been a serious threat for quarterback Joe Burrow in the red zone this season as he's reeled in 8 touchdown passes.
The Biletnikoff Award winner will be announced on Friday, Dec. 12, at ESPN's annual College Football Awards Show.