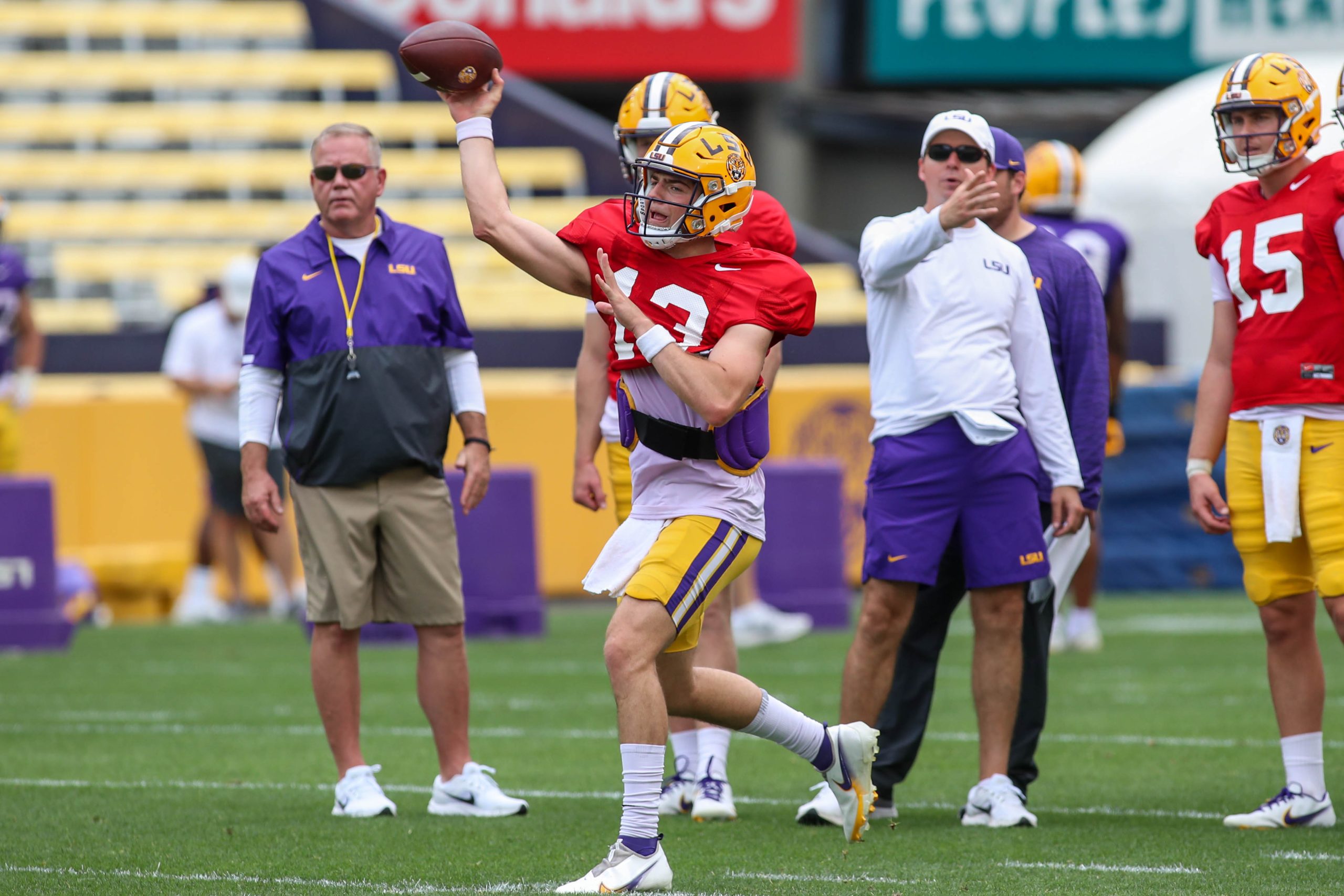 The start of the third week of LSU's fall practice produced one of the Tigers most fascinating players with a story to tell.
Not since he combined to throw for 467 yards with five touchdowns has redshirt sophomore quarterback Garrett Nussmeier appeared before the media.
That was until Tuesday and the 6-foot-2, 205-pounder, the backup to starter Jayden Daniels this season, came out firing.
"I've been waiting for this," Nussmeier shared with local reporters following Tuesday's practice.
Call it a preemptive strike on Nussmeier's part but the redshirt sophomore, who's going into his third year in the program, was ready to share his thoughts on remaining at LSU to challenge Daniels for the team's No. 1 quarterback position instead of pursuing opportunities elsewhere.
"For me the biggest thing is it matters to me to wear the state on my jersey and have LSU on my helmet," Nussmeier said. "It means something to me. It means something to a lot of guys on our team. I was born in Lake Charles. All of my family's in Lake Charles. That's my home. Being a kid who moved around so much, Louisiana was the only constant place in my life. Every time I would cross into the state it felt like home.
"The reason I came here was that I wanted to play for LSU, for the state of Louisiana, and that's why I came back," Nussmeier added. " I could have gone elsewhere and done different things. It matters to me more to finish what I started, to be where I want to be. Be where I'm wanted and that played a big part into it. Just playing for LSU, playing for these fans, my teammates, the coaches I learned to grow relationships with. That's why I stayed."
After compiling the second-high most total yards (3,798) in school history, Daniels caught some observers off guard when he announced his intentions on Dec. 22 to return to LSU for a fifth year of eligibility with the intent of helping the Tigers win a national championship.
Nussmeier never flinched. Not publicly, anyway. He remained enrolled for the spring semester, went through spring drills and has gone through the arduous summer of being Daniels' backup for the upcoming season.
"I'll do what I'm told, I'll play my role whatever it is," Nussmeier said. "If they tell me to go in, I'm ready to go in. If they tell me to compete, I'm ready to compete."
Nussmeier said it's understandable for people to think he would have entered the NCAA transfer portal, but the thought never crossed his mind.
"I think anyone in my situation, there's opportunities to look at things and you have to listen, but I never entered the portal," he said. "I wasn't talking to people. I really wasn't thinking about that. I wanted to focus on the situation that I'm in. Focus on making things right at LSU. That was the biggest thing for me. I felt wanted. I felt like this is where I should be. This is where I've always wanted to be and wanted to finish what I started."
Second-year coach Brian Kelly reiterated during SEC Media Days in July that Daniels was the team's starter and Nussmeier would continue getting repetitions with the first team offense in practice and would have his full confidence when entering a game.
Nussmeier, who graduated early from Marcus High in Flower Mound, Texas and enrolled at LSU in the spring of 2021, completed 29 of 57 passes for 329 yards with two touchdowns and two interceptions as a true freshman. After plenty of discussion because of lingering personnel issues at the quarterback position, he maintained his redshirt and didn't play in the Texas Bowl against Kansas State.
He was among three quarterbacks in position to take over LSU's No. 1 quarterback job in the first season under Kelly, who kept a tight lip on the ongoing battle before announcing Daniels as his starter against Florida State.
Daniels remained in the position throughout the season, leading LSU to a 10-4 record and SEC Western Division title and appearance in the SEC Championship Game.
Nussmeier appeared in five games as a reserve during the regular season, seeing extensive time in LSU's 38-23 loss at Texas A&M following Daniels' ankle injury. The same scenario played itself out in the Tigers' 50-30 setback against Georgia in the SEC title game with Nussmeier playing the entire second half in place of an injured Daniels and threw for 294 yards – the most yards in any half in school history.
With LSU taking control of outmanned Purdue in the Citrus Bowl, Kelly alternated Daniels and Nussmeier and the result was Nussmeier going 11-of-15 effort for 173 yards with two touchdowns and an interception.
For the season, he finished 52-of-84 for 800 yards with five TDs and four interceptions, and improved his career totals to 81-of-141 for 1,129 yards with seven TDs and six interceptions.
"At the beginning of last year, I was starting to understand how the offense worked in a broad perspective and after having a full year under my belt in the offense, it's learning the different bits and pieces and learning how to control the offense," Nussmeier said. "Where I've grown the most is understanding the little bits and pieces and I think that's natural for anybody."
The two-game sample size wasn't enough to distort Nussmeier's vision for the future which was always in purple and gold.
"I've always known I was able to play, and I've always had confidence in myself and my abilities," Nussmeier said. "I'm always grateful when I get the opportunity to go show it."