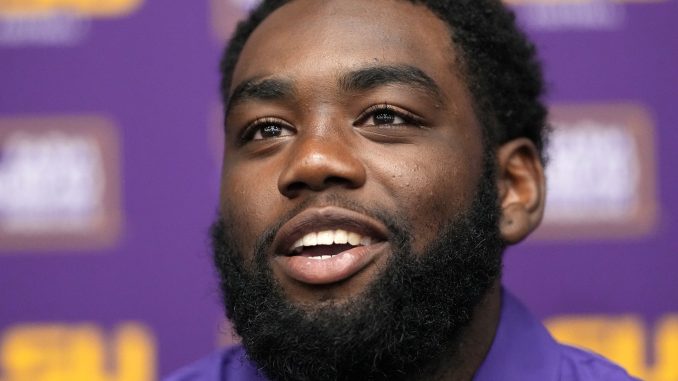 Growing up in the northeast portion of the country Duce Chestnut seemed to have a healthy appetite for LSU football. He credits the All-American careers of Patrick Peterson and Tyrann "Honey Badger" Mathieu for the introduction to "DBU" and his boyhood love of the Tigers.
"I always told everybody I was trying to go to LSU," Chestnut said. "It didn't work out coming out of high school, but God's plan is different than what you might want it to be. Just growing up and wanting to be part of DBU. That's always been a thing for me."
Chestnut parlayed a four-star career at Camden High School in New Jersey into a scholarship and starting position for two years at Syracuse. He twice earned All-ACC honors and was named a Freshman All-American in 2021.
Despite 24 starts at a Power 5 Conference school, and receiving postseason honors, something was missing and Chestnut decided to enter the NCAA transfer portal.
One of the first schools to call? LSU
"I almost broke into tears," Chestnut said after Monday's practice. "Just hearing that LSU wanted me, that I had a chance to come and start for DBU, and be one of the next guys, was like a dream come true for me."
The 5-foot-11, 205-pound Chestnut signed with LSU, one of four cornerbacks coach Brian Kelly pulled from the transfer portal, and after missing most of spring practice, he's developed into one of the team's starters since fall camp began on Aug. 4 at a very fragile position for the Tigers.
"For the opportunity to come play on a bigger stage," Chestnut said in his response to transferring. "To come play for DBU."
Before going onto lengthy professional careers, Peterson's currently with the Pittsburgh Steelers, and Mathieu with the New Orleans Saints, they were mainstays at LSU. They left Baton Rouge with consecutive Bednarik Awards in 2010 and '11, creating an interest in the program that had far-reaching effects.
"Patrick Peterson, Honey Badger were always guys I looked up to before I got to high school and college," Chestnut said. "LSU was always my dream school growing up. I always watched DBU."
Chestnut, the nation's top-rated cornerback in 2020, opted for Syracuse where he made 24 starts, registering 83 tackles, four interceptions, three TFLs and 13 pass break-ups during his career.
Chestnut was the runner-up for ACC Defensive Rookie of the Year in '21 and was part of an Orange defense last season that was 14th in pass defense (184.8) and 21st overall (328.6).
Moreover, he became the first true freshman cornerback to start at Syracuse in more than 40 years and was just the third overall true freshman to make a start on defense.
"It's something I've always had, even when I was kid," Chestnut said of high football IQ. "Just being that coach on the field. Knowing more than the other teams. That's how I got ahead of the game and made my plays. Just being ahead of the game."
Chestnut's influence on last year's Syracuse defense was profound, earning All-ACC honorable mention honors. He allowed four touchdowns on 356 snaps in pass coverage and drew only one penalty in coverage.
LSU defensive coordinator Matt House noticed Chestnut's cerebral impact on the team.
"I think Duce is a headsy player," House said last week. "He has a unique skill set for baiting guys. You can tell Duce has played football."
Since an injury kept him out of spring practice, Chestnut has made up for lost time at a primary position of need.
LSU lost both of its starting cornerbacks – Jarrick Bernard-Converse and Mekhi Garner – from a year ago and had to delve deeply for the second straight year into the transfer portal.
Kelly landed signatures from two-year starters Chestnut and Zy Alexander of Southeastern Conference and one-year starters JK Johnson of Ohio State and Denver Harris of Texas A&M. Johnson remains out with an injury and Harris has been away from the team for personal matters.
"Just being a guy that's ahead of the game," he said. "Just knowing certain routes. Being able to adjust to certain receivers. Just having that veteran presence in the secondary has helped me."
Chestnut said his adjustment to south Louisiana, and its extreme heat, was gradual along with his transition to having to face LSU's talented wide receivers in practice.
"Adjusting the first couple of days, throwing up a lot, cramping up a lot," Chestnut said. "Since then, I've been finishing practices and doing good.
"You're going against one of the top wide receiver corps in the country," Chestnut added. "Going against them every day makes you compete. You can't take any days off, because if you do, they're the type of guys that beat you over the top at any moment. You always have to compete and bring your all when you play guys like them."
Chestnut long wondered about playing at LSU and in the SEC. Now, he's less than three weeks away from finding out when the No. 5 Tigers face No. 8 Florida State on Sept. 3 at 6 p.m. in Orlando.
"Just seeing all of the top guys in the SEC, more competition," Chestnut said of his desire to play in the league. "A lot of people say the SEC is the closest thing to the NFL, so of course I would want some part of that. That's my goal, to make it to the NFL and be drafted. Just the opportunity to come play on a bigger stage and better competition. It was a no-brainer for me."
Chestnut recalled watching last year's LSU-Alabama game and the Tigers rallying behind Jayden Daniels in overtime for a dramatic 32-31 victory. Daniels' 2-point conversion pass to Mason Taylor resulted in a huge celebration that send thousands of fans onto the field that created quite a spectacle at Tiger Stadium.
"I always watched LSU no matter where I was at," he said. "That was always my favorite team. I probably watched the Alabama game the most and just to see that happen was crazy to watch on TV."