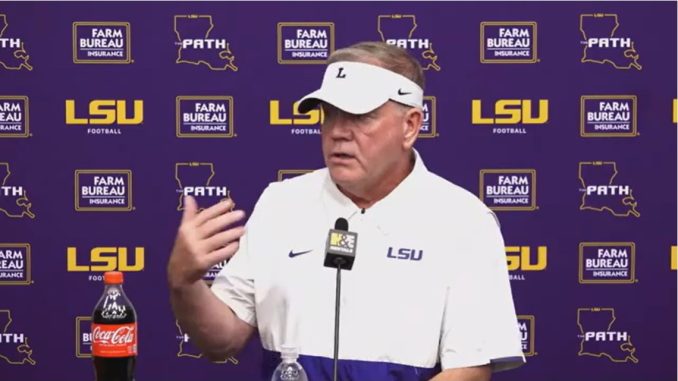 LSU head coach Brian Kelly is glad to be home.
For the second straight year LSU has a 4-2 overall record halfway through the season. The Tigers are 3-1 in Southeastern Conference play, which is good enough for second place behind Alabama in the West Division.
The biggest difference, though, facing No. 22 LSU this year is having the remainder of a favorable schedule with five of six games at Tiger Stadium – beginning at 6 p.m. Saturday versus Auburn.
Auburn (3-2, 0-2) returns to play under first year coach Hugh Freeze following an open date. The visiting Tigers dropped their first two SEC contests at Texas A&M (27-10) and at home against two-time defending NCAA champion Georgia (27-20).
The game will be televised by ESPN and carried locally by 98.1-FM.
LSU completed its arduous task of playing four of its first six games away from home, including a series of three games against ranked opponents Florida State, Ole Miss and Missouri.
"We're excited to be at home," Kelly said Monday during his weekly press conference. "Four of the first six were on the road which is difficult in itself. This will be our fifth consecutive SEC game as well. Guys are up for the challenge. It will be a great one. Great to be back in Tiger Stadium."
After dropping games to the first two games, including a dramatic 55-49 setback at Ole Miss, LSU responded in Saturday's game at Missouri which it trailed 22-7 in the first half.
LSU climbed back into contention and trailed 25-17 at halftime and outscored Missouri 32-14 in the second half behind another superlative effort from quarterback Jayden Daniels. He accounted for 389 total yards and four touchdowns, and his wide receiver duo of Malik Nabers (6-146, TD) and Brian Thomas Jr. (4-66, TD) proved lethal.
LSU also gashed Missouri's third-ranked defense against the rush with 275 yards on 42 attempts – led by running back Logan Diggs with a career-high 134 yards on 24 attempts and a touchdown.
The Tigers' defense, which allowed 527 yards of total offense, turned in several key plays with interceptions from Harold Perkins Jr. and Mason Burns, while Maason Smith and Bradyn Swinson each picked up sacks.
"We've played outstanding teams on the road," Kelly said. "Florida State, Mississippi and Missouri (are) all quality opponents. (I) Certainly, wish we could have fared better in a couple of those games. But we're playing at a high level offensively and we need to continue to improve defensively. Obviously, we've given up too many points on the road, but I think our guys have done a great job in their preparation on the road.
"Clearly, outside of the Florida State game, we had a great chance to win the Mississippi game," Kelly said. "I'm really proud of the way they've handed themselves on the road, but it's been a different schedule. We're seasoned. We're right in the hunt and the season's in front of us. With five out of the six remaining at home, we feel like we're in a good position. Let's go take care of business."
INJURY UPDATE: Kelly said Daniels, who sustained a rib injury and missed a series against Missouri, checked out well with the team's medical staff on Sunday, attended film study at 5:30 a.m. Monday and should be a full participant in Tuesday's practice … Kelly also said that center Charles Turner III, who left Saturday's game with an apparent knee injury, is probable for the Auburn game along with wide receiver Aaron Anderson and linebacker Omar Speights. He said wide receiver Chris Hilton Jr., who missed last week's game, is doubtful this week because of a high ankle sprain.