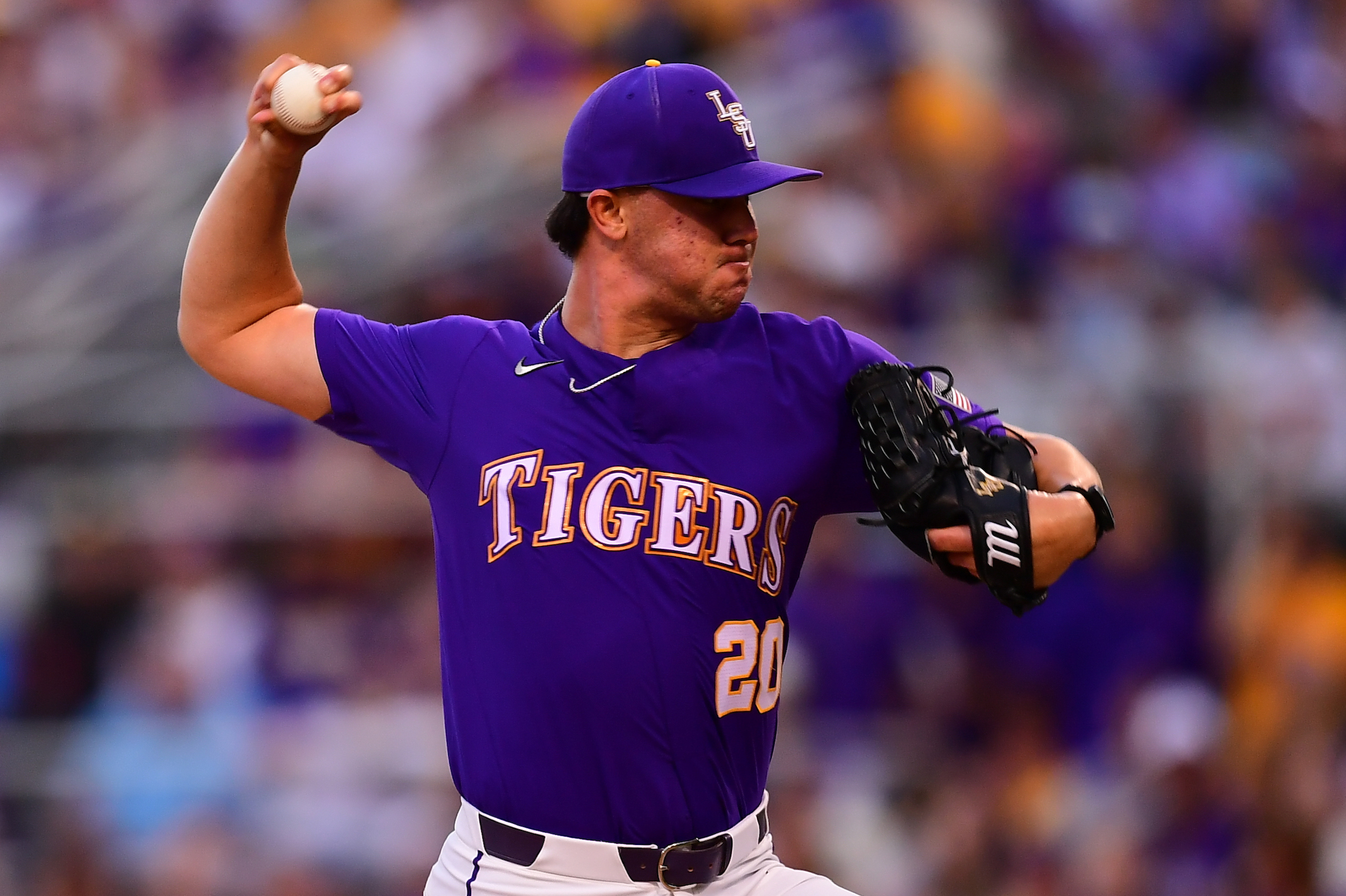 LSU centerfielder Dylan Crews and right-handed pitcher Paul Skenes earned the Southeastern Conference's top individual baseball awards on Monday, as Crews was named SEC Player of the Year and Skenes was voted SEC Pitcher of the Year.
The awards were voted on by the league's 14 head coaches. LSU becomes just the third league school to produce the SEC Player of the Year and SEC Pitcher of the Year in the same season, following Georgia in 2008 and Florida in 2018.
Crews, also voted the 2022 SEC Player of the Year, is only the second player to win the award on two occasions, joining Florida's Matt LaPorta, who was named SEC Player of the Year in 2005 and 2007. Crews is the only player to receive the honor in back-to-back seasons.
Skenes is LSU's first SEC Pitcher of the Year since Aaron Nola won the award in both 2013 and 2014.
LSU is now the only school with both a two-time SEC Player of the Year (Crews) and a two-time SEC Pitcher of the Year (Nola).
Crews, a junior from Longwood, Fla., leads the SEC and is ranked seventh nationally with a .423 batting average. He has 14 home runs, 13 doubles and 57 RBI, and he is also the league-leader in on base percentage (.573), runs scored (79) and walks (56).
Crews is No. 2 in the nation in on-base percentage, No. 2 in runs scored and No. 3 in walks. He has a reached base streak of 59 games, which includes all 55 games of this season and the last four games of the 2022 season.
"To be named SEC Player of the Year two years in a row is an incredible accomplishment for Dylan," said LSU coach Jay Johnson. "His consistency is next-level special. He is the best player in college baseball. I am proud of Dylan for being the best player in the best league two years in a row; you can't represent LSU Baseball any better than the way Dylan does."
Crews was named to the 2023 SEC Community Service Team and is involved with Team of Dreams in Gonzales, La., which is an all-Abilities baseball league serving the youth and young adults who use wheelchairs, persons with physical disabilities, or persons with intellectual disabilities.
Crews and his family purchase four seats for every home LSU Baseball game and give the tickets to families with special needs children. He signs autographs and takes pictures with the kids after every home game.
Skenes, a junior from Lake Forest, Calif., leads the SEC in wins (10), strikeouts (164), earned run average (1.77), innings pitched (86.2) and opponent batting average (.161). He is ranked No. 2 on LSU's all-time single-season strikeouts list, trailing only Ben McDonald, who recorded 202 strikeouts in 1989.
Skenes, who has allowed two or fewer runs in 11 of his 14 starts this season, was named the SEC Pitcher of the Week three times in 2023. He also received Collegiate Baseball National Player of the Week recognition on seven occasions.
"Paul is the best pitcher, both mentally and physically, in college baseball and is very deserving of SEC Pitcher of the Year," Johnson said. "He has put together as dominating of a season as you can, and he has done it while also being the unquestioned leader of our team both on and off the field."
Skenes is No. 1 in the nation in strikeouts, strikeouts per nine innings (17.03), WHIP (0.75) and strikeout-to-walk ratio (10.93). Skenes is No. 3 nationally in hits allowed per nine innings (5.19), and he is No. 4 in ERA.
He has pledged $10 for every strikeout he records this season to Folds of Honor, a nonprofit organization that provides educational scholarships to the spouses and children of military and first responders who have died or been disabled.