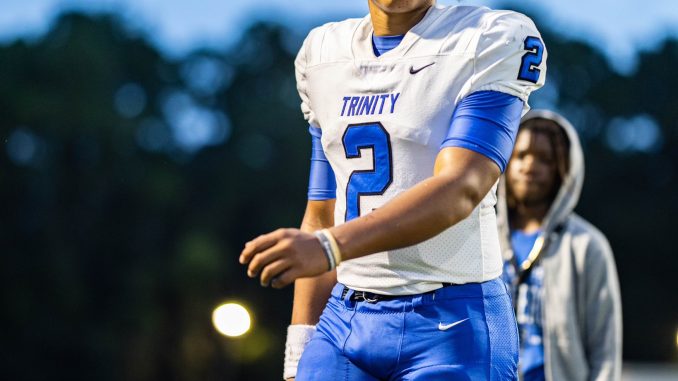 The focus for LSU four-star quarterback commitment Colin Hurley shifted last to the West Coast where the Jacksonville, Florida native was involved in the finals of the 25th Annual Elite 11 quarterback competition.
The 6-foot-2, 220-pound Hurley, who committed to the Tigers last November, gave a good account of himself in a field of 20 of the nation's top quarterbacks. Because he reclassified into the Class of 2024, he was the youngest competitor at 16 years of age, giving everyone a glimpse into a bright future where he ranked eighth overall in the event by 247Sports.
The next order of business for Hurley, one of the undisputed leaders of LSU's Class of '24, returning to Baton Rouge this weekend to lend a helping hand to the Tigers coaching staff on the recruiting trail. Before departing for the Elite 11 finals, he was on campus among a group of official visitors and will do so again with scheduled visits from five-star prospects Cam Coleman of Phenix City, Alabama and Cai Bates of Orlando.
"I feel like our '24 class is one of the best in the country," Hurley said during an appearance on the June 13th edition of Tiger Rag Radio. "We're going after different guys every day that we feel can make a difference for this program. It's a team effort between me and the coaching staff at LSU. We're all doing our part, going out recruiting these guys, so we can build the best team possible, a team that can maybe compete for a national championship really soon."
LSU's current class of 18 commitments is ranked No. 5 nationally by Rivals.com and No. 6 by 247Sports. Hurley believes the Tigers can move up and to do, the Tigers could help themselves by securing the commitments of high-profile prospects such as Coleman, a wide receiver, and Bates, a defensive back.
The affable Hurley wants to do his best to help facilitate such a scenario that would ultimately pay off during his career with the Tigers.
"I felt like my relationship with the staff was something very special," Hurley said among his reasons for choosing LSU over 30 scholarship offers last Nov. 4. "I looked at these guys and they really cared about development. They really cared about their players on and off the field and that really meant a lot to me. How can you not love LSU, the rich history behind it. You've had some great athletes come out of this program. LSU is the best place for me I feel. I love the fans. I love Baton Rouge. LSU's my home."
ESPN rates Hurley the nation's No. 11 quarterback, while On3Sports ranks him No. 256 overall, the No. 15 quarterback and No. 38 player in Florida. According to a composite ranking among the nation's three top recruiting services, he's the No. 16 quarterback with the opportunity to rise before enrolling at LSU in January.
Hurley took varsity snaps as an eight-grader at Trinity Christian in 2020 which won the Class 2A state title and wound up 12-1. He helped Trinity to a 10-4 mark in '21 and second consecutive state crown, passing for 2,146 yards on 144 of 257 attempts for 24 touchdowns and was named the state's Offensive Player of the Year.
Last season, Hurley directed Trinity to an 11-1 season that ended in the second round of the state playoffs. The first team All-State selection completed 86 of 162 passes for 1,444 yards and 16 touchdowns and added 210 yards and two scores on the ground.
In addition to the Elite 11 final, Hurley's garnered national recognition with his selection to the 2024 U.S. Army All-American Bowl and is a ESPN300 member.
"LSU loves my build, loves what I can do on the football field, what I can do on film," Hurley said. "I can do it all. I can run, I can pass, lead an offense, work in the weightroom, work on the white board. It really reassures them of their decision for my skill set. Ultimately, it comes down to being a playmaker. If you can be a playmaker and get the ball out to the receivers' hands that's all that really matters.
"In college football the best man plays, nothing's ever guaranteed," Hurley added. "I'm looking to go in there and compete for the starting job. That's my ultimate goal and that's to be a starting quarterback at the college football level. I feel like LSU's giving me the best opportunity for me to learn and develop, but also go out there and compete and go against some of the best guys out there in the country. I really feel like it's going to help me step up my game. It's going to help others step up their game as well."
Hurley took notice of the growth of LSU's program in the first year of head coach Brian Kelly. He guided the Tigers from a worst-to-first 10-4 turnaround in the SEC's Western Division that included an overtime home victory over arch-rival Alabama, a trip to the SEC Championship Game against Georgia and a Citrus Bowl win over Purdue.
It's the development of the entire program that further solidified Hurley's future at LSU.
"Before the season I loved LSU and the way they ended the season was a no-brainer that I made the right decision," Hurley said. "It really showed the development from where the team started to where they finished. Making it to the SEC Championship. That shows how much of a good coach Brian Kelly is, how much of a winner he is, and I want to be a part of that. I want to be a part of a winning program where I'm going to develop, get ready for college ball and potentially the NFL."