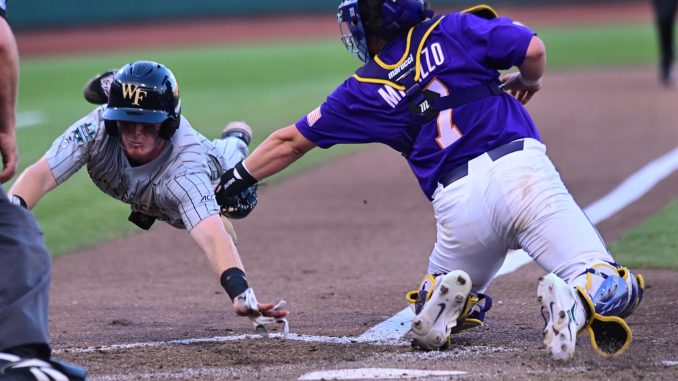 Before Tommy White's soon-to-be legendary two-run home run in the bottom of the 11th inning sailed over the left-field bullpen in Charles Schwab Field for a 2-0 victory Thursday that sent LSU to the College World Series' championship round, there was the play.
It was the play that could have gotten overshadowed in the All-America pitchers' duel between LSU's Paul Skenes and Rhett Lowder of Wake Forest, a pair of potential top 10 picks in next month's Major League Draft that staged a scoreless battle for the ages.
Both pitchers certainly did their best to help their respective teams to avoid their second defeat in the World Series and get sent home.
For one play, a show of readiness and sheer athleticism, LSU junior first baseman Tre' Morgan upstaged both Skenes and Lowder and the Tigers couldn't have been happier.
Morgan's head's up play on Marek Houston's suicide squeeze bunt attempt in a scoreless game in the top of the eighth not only kept the game 0-0, but it enabled LSU time to get to White for his 11th-inning heroics and send the Tigers against Florida in Saturday's first game of CWS final at 6 p.m.
"That's a bunt coverage we've worked on since the fall started," Morgan said in an interview with Baton Rouge TV station WAFB. "Probably like the first week of practice. I saw coach (Jay) Johnson put it on in the dugout and (catcher) Al (Milazzo) gave it to us on the field. I looked at coach Johnson and acknowledged that I knew the bunt coverage was on."
Wake Forest, which hadn't lost consecutive games all season, sensed a prime scoring opportunity against Skenes who allowed two hits, walked one and struck out nine in eight innings.
That one walk was a lead-off pass to Justin Johnson in the eighth who was then sacrificed to second and took third on a dropped third strike to Jack Winnay.
Skenes threw a first-pitch ball to Houston who then tried to score Johnson with a critical run and dropped down a bunt to maybe catch LSU's defense off guard.
"Thousands of times," Milazzo told WAFB of the numerous times LSU's defense has worked on such a scenario. "We trust our coaching staff. We trust coach Johnson. He's been on this stage before. There wasn't one time where we went 50% on that play. We worked on it every time until it was perfect."
Morgan was certainly ready and pounced once the ball made contact with Houston's bat. He immediately charged down the first-base line, caught the ball on one hop and in one motion transferred the ball from his glove to his left hand.
Without any wasted motion, Morgan flipped the ball to Milazzo who was positioned toward the third-base corner of the plate. He immediately applied the tag on a hard charging Johnson who attempted to slide around the tag and was called out.
Video replay, following a challenge from Wake Forest, confirmed the call for the second out and Skenes got Tommy Hawke to line out to Josh Pearson in left to end the inning.
Morgan had a front-row view of Milazzo's tag, having remained on his stomach on the ground after his throw. He punched the infield three times, jumped up to his feet and celebrated.
"As soon as Paul picked up his leg I crashed home," Morgan explained. "Thankfully, he bunted it because I was all up in it already. As soon as he bunted it, I've done it hundreds of times. Just a quick catch and flip to Al to get the job done."
ESPN analyst Kyle Peterson believed Morgan's play was a life preserver for his team.
"There isn't a more athletic first baseman in the entire country," Peterson said after Morgan's play. "We talk about the glove work at first. He just saved the Tigers season right there."
White, who struck in the 11th inning with the game-winning homer, believed Wake Forest was about to take the lead when Morgan intervened.
"As soon as I saw the bunt, like, the angle of the bat, I knew he was going to first," White said of Houston. "I didn't see Tre'. I was, like, 'Oh, God, they're going to score. Then he came flying out of nowhere and Milazzo put a great tag on, so that was pretty awesome."
Morgan's game-changing play proved his worth on a night he was 0-of-4 at the plate. He registered seven putouts and delivered a key assist when the Tigers needed it most.
Sophomore Thatcher Hurd came in relief of Skenes and retired the first seven batters he faced until Wake Forest got two runners on in the 11th. He got the Demon Deacons' respected No. 3 batter Brock Wilken to fly out for the final out, a fly ball to Dylan Crews in center, that set the stage for the Tigers' dramatic bottom half of the inning.
"Nobody's played better in this World Series than Tre'," Johnson said. "And there hasn't been a bigger play in this World Series than that bunt play."