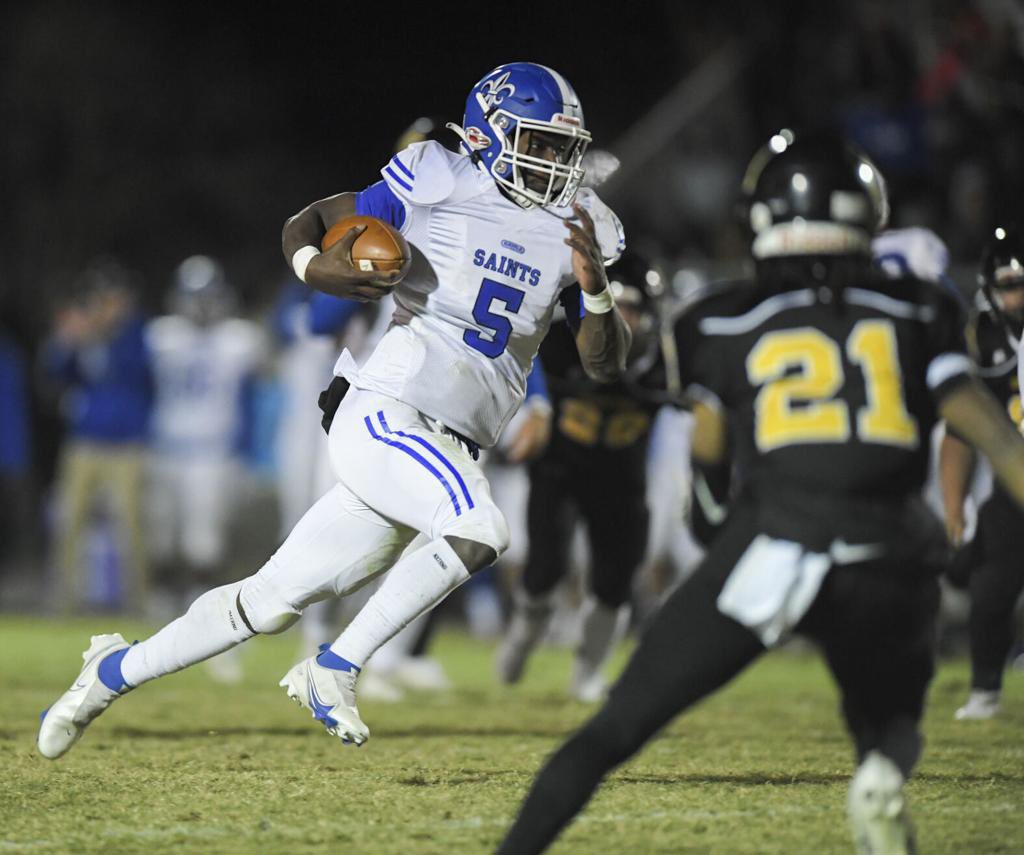 When college coaches showed up at West Feliciana High for spring practice, it was typical to hear the following about Saints quarterback Joel Rogers.
They liked that Rogers, aside from being the quarterback on last year's state semifinalist team, was also a standout in track where he was a long jumper and ran on both short relays. There was also a healthy appreciation for his fierce work ethic and modesty, both of which were products of his upbringing.
"He has high character and makes good grades (3.8 GPA)," West Feliciana first year football coach Devin Ducote said of Rogers. "They like that he plays quarterback, that he's a decision maker."
The latest decision for the 6-0, 185-pound Rogers didn't involve a football in his hand, but the ability for the four-star safety prospect to offer his commitment to LSU during a news conference Monday at his school. He chose LSU over Alabama, Texas, TCU and Tennessee, becoming the 16th overall commitment and ninth in-state prospect to select the Tigers, who rank fourth nationally in the team rankings by Rivals.com and sixth per 247Sports.
"It's the whole LSU family, everybody, the whole staff wants me there," Rogers told On3 in May. "I talk to everybody every week… It's just crazy. They are making sure they keep the best in-state talent home. Being from here, maybe I'm biased, but we grow up in harsh conditions in Louisiana. We have a chip on our shoulders. The talent is different here. The want-to on top of that, LSU is moving in the right direction by getting as many kids from The Boot as possible."
Rogers becomes the second member of LSU's Class of 2024 to project on defense despite primarily playing quarterback in high school. He moves into his third year as West Feliciana's starting quarterback after leading the Saints to a 13-1 record and appearance in the Division II non-select state semifinals, falling 35-21 to Lutcher.
He began his career as a starting safety as a freshman for West Feliciana and has maintained a playing role at that position over the course of his career. LSU also secured a commitment from Lafayette Christian Academy quarterback Ju'Juan Johnson, who projects cornerback. The Tigers also have a pledge from safety DaShawn McBryde of Denham Springs.
"You always felt like he had that in his toolbox," said Ducote, who was the team's defensive coordinator during Rogers' freshman year. "A lot of times in high school football the best athlete goes to quarterback because of what you need to do on offense to score points. He's dynamic with the ball in his hands, but still had the ability to play defense. He may not have had a ton of reps at it, but he could still backpedal, change direction and get in and out of breaks and open up hips."
LSU, with quarterbacks coach Joe Sloan and running backs coach Frank Wilson and safeties coach Kerry Cooks spearheading its recruiting efforts, offered a scholarship to Rogers on March 17 and continued to intensify its efforts. The addition of Rogers gives the Tigers commitments from four of the state's top-ranked players in tight end Trey'Dez Green of East Feliciana, linebacker Kolaj Cobbins of Destrehan, McBryde and Johnson.
Rogers is ranked as high as the state's No. 5 prospect by ESPN, the nation's No. 17 safety by both On3 and ESPN and the No. 186 overall prospect by On3Sports.
"Coach Cooks is a great guy all-around," Rogers said. "I could tell how intentional he was with player development from the first time I met him at LSU football camp. He understands the game on so many different levels. He teaches as if he is giving all of his knowledge to players to help them see the game the way he does. LSU's staff is full of great coaches and men who focus on the development of the team not only as player, but into becoming adults which shows a true coaching environment. It's always great to be around LSU's players and coaching staff."
Rogers understood the significance of LSU's offer nearly three months ago and realized that attending school less than 45 minutes from home would support all of his goals.
"It used to just be a dream; now it's a reality," Rogers said after LSU's overture. "My hometown school, where I live, everyone knows of LSU football and now I got the offer. I was hoping for it, but I was really surprised."
Rogers compiled 1,610 total yards and 21 touchdowns in 2022, leading West Feliciana to the District 6-4A championship and the semifinals of the Division II non-select state playoffs. He was voted to the Class 4A honorable mention all-state team following a junior season in which he carried 90 times for 614 yards (6.8 yards per carry) and 10 touchdowns to go along with 996 yards passing (58 of 105) and 11 touchdowns.
He also received scholarship offers from Alabama, Miami, Texas, Texas A&M and TCU.
"People know where West Feliciana is and want to stop in and say hello," Ducote said. "This year was probably a little more highlighted with LSU coming in twice, TCU coming in twice, Alabama coming in to say hello. Texas A&M. It was a lot more Power Five schools."
Galloway no longer committed to Tigers
The nation's No. 12 ranked tight end, Tayvion Galloway of Chillicothe, Ohio, announced on social media Sunday that after nearly a year of being committed to LSU, he rescinded that pledge.
"After reconsideration I have decided to step back and decommit from LSU," Galloway said on his Twitter account. "My recruitment is now open."
The 6-5, 230-pound Galloway, a four-star prospect, is the nation's No. 188 overall player and fifth-ranked player in Ohio according to 247Sports.