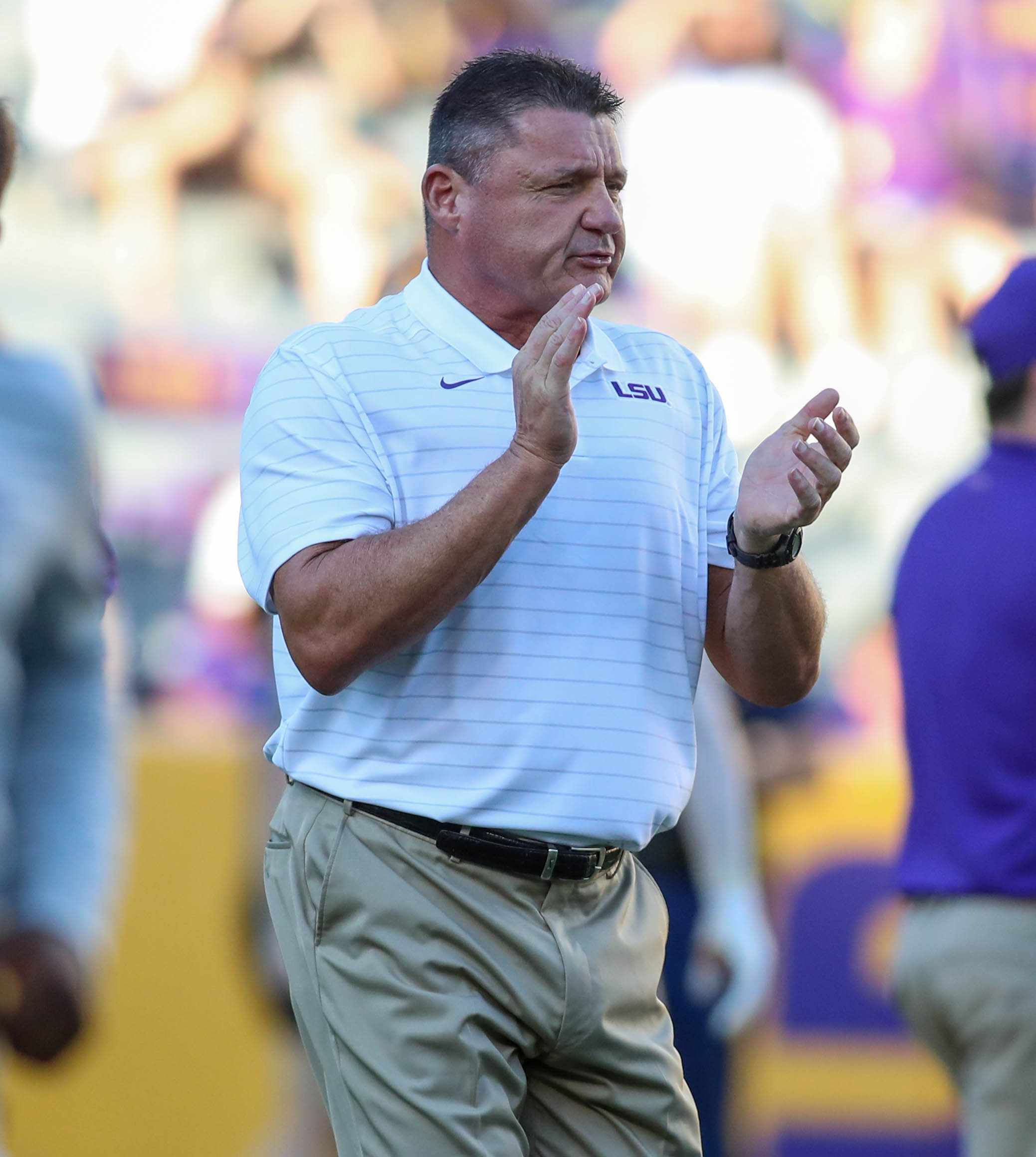 Opening statement
It's about LSU this week. We took a big step last week, but the competition is a lot tougher. Mississippi State plays very well at home. We could not stop them last year. (Mississippi State head) Coach (Mike) Leach did a great job against our defense. We're up for a big challenge. We're going to continue to work through game time. It's an 11 o' clock game early in the morning. We've have to get up ready to play.
On the status of starting running back Ty Davis-Price, who missed Tuesday's practice
I think Ty is going to play. He had a minor injury, just got some treatment yesterday. I think he's going to come back today or tomorrow ready to play.
On Mississippi State quarterback Will Rogers, who completed 50 of 67 passes last Saturday vs. Memphis
That's (passing) their D.N.A. We're planning for it. He has a quick release, very accurate, has a good feel for the offense, 75 percent completion ratio, that's unbelievable. A 1,000 yards passing in three games. They've got them a good quarterback. But Coach Leach is such a good teacher. They've got good routes, he knows how to attack coverages, he has great protections. He's a great coach and it shows. He has a new quarterback and has had a lot of success.
On the status of injured safety Jay Ward and his impact on LSU's defense
I do think he's going to play. All indications are he's going to play. His experience, his playmaking ability he can tackle in space. He's a corner playing safety. He can cover, we can bring him down in the box. He has great awareness. He just has confidence about himself.
On if he will immediately play running back John Emery Jr. if the NCAA reinstates his athletic eligibility
For sure, he's practicing, he's ready to go, he's been working like everybody else. He took some first-team reps because we were short on running backs yesterday (Tuesday). As soon as they tell us he's cleared, he's going to play.
On the officials spotting the ball in the wrong place in last Saturday's LSU-Central Michigan game, setting LSU back 10 yards further than it should have been on a 93-yard TD drive that was actually a 103-yard TD drive
We should have noticed that from the (press) box (coaching booth). I challenged that play (a 18-yard pass from QB Max Johnson to Deion Smith) that was ruled an incompletion before Orgeron's successful challenge). I was so excited it got overturned, we didn't notice it (the wrong ball spot). We should have noticed it as a coaching staff. But yes, they put it (the ball) on the wrong 45-yard line.
On the strides LSU made vs. Central Michigan and on what still needs improvement
We did get better at throwing the ball, better at spreading the ball around. We have a tremendous group of athletes. We're not there yet with the run game. We did not block as well we should. In protection, we only gave up one sack, but it still wasn't sound. We're going to get tested the week. We still had a mental error and we gave them (CMU) a free touchdown with nobody in coverage.
On LSU's offensive line
We haven't jelled yet like we want to. Those guys are trying. It seems one day we have this guy in, one day we have that guy in. That line has to jell and play together. We still haven't found a left tackle. I don't know if (injured starter) Cam Wire can play (Saturday), he hadn't practiced yet. So, we need some of the young guys. We put them in last week. They didn't play very well. They know it. They weren't ready to play. Until we get guys practicing all week together, this is going to be an ongoing process.
On how much off-season film study was done of Mississippi State's Air Raid offense
When (new defensive coordinator) Daronte (Jones) came in, that was the first game we watched together. I said, "These are the things as a defensive coordinator you have to cover. These are the things you need to be prepared for that you may have seen in the NFL or you may have not." So, have we been practicing those things, are we aware of those routes? Yes, we are. Have we played all of them perfect (in practice)? No, we haven't. We still have work to go.
On if there's an open competition for starting left offensive tackle
I walked in the offensive line room and told them, "Who's gonna be our left tackle?"  I don't know. We've got to compete. Whoever practices better this week will play. We've got guys fighting for it.