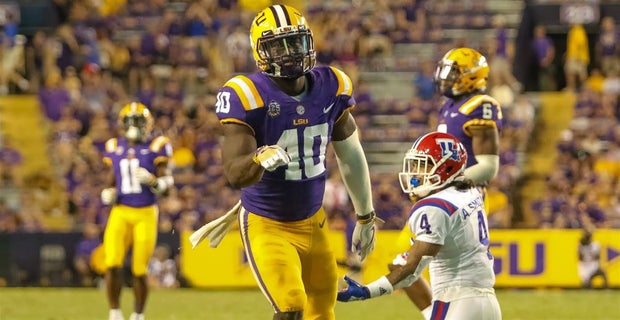 It's no secret that former LSU linebacker Devin White left an immense mark on the program.
LSU's first Butkus Award winner became a shining star for his presence both on and off the field, and at a program known for elevating athletes to stardom, he shined among the brightest who ever donned the purple in gold, at least in recent memory.

Normally the departure of such a talent and personality would leave a gaping hole, seemingly impossible to fill by their successors.
But something interesting has happened in the linebacker room since White left the program.
No one player is expected to fill the hole left by White — it's arguable that none of them could.
But collectively, the entire unit has worked to achieve the high standard he set and even to push it higher.
"We feel that the standard (White) set here when he left, the standard he set here is high," said linebacker Michael Divinity, who moved from outside linebacker to an inside role after impressing coaches in fall camp. "So we're trying to achieve it. We have a couple guys like me, Patrick Queen and K'Lavon Chaisson, Jacob Phillips; us guys… we want to bring that back."
Divinity and the rest of the linebacker corps remains in contact with White through a group message, and they regularly talk shop.
Divinity said he asks White for his insight on specific questions he might have, and sometimes White even contributes without prompting.
"He ended up seeing when (freshman running back) John Emory had posted like the video of him running the ball, and he sent it to all of us and was like 'whoa, what's this about?'" Divinity said. "And we were like 'bet.' So we had to come back out the next day and go hard on defense."
Among the athletes competing for playing time at linebacker is sophomore linebacker Damone Clark, who has impressed both teammates and coaches with his improvement over the offseason.
Clark viewed White as a mentor during his freshman season, essentially shadowing him at any point he good.
The reason was simple: To be the best you need to emulate the best, so whatever White did, so did Clark.
"I had to match what he do," Clark said. "Whatever weight he put on there, I had to do it. That was the linebacker last year. That's somebody that I looked up to."
Now, Clark finds himself among upperclassmen competing for one of the most coveted positions on the defense with the likes of Phillips —who is the Tigers' top returning tackler from last season after tallying 87 in 2018 — and Queen, who garnered 40 tackles himself last season
White helped build a culture at LSU, one that will aid the Tigers for years to come.
Clark, by comparison, primarily played on special teams last season and has one collegiate tackle under his belt. But under White's tutelage and inspiration, he's become a potential starter and definite player on the 2019 LSU defense.
Everybody wants to be the next Devin White, sure, but that's only part of it. White poured everything he was into LSU for three years, and now he's inspired his former teammates to do the same.
"We talk about it every day, and we talk about how we want to compete,," Divinity said. "(Patrick Queen) said he was gonna get it, K'Lavon said he was gonna get. We're all basically pushing each other to do things to set the bar higher so when the young guys come in they can go higher and we could just be a better LSU football team every year on defense."