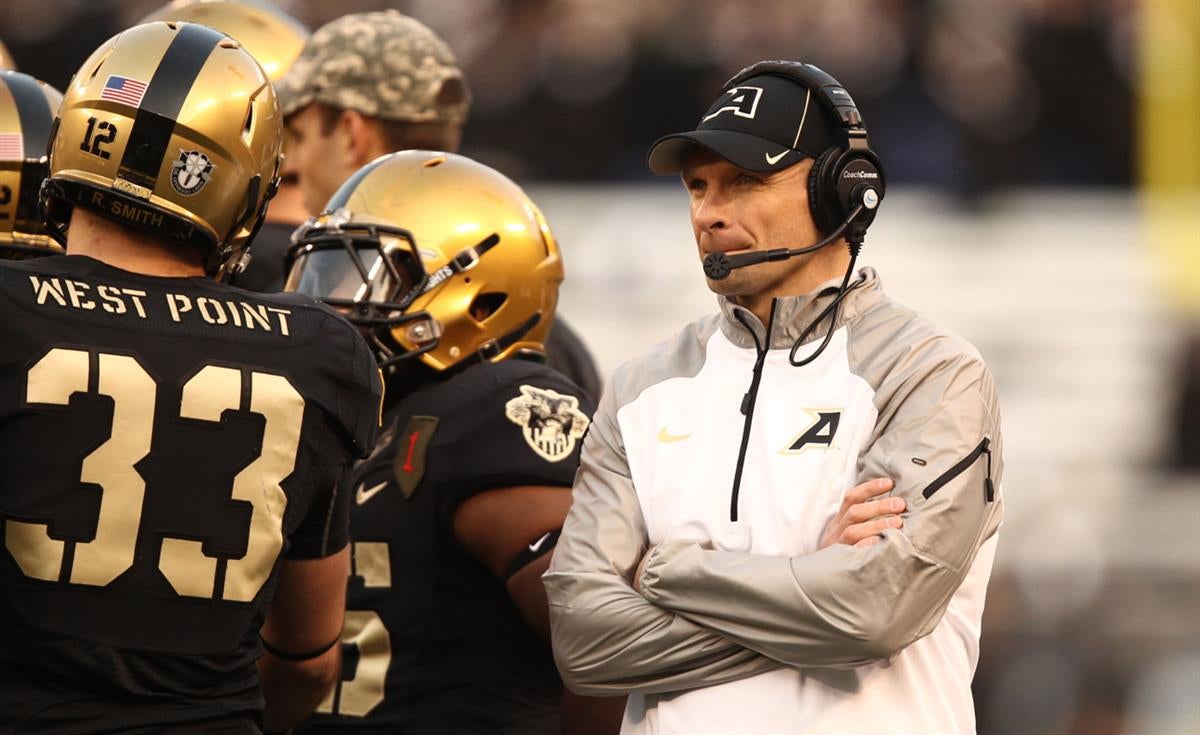 There was a time when the head football coaching post at West Point was more coveted than any other plum in the college game. From 1941-58, Earl "Red" Blaik lost a total of 33 games in 18 seasons, winning three national titles and finishing in the top seven in the final national polls on eight occasions.
In 1953, Blaik's staff with the Black Knights included Vince Lombardi as offensive coordinator and Paul Dietzel as offensive line coach. The association with Army football carried so much clout that Dietzel was hired from Blaik's staff at age 30 to become head coach at LSU in 1955.
Seven years later, Dietzel bolted LSU to return to West Point as head coach, and it was not considered a ridiculous move for a 37-year-old legend who won the 1958 national championship and also came close to capturing the top spot in college football in 1959 and 1961.
Dietzel's defection proved disastrous. Army was not a preferred destination for budding NFL stars as the Vietnam War ripped the country apart, and athletes were required to immediately repay their vaunted education on the Hudson River with five years of service that usually meant an assignment to exchange artillery fire in the rice paddies of Southeast Asia.
The iconic 16,000 acre campus that opened in 1802 was touted earlier by General George Washington as the most strategic location in the nation during the American Revolution. But since the early 1960s, West Point has been avoided by recruits joining football factories in the South. Most prep standouts are anticipating a clear path to the NFL not interrupted by a five-year hitch in the service.
President Trump has a plan to return Army to its former greatness on the gridiron, and it should make SEC powers wary. The president is advocating a plan for student athletes at U.S. military academies to play in the NFL and in other professional leagues immediately after graduation. They would be permitted to perform their required military service afterward.
The U.S. Defense Secretary has authority to make this happen, and this would rock the college football landscape. Currently the top four teams in national polls are Clemson, Alabama, Georgia and LSU, all from relatively small Southern states. The last 13 NCAA football champions have come from just five states, Alabama (6), Florida (3), South Carolina (2), Louisiana (1) and Ohio (1).
The largest Nielsen television market from a city with a NCAA football title since 2006 is Columbus, Ohio. That city ranks 32nd nationally with 920,720 television households representing 0.803 percent of the U.S. population. Baton Rouge ranks 98th nationally among Nielsen television markets.
If President Trump makes his move, a resurrected national contender from West Point will again be showcased in the nation's largest market. Army's campus is 50 miles from New York City with more than seven million TV households, representing 6.4 percent of this country.
The president has discussed his intention with Army Coach Jeff Monken, who is beaming about the prospect of recruiting on an equal basis with Notre Dame, Penn State and Michigan. "Can you imagine this incredible coach with that little asset?" President Trump asked. "I imagine that would make recruiting a little easier."
Monken already has Army competing at high levels despite a huge obstacle to recruiting. Monken has posted a 24-6 record in the last three seasons.
This bold stroke to end the immediate service requirement from an outside the box commander-in-chief would return big-time college football to the New York City market and to the Washington D.C. market with Navy. The Midshipmen are located 25 miles from the nation's seventh largest Nielsen location. The nation's capital and surrounding area present another 2.5 million television households in search of a hometown team to support.
Navy celebrated the 1926 national football championship with a 10-0 victory over Michigan before 80,000 fans in Baltimore. The Midshipmen also boast two Heisman Trophy winners in Joe Bellino in 1960 and Roger Staubach in 1963.
Army has three Heisman recipients in its glorious history with Doc Blanchard in 1945, Glenn Davis in 1946 and Pete Dawkins in 1958 (Billy Cannon finished third that year). The Black Knights play at Tiger Stadium on Oct. 21, 2023 as LSU attempts to avenge a 20-0 defeat to Army in 1931 at West Point. Do not be surprised if this game in four years is more than a novelty.
College football could be reinvented as a nationwide sport resembling March Madness in college basketball with moms of five star recruits in New Orleans and Birmingham thinking positively about their sons enrolling at West Point or Annapolis.
If there is a union card for success in America, it is a degree from Army or Navy. It is questionable whether Louisiana Gov. John Bel Edwards would have won election in 2015 without his diploma from West Point. Edwards also has a law degree from LSU, but that distinction was not emphasized by his campaign. The mantra was "patriots or prostitutes" as Edwards was compared with opponent David Vitter.
President Trump received just 22 percent of the votes in his native borough of Queens and only ten percent of the votes in Manhattan in 2016. He performed even worse in Washington D.C., so this is not politically motivated.
To his credit, the president is following his instincts and faces the risk of alienating his base if he makes this change before the next election. Trump carried all eleven states of the SEC with 150 electoral votes (56 percent of the way to victory), and the conference brass is comfortable with the present competitive environment.
New York City has more residents than the population of the eleven cities of the SEC combined. My mentor Gus Weill often referred to his adopted home on the Hudson as the center of the universe. The appeal of returning championships to West Point with the national media center less than an hour away might be sufficiently tantalizing for a restless soul like Nick Saban to look at leaving Tuscaloosa.
If Saban or another celebrated coach lands at West Point, look for the new leader to enjoy more success than Dietzel did when he posted a 21-18-1 record from 1962-65. In football and in war, it is all about weaponry, and President Trump wants to make the Cadets the same force they were in 1946. Army last captured national honors in the year of birth for the chief executive from Gotham City. Dietzel, Lombardi and Blaik are likely smiling from their graves about the prospect of Army returning to the pinnacle of college football. It appears the contest between Army and Navy is poised to become college football's marquee game each fall, supplanting LSU vs. Alabama.