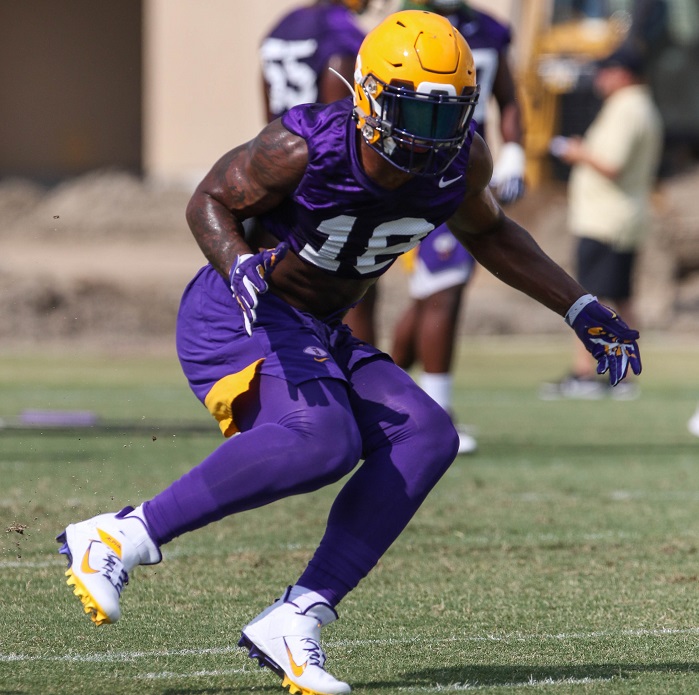 LSU head coach Ed Orgeron said he expected to see some players nursing injuries back in practice today, and those players did indeed deliver.
Linebackers K'Lavon Chaisson and Michael Divinity as well as defensive end Rashard Lawrence all participated in a padless practice Monday, potentially opening the door for their return this Saturday against Utah State.
Orgeron has all three listed as questionable and said all three were still "gimpy" when discussing their recoveries during his weekly press luncheon Monday afternoon.
Chaisson has not played since the Texas game, though he has been seen at practice and warming up before each of LSU's last two games. Still, Orgeron seems hesitant to outright say he's ready for action.
"He's still a little gimpy," Orgeron said. "He's not 100 percent back yet. He tried to practice last week. He did a couple of things. He's going to practice again today. But he's limited. We're going to see where we can get with him this week. We definitely need him for the pass rush. And if he's healthy, we're going to play him. But I don't know if he's going to be ready."
He had similar words about Lawrence and Divinity, each of whom could be seen doing individual drills during the portion available to media for viewing. LSU has struggled with its pass rush with all these athletes on the bench, and any of their returns could lead to significant improvement in that part of the defense.
"Rashard Lawrence is going try some individual today," Orgeron said. "He's still a little gimpy. Michael Divinity is going to practice today. He's still a little gimpy. So we have to see as the week goes to see if these guys are going to be ready."
Whether any of these guys see the field against the Aggies on Saturday is yet to be seen. But it should be interesting to see whether they practice later in the week when the Tigers inevitably get into pads.
On the offensive side of the ball, wide receiver Justin Jefferson returned for the first time since exiting the Vanderbilt game early with a self-reported sprained ankle.
Back up quarterback Myles Brennan returned after missing practice last week, and fullback Tory Carter could be seen practicing in a gold non-contact jersey.