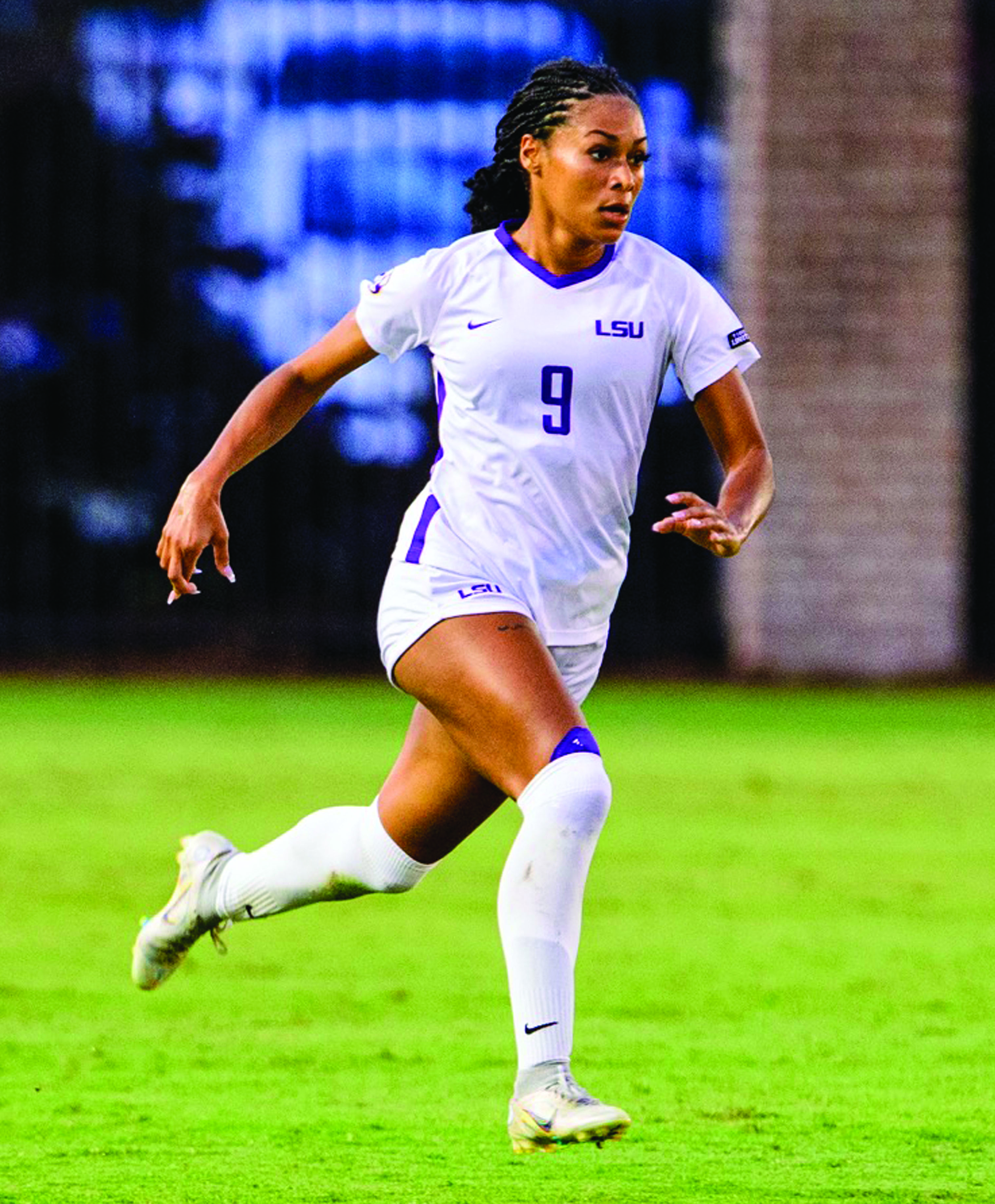 LSU senior defender Maya Gordon dives into each game plan with extreme attention to detail.

How fast are the opposing team's top offensive threats? Are they left or right footed, have a signature move or fantastic shot toward the goal?

Gordon, one of the leaders of the Tigers defense, is respectful but not fearful of what she's getting into each time out.

"I tell myself it doesn't matter who I'm playing against," Gordon said. "I'm going to bring the same energy, the defensive mentality I need to bring on that game.

"Do they have something specifically I need to worry about? I'll make sure to watch where my line is and make sure they don't get in behind me. For the most part I try to bring the same Maya every single game. I just block out whoever it is and know they're still going against me. It doesn't matter who they really are."

Gordon has been a menacing presence from her right back position, a blend of athleticism, instincts and savvy that comes with being a three-year starter for LSU (5-0-2) which visits No. 6 Rutgers (7-0-0) at 11 a.m. Sunday.
She's started in six of her team's seven games where she ranks third in minutes played with 412 and picked up the second assist of her career in a 3-1 win Sept. 4 at Southern Mississippi.

LSU has become one of the top defensive teams in the Southeastern Conference in fewest goals allowed (1.23) in 2021 in part because of the development of senior goalkeeper Mollee Swift and a back line that features Gordon and co-captains Shannon Cooke and Lindsi Jennings at the center back positions.

"She's just an unbelievable athlete, so powerful," LSU soccer coach Sian Hudson said of Gordon who has 3,865 career minutes played in 54 matches. "She's grown so much in terms of her ability on the ball. She's an absolute defensive force for us. There isn't going to be a time where a player's going to get behind her and she's not breathing down their neck. She has great recovery speed and strength in the tackle."

Playing defense has been Gordon's primary objective since she began playing soccer in her hometown of Ft. Lauderdale, Florida. When other players gravitated toward offense and were able to celebrate either scoring goals or making assists, Gordon's roots were firmly planted on defense.

It's remained that way for the past four years with a subtle change this season.

Gordon has shifted away from the middle of the defense at center back to right back and Hudson's taken advantage of the type of athleticism that's enabled Gordon to initiate the team's offensive attack from her new position.

She's comfortable enough with the ball at her feet to get forward and find open teammates in the finishing third of the field.

"You're not going to receive this huge praise," Gordon said of the role of a defender. "I feel my team really appreciates just how hard the defenders work to keep the ball from going into our goal. I've pretty much been a defender my whole life.

"I felt my talents could be better used on the outside flanks area," Gordon added. "It's completely changed my love and enjoyment. I can get forward more and help the team. It's exciting. I'm hoping to add to my number of assists this year. It's fun being on the attacking side of the ball."

Said Hudson: "We're going to look for Maya to be a big impact on both sides of the ball for us."

Gordon's certainly seen the highs and lows of the program.

Gordon signed with LSU out of Cypress Bay High School and was part of the first national championship for her club team, Sunrise Soccer Club in 2018.

She endured a 3-12-3 overall season in her first season with the Tigers that included a 1-7-2 mark in SEC play and prompted a change in direction for the program.

With the hiring of Hudson from Division II Colorado at Colorado Springs, Gordon embraced the new coach's long-term vision.

"Coming in as a freshman, you have this whole coaching staff and by our sophomore year it changed again," Gordon said. "It was definitely challenging to get your feet under you. People are coming and leaving. I could see the vision Sian had and I wanted to be a part of it. Getting to where we are now, you don't get to appreciate it without the past hardships. Every single game is like a huge game because we appreciate every opportunity to get on the field knowing how bad it could be."

LSU didn't win any of its eight matches during the 2020 COVID-shortened fall season until catching fire in the SEC Tournament and reaching the semifinals. That late momentum carried over to a rare spring season and the Tigers won eight times, including three straight to close the spring.

Gordon more than doubled her playing time to 1,439 minutes during the season, starting in 14 of 17 matches and was named to the All-SEC second team.

"I remember my sophomore year with Rammie Noel, we both got second team All-SEC," Gordon said. "I've kind of been thinking about this year and team goals. We have so much talent. I want to bring all I can. It's not about me. I want something for the team like winning the SEC. Whatever I can do to help us get one."

The Tigers extended their win streak to a program best 11 consecutive games, winning the first eight matches of the 2021 season and rising to a school's best No. 5 nationally – a stretch that included three wins over ranked opponents.

Gordon also picked up the first assist of her career in a 8-0 win over Sam Houston on Aug. 8. She started in 19 of 20 matches, was fifth in minutes played (1,342), helped LSU register eight shutouts and helped the Tigers to the NCAA Tournament for the first time since 2018.

"Each season she's gotten better," Hudson said. "She's started to be someone that can distribute at a high level. The back line can get forward and her crossing ability into the final third is fantastic.

"She's become a leader for us," Hudson added. "She's on the leadership council. She's a great presence in the locker room. She's gone from somebody that was withdrawn in a team setting to someone that's stepped into the spotlight and wants to lead."

Gordon may not be finished. With the opportunity of an additional year of eligibility because of the NCAA's exemption for COVID-19, she's taken a wait-and-see approach and instead wants to enjoy this season before rendering a decision.

"I'm not 100% sure," Gordon said. "I love my team and the coaching staff. It's nice to have the opportunity to play another year. It depends on how this year goes."