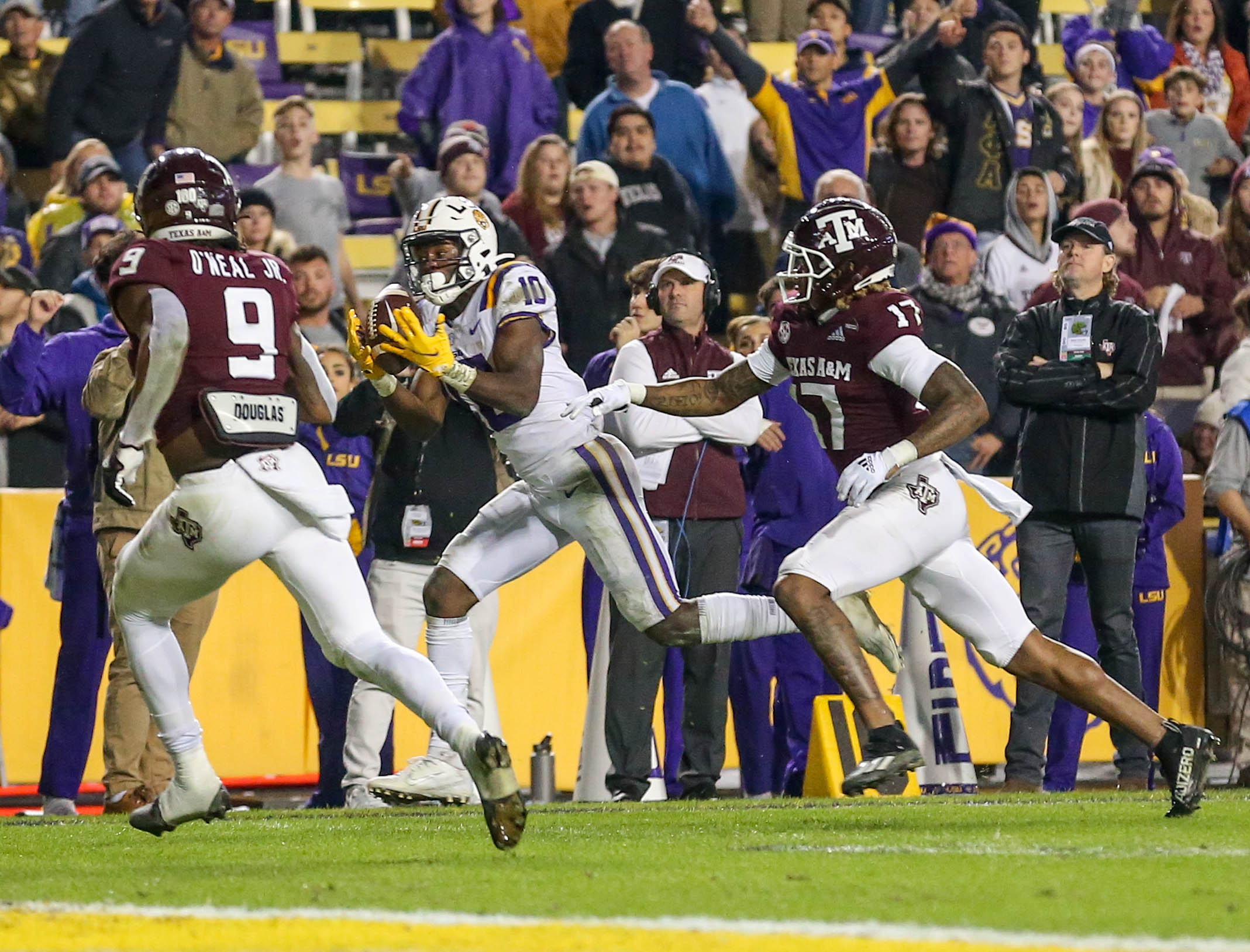 Ed Orgeron's 71st final game as LSU's head football coach turned out to be a victorious curtain call.
Tigers' quarterback Max Johnson's threw a game-winning 28-yard touchdown pass to Jaray Jenkins with 20 seconds left for a 27-24 LSU victory over No. 14 Texas A&M in the regular season finale in Tiger Stadium that gave lame-duck Louisiana native Orgeron a fairytale ending to his time in Baton Rouge.
Orgeron agreed to a separation agreement Oct. 17 with the university worth $16.9 million to coach the remainder of the season and then walk away once the season concluded two seasons after he led 15-0 LSU to the 2019 national championship. He finished his LSU career, which started as an interim coach in the 2006 season, with a 51-20 record.
He said during his postgame news conference he had mutually agreed with the school's administration he would not coach the team in a postseason bowl game now that the Tigers (6-6, 3-5 SEC West) are bowl eligible. If LSU is invited to a bowl, the interim head coach will be first-year offensive line coach Brad Davis, Orgeron said.
"The administration's been great to me, and we decided on this," said Orgeron, who said he's leaving Sunday with his girlfriend for a vacation in Destin, Fla. "I wish our guys the best."
Orgeron's final game with LSU had all the earmarks of several other near misses this season in SEC losses to Auburn, Alabama and Arkansas.
Johnson engineered the winning drive that began at LSU's 15-yard line with one timeout and 1:58 remaining. He completed 5 of 7 passes for 81 yards, including a key 31-yard connection to Jenkins that moved to the ball to A&M's 39 with 42 seconds showing.
Following a pair of incompletions, Johnson narrowly beat A&M's blitz on a third-down throw. He took a hit on his delivery, but feathered a pass into the hands of Jenkins who caught the ball at the Aggies' 5 and went into the end zone for the winning score.
"I thought something good was going to happen," said Orgeron, who picked up his 21st win over a ranked team. "We had done so many two-minute drills over the course of the year. Our guys were prepared. I just felt something good was going to happen. We kept making play after play."
Jenkins said the connection he enjoys with Johnson paid huge dividends.
"We called our leopard play with four deep routes," he said. "Max threw the ball up and I had to make a play. He trusted in me. I believe in it, and I had to come up with the catch."
Texas A&M, a six-point favorite in the game, had one final series that quickly went backward. LSU linebacker Damone Clark, the SEC's leading tackler, registered the last two of his 10 tackles with back-to-back sacks of quarterback Zach Calzada to end the game."
LSU wound up with 412 total yards, led by Johnson's sixth career 300-yard passing game (306) on 22 of 38 attempts with three touchdowns. Jenkins had a pair of TDs amongst his team-high eight catches for 169 yards. Malik Nabers added six grabs for 51 yards and Trey Palmer had five receptions for 64 yards and a TD.
Running back Ty Davis-Price became the 21st player in school history to reach the 1,000-yard plateau in his career. He carried 19 times for 84 yards.
A&M took its first lead of the game with 7:33 to play when Calzada escaped the rush of B.J. Ojulari, reversed his field and spotted Jalen Preston near his own sideline at LSU's 20. He worked himself back toward the middle of the field where he completed the 32-yard scoring play for a 24-20 edge.
LSU led from the outset with placekicker Cade York kicking field goals of 50 and 47 yards, respectively, and Johnson throwing TD passes of 45 yards to Jenkins and 61 to Trey Palmer for a 17-7 halftime lead.
The two teams traded field goals in third quarter with York's 36-yarder providing a 20-10 advantage with 2:29 left in the third quarter. Texas A&M pulled to within 20-17 on the first play of the fourth quarter on Calzada's 15-yard TD pass to Preston.
Calzada passed for 242 yards and 3 TDs, helping to compensate for a running game that was limited to 54 yards on 28 carries.
LSU held the Aggies' duo of Isaiah Spiller and Devon Achane, which had combined this season for more than 1,800 yards, to 76 yards on 23 attempts.
"We proved our defense is elite, and we continue to prove that week after week," LSU defensive end B.J. Ojulari said. "Stopping runs, holding teams under yards, we took pride in that tonight, and we definitely accomplished our goals."
LSU's halftime lead included a 61-yard TD pass from Johnson to Palmer, a tunnel screen that was reminiscent of last week's 67-yard TD pass from Johnson to Nabers against UL-Monroe.
The Tigers got the ball back following an inspired defensive series where an 8-yard sack of Calzada by Jaquelin Roy enabled Orgeron to use a pair of timeouts to conserve time and give the offense the ball back with 1:06 left.
After Johnson scrambled for a yard, he connected with Palmer who made a defender miss, darted toward A&M's 35-yard line and sped down the sideline and outraced another defender to the end zone.
Johnson's first touchdown of the game, two plays into the second quarter, found Jenkins behind single coverage that made it 10-0, a pair that had bigger things in store.
"It's for the 19 seniors," Orgeron said. "I've had my share (of wins). I'm happy. This is my last game."