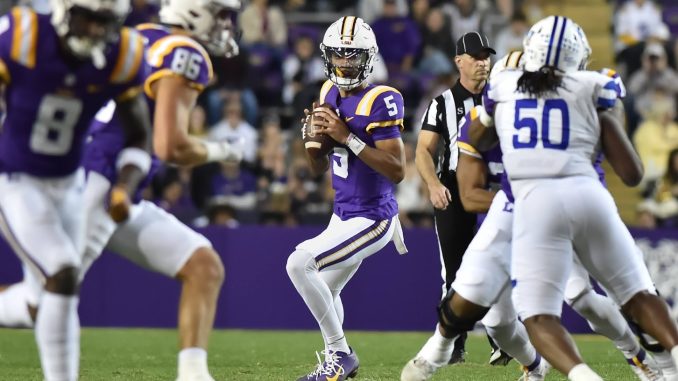 Just give That Kid the trophy.
Some things are just so obvious they don't even bear repeating. But, then again, some things are just so obviously glorious, they should be repeated, time and again.
Jayden Daniels is so obviously the best player in college football today it should be a no-brainer. He should be the run-away winner for the Heisman Trophy, much like he is uncatchable by anyone most every time he tucks the ball and runs away from the rest of the field during every game.
It is happening every game now, you know. Daniels – running away from the field.
But, unfortunately, regardless of how great he is playing, no matter how much higher he continues to elevate his game and his grasp of the game, this national narrative that speaks to the Heisman Trophy as being an award that goes to the "best player on the best team," seems to not yet want to fade into the black – at least not yet.
Take Saturday, for instance.
If you watch and listen to ABC and ESPN especially – and everybody does, the Heisman Trophy front-runner is Bo Nix of Oregon. Not Daniels. Which is weird since the Heisman Trophy is supposed to go to the most outstanding player in college football and "outstanding" is usually measured statistically. Except when it's not.
Nix, who, by the way, if he was on the same team as Daniels would be a backup quarterback, threw six touchdowns and had 404 yards passing against Arizona State. All in the first half.
Oregon is still in the hunt for the PAC-12 title and, consequently, still in the hunt for a College Football Playoff berth.
Thus, the redefining of the trophy's awarding criteria takes place when ABCers and ESPNers drone on and on.
When Nix went off in the first half against Daniels' former team, you just knew ABC, ESPN, et al, would have a field day promoting the former Auburn quarterback Nix.
LSU would not kick off until hours later. With three losses and no hope of a CFP berth, ABC and ESPN have very little interest in Daniels winning the award, statistics and facts be damned.
LSU decided to showcase Daniels on Saturday night in a game it was favored to win by more than 30 points. I give Brian Kelly credit for doing this. That Kid deserves it. Kelly could have easily sat Daniels in favor of Garrett Nussmeier once LSU opened a three-touchdown lead and the game was in the bag. At least that could have been the plan. But it wasn't.
For his part, That Kid – JD5, aka as Daniels, the best player in college football, wanted nine touchdowns on Saturday night in Tiger Stadium against Georgia State. He also wanted to play the whole game.
Daniels, who leads the nation's No. 1 offensive team also leads the nation in virtually every meaningful individual offensive statistical category meaningful to mankind, was forced to settle for eight touchdowns instead.
He was given eight opportunities against Georgia State.
In those eight opportunities Daniels led LSU on eight touchdown drives. Daniels himself threw six touchdown passes and he rushed for two more. In the process, Daniels joined Joe Burrow as the only LSU player in history to score eight touchdowns in one game. Daniels, Burrow and three other players are tied for the FBS record of most touchdowns accounted for by one player in one game with eight.
Number 5 (Jayden Daniels) was 8 for 8 on Saturday night, racking up those eight touchdowns himself while accounting for 509 yards while leading LSU to its eighth victory of the season.
He also completed 83 percent of his passes, throwing one more touchdown pass (6) than he threw incompletions (5), while completing passes to seven different receivers. Malik Nabers, Brian Thomas and Kyren Lacy all had more than 100 yards receiving in the game, all from Daniels. Against Texas in 2019, Burrow also had three receivers with 100 or more yards receiving – JaMarr Chase, Justin Jefferson and Terrace Marshall.
In all, Daniels passed for 413 yards and gained 96 yards rushing on 10 carries.
Daniels ran a total of 48 plays against Georgia State on Saturday night. He handed the ball off eight times. That means on 40 of the plays he ran from the line of scrimmage Daniels was in control of the play totally. The only time a quarterback is not in control of the play – passing or running the ball himself is when he hands it off.
For the record, Daniels has led LSU on 13 consecutive touchdown scoring drives, five straight last week against SEC rival Florida and all eight drives against Georgia State on Saturday night.
13 consecutive drives, 13 consecutive touchdowns.
How could that stat alone be nixed by any voter obliged to cast a vote for the most outstanding one?
LSU Possessions and Result against Georgia State:
Start field position, time on clock at beginning, result, play/yards, total time of possession:
| | | | | | | | | | |
| --- | --- | --- | --- | --- | --- | --- | --- | --- | --- |
| LSU25 | | 11:53 | | | | | TD | 7 / 75 | 02:33 |
| LSU47 | | 04:04 | | | | | TD | 9 / 53 | 03:57 |
| LSU20 | | 12:45 | | | | | TD | 7 / 80 | 02:45 |
| LSU30 | | 02:36 | | | | | TD | 1 / 70 | 00:10 |
| LSU40 | | 01:03 | | | | | TD | 3 / 60 | 00:40 |
| LSU30 | | 14:52 | | | | | TD | 8 / 70 | 03:52 |
| LSU37 | | 04:20 | | | | | TD | 8 / 63 | 04:36 |
| LSU18 | | 11:03 | | | | | TD | 5 / 82 | 02:04 |
LSU drive chart vs Georgia State
"What else was amazing was 25 for 30 for over 400 yards," Kelly said. "I mean 25 for 30 for 400 yards . . . the efficiency of that (is astounding). Generally, when you see 25 for 30 you see like short passes, screens, flares, things of that nature."
Not in Daniels case? Not Saturday night against Georgia State, not in any game this season, including those three loses where he was equally astounding.
"You know, just a dominating performance from the offense," Kelly said.
Kelly added more insight into Daniels and how he's performing all this season.
"I think you guys are starting to see how assertive and decisive, I think that's the word that I would use more than anything else, is decisiveness. In football when you're 25 for 30 throwing the football, the decisiveness and the decision-making has to be that way and that's what you're seeing," Kelly said.
Kelly has said a number of times this season that Daniels is the best player in college football. He was asked Saturday night after the game against Georgia State if Daniels is the best player he's ever coached.
"I think right now the way he's playing and the decisiveness and the way he's taking over games, he's the best player. And I would say that because the numbers are reaching, you know levels, that are . . ." Kelly said, before wandering off into a dizzying array where he mentioned the eight touchdowns, that record that Burrow set, that no one ever thought would be touched, he said, before talking more about that same record Daniels tied and would have broken if Kelly would have put him back in the game for LSU's last possession with less than three minutes to play.
Kelly went on a little more talking about the obvious before settling it: "I would say he is the best."
Like I said, just give That Kid the trophy.