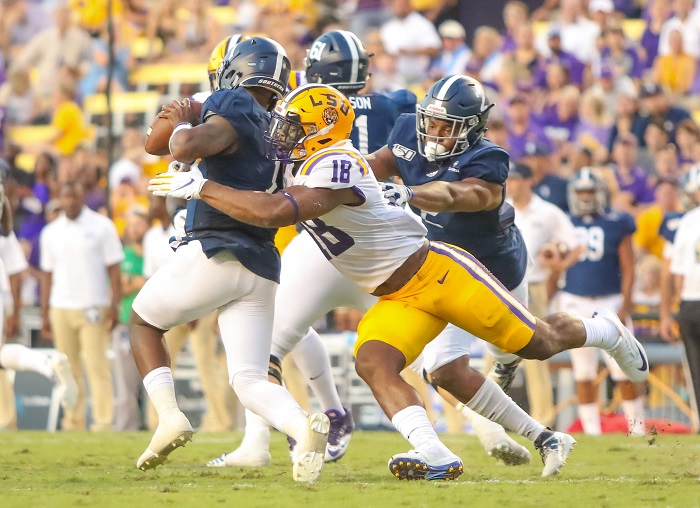 Of the defensive starters who began the week looking "a little gimpy," one is trending toward a return to action this weekend.
Outside linebacker K'Lavon Chaisson is looking better in practice, according to coach Ed Orgeron, and could play against Utah State this Saturday.
"K'Lavon is looking a lot better," Orgeron said on the SEC Coaches Teleconference Wednesday morning. "I think, if he continues to practice like he is, you're going to see a little more of him this week for sure."

Chaisson has been out since the Texas game with an ankle injury. He's practiced on a limited basis for the past few weeks, but until recently the star edge rusher has been held out of any contact.
The updates don't sound as promising on the other three injured starters in LSU's front seven.
Defensive end Rashard Lawrence is questionable to play this week, but he has returned to practice. Glen Logan was ruled out earlier this week. Both went down with lower leg injuries in the Texas game.
Orgeron also ruled out outside linebacker Michael Divinity, who got hurt during the Vanderbilt Monday. He was spotted during the media viewing portion of practice on Monday.
"I don't know if you're going to see Rashard," Orgeron said. "I don't know if you're going to see Glen. You won't see Mike Divinity for sure. Those guys will not play."