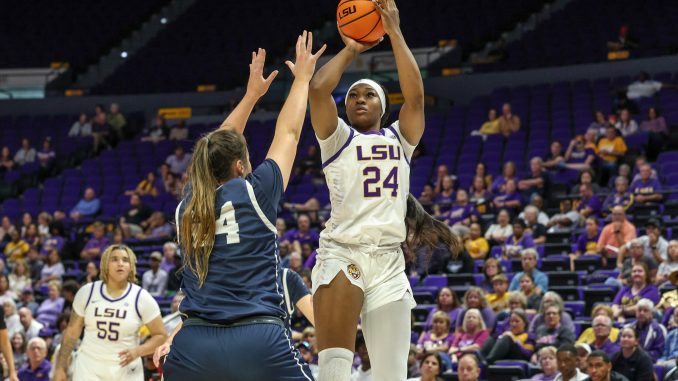 Hailey Van Lith couldn't turn down coach Kim Mulkey a second time.
Four years after spurning Mulkey, who was at Baylor, out of Cashmere High in Wenatchee, Wash. to attend Louisville, Van Lith found just the landing spot she was looking for at LSU.
Three years after scoring 1,553 points and earning honorable mention All-America honors for the Cardinals, Van Lith entered the NCAA transfer portal. She contacted Mulkey about the possibility of transferring to LSU which had just won the national championship, an option that became a reality following an official visit.
"The system out of high school was a little bit different," Van Lith explained of what Mulkey was running at Baylor. "It was set up where I would have been playing with two super dominant bigs (Alyssa Smith and Queen Egbo). In past years it was a pretty one-dimensional offense getting it into the post and that was great. It was working for them.
"I just don't fit well into that, and my style of play is different," Van Lith added. "It was so hard for me to tell coach Mulkey no. She knew it wasn't anything with her. Our connection stayed fresh. We didn't talk while I was at Louisville, but the minute I called her when I was in the portal, we talked every day. Everything happens for a reason."
After striking it rich in the transfer portal the year before, signing the No. 1 player in forward Angel Reese of Maryland, Mulkey one-upped herself with the nation's top two players, securing not only Van Lith, but also 6-foot guard/forward Aneesah Morrow of DePaul, a second team All-American in 2021-22.
Those additions have been catalysts in LSU's prospects for the 2023-24 season, some of which have the Tigers ranked No. 1 in the country.
"I want to play against the best teams and the best players because it does nothing but challenge me and makes me better," Morrow said. "I'm definitely glad to be in the SEC."
The 5-foot-7 Van Lith, a graduate student, became one of the nation's top off guards during her career at Louisville. She was a two-time All-Atlantic Coast Conference selection and helped lead the Cardinals to three NCAA Tournaments which included a spot in the Final Four two years ago and Sweet 16 last season.
Transitioning to LSU will also foster a change in Van Lith's game where she's expected to become the team's point guard and fill the role of senior Alexis Morris.
"I'm very confident in what I bring to a team and what I can do on a court," Van Lith said. "The amount of shots I'm going to get, the amount of minutes I'm going to play, (is) not super important to me. I know when I'm on the court I can control what I can control. Ultimately, I just want to make great plays and I think a lot of people didn't realize that at Louisville. A lot of times the right play was for me to shoot. Here, a lot of times the right play is for me to kick it when I draw two people. I'm just looking to make the right plays. I'm willing to do anything."
Van Lith was a high-volume scorer at Louisville, evidenced by a career scoring average of 15.4 points in 101 games. She was one of two players (the other being Iowa's Caitlin Clark) last season to average at least 19 points (19.7), 4 rebounds (4.5) and 3 assists (3.2).
LSU's also got one of the nation's top players in Morrow, who along with Angel Reese, averaged a double-double (25.7 points, 12.2 rebounds. Her scoring average ranked fourth nationally, her rebound norm was seventh best.
"I brought my rebound presence, my inside presence," Morrow said. "Nobody's seen my guard play or me knock down 3s. I've been in the gym working. Nobody's seen that stretch four or three (position) that I can play."
Morrow, a native of Chicago, stayed home and enrolled at DePaul where she was a walking double-double with 53 in her two-year career that covered 66 games.
The two-time All-Big East Conference performer was named the league's Freshman of the Year and second team All-America by the USBWA and WBCA.
Morrow averaged a double-double for her career, scoring 1,570 points (23.8 average) with 860 rebounds (13.0 average). She shot 46.3% from the field with 176 steals (2.7 per game) and 102 blocked shots (1.5 per game).
"It's a desire," she said of her ability to rebound against bigger players. "Coming out of high school I shot a lot of threes. I was a point guard at (city and state champion) Simeon. When you got into college it was just different. If I'm not knocking down shots, if I'm not able to do this, how can I help my team? I never wanted to hurt my team and you can't hurt your team by getting the ball and putting in a rebound. Getting to the foul line was also something I prided myself on and worked toward in practice."
DePaul went 22-11 in Morrow's freshman season, advancing to the first round of the NCAA Tournament and losing to Dayton. A 16-17 record last season wasn't good enough for the Blue Demons to reach postseason play, prompting Morrow to look for a change and find something bigger.
"Later on in my sophomore year I decided to go into the portal," Morrow said. "I just knew that my game had developed. I have to display my game at some of the highest levels. When I went into the portal, I was really undecided. I wanted to have the right recruiting process. I didn't get that during COVID.
"I was trying to create relationships with coaches, and see what coaches reached my goal and what coaches could help me," Morrow added. "When I told coach Mulkey my goals, and what I wanted to accomplish, she just told me it blended with the goals that she has for the team. I knew from my visit when I wanted to be and the people I wanted to be around."