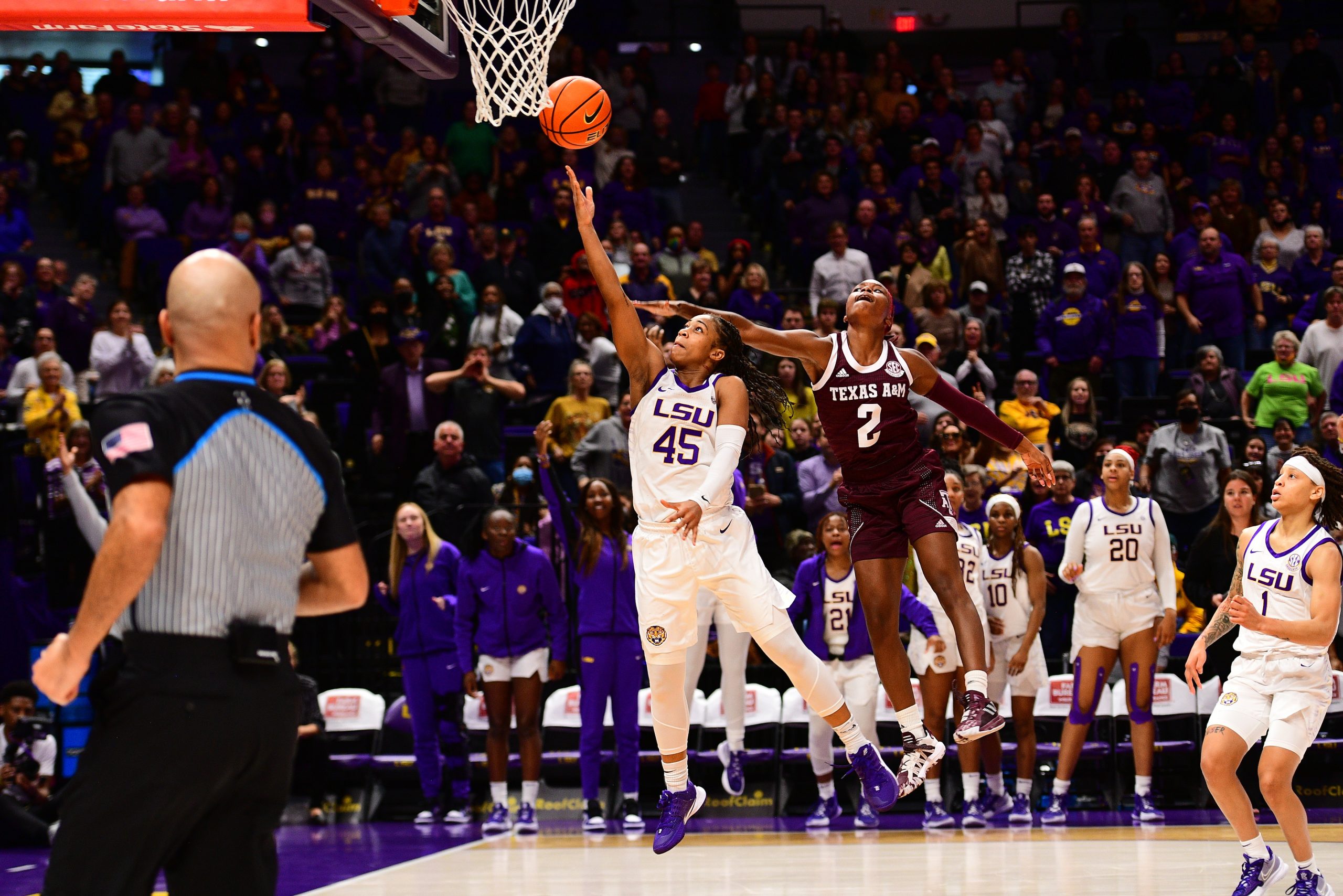 There was nothing more satisfying for LSU's Alexis Morris than responding to her own coach's challenge at the expense of her former coach on the opposite bench.
Morris exploded for a career-high 30 points, including half of her team's points in the second half, which lifted No. 19 LSU to a 75-66 victory Sunday over No. 23 Texas A&M in Southeastern Conference play before a season-high 7,400 fans at the Pete Maravich Assembly Center.
The Tigers (14-1, 2-0 in SEC) extended their win streak to 13 games over the Aggies (10-3, 0-1) in a game that was very physical at times.
"I think this is every transfer's dream, this was a personal game," Morris said. "Coach (Kim) Mulkey had been challenging me all week to step up and be the player she knows I can be. It meant a lot to me."
Morris began her career at Baylor where she played for Mulkey until being dismissed from the program following her freshman season for an on-campus arrest. She transferred to Rutgers and to Texas A&M where last season she played in 20 games, averaging six points in 9.5 points per game.
"Sometimes people need change or playing time in their lives," Texas A&M coach Gary Blair. "Obviously, she would have been playing a lot for us. This wonderful world of (NCAA transfer) portal, it's not a lot of fun coaching this way anymore."
When Mulkey was hired at LSU, Morris asked for a second chance to play for her and conclude her nomadic career in Baton Rouge.
Guard Khayla Pointer scored 17 points, including four 3-pointers, and handed out eight assists, while Jailin Cherry added 10 points – all in the fourth quarter – with six assists and Autumn Newby had a team-high 10 rebounds.
LSU outrebounded A&M 49-39 and improved to 4-0 in games decided by 10 points or less.
"This is going to be the way it is, it's the SEC," Mulkey said. "There are a lot of good players, coaches, and teams. I thought rebounding was key when we were not able to make shots and when we were struggling. The crowd got into it, they helped us get over the hump."
Morris, who hit 9 of 16 field goals and was 4 of 9 from 3-point range, truly came to life when LSU needed her most. The Tigers trailed by eight points (47-39) with 2:33 left in the third quarter when Morris lifted her team with five points to close the quarter.
Cherry, who missed all of five of her field goal attempts going into the fourth quarter, triggered an 8-0 run. It was consecutive layups from Morris and Cherry enabled LSU to regain a 54-51 margin – a lead the Tigers didn't relinquish over the final 8:21 of play.
Texas A&M closed to within a point at 57-56 when Pointer scored seven consecutive points and Cherry added a 17-footer to extend the lead to 65-56 with 3:26 left.

"I knew I had to do something to help my team," Cherry said. "The points were not coming in the first quarter, and I was down on myself, but I shook everything off and got back to what the team needed me to do."
LSU's run reached 11-2 on a free throw from Morris to make it 68-58, a margin LSU that reached as many as 11 points (75-64) on the Tigers' 7 of 10 free throw shooting over the last 66 seconds and they outscored the Aggies, 29-17, in the quarter.
"This is what a rivalry is supposed to be about," said Blair, who was minus three forwards because of COVID-19 protocols. "We were the better team for about three-quarters of the game. LSU was definitely the better team in the fourth quarter."
Texas A&M, the nation's top percentage shooting 3-point team, lived up to its billing with 10 of 31 shooting from behind the arc and were led in scoring from guards Destiny Pitts (18), Qadashah Hoppie (16) and Kayla Wells (13).
LSU, which trailed 33-29 at halftime, dug itself out of an eight-point deficit late in the third quarter when Morris sandwiched a 3-pointer by following up her own missed shot and left the Tigers trailing 49-46 after three quarters.
Cherry snapped her scoreless drought with a basket in the lane that started LSU's early surge that gave the Tigers the lead back with just under nine minutes to play where Morris and Cherry combined to score 21 of their team's 23 final points.
"I'm happy for Alexis Morris," Mulkey said. "When you leave a program there are one of two things when you play. You can be really awful or really good. She didn't try to do too much. She took what they gave her."