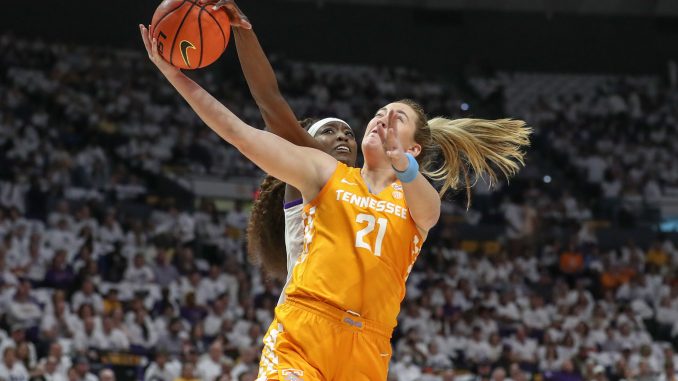 LSU became the fifth different school in the last six years to win a national championship since UConn's unprecedented run of four consecutive national titles.
Given the landscape of women's basketball where 9.9 million viewers watched LSU's record-setting 102-85 victory over Iowa in last season's national championship game, to a better disbursement of talent throughout the country, this year's run to the NCAA title in Cleveland, Ohio may be as well versed as ever.
"There's a lot of teams that are going to be very good and that's what is exciting," said women's basketball writer Doug Feinberg of The Associated Press in New York. "In the past there may have been two, three or four teams that were good enough to win a championship that year. LSU's definitely the favorite with what they have back and who they added, but there are probably eight or nine teams that have a chance to win it and that's what makes it exciting."
ESPN.com's Charlie Crème said if last season was a precursor to what's in store in 2023-24, then expect the unexpected.
South Carolina was the wire-to-wire No. 1 team throughout the regular season before the undefeated Gamecocks were tripped up in the national semifinals by Iowa.
"We've gotten sort of used to that one team that stands above all else," Crème said. "We had South Carolina teams for a couple of seasons; we had all of those UConn teams. As talented as LSU is one paper I don't know if they have that depth. UConn is pretty close talent wise. Iowa has the biggest star (Caitlyn Clark) in the game and the Pac 12 has a few really good teams with tons of experience playing together."
Third-year coach Kim Mulkey enters the season having won the fourth national title of her Hall of Fame career and the first in school history for the Tigers.
LSU begins the season where they ended the last, the No. 1 team in both the AP and ESPN preseason Top 25 polls.
A total of six schools have been repeat national champions with UConn being the last, putting together an incredible string of four straight titles under coach Geno Auriemma from 2013-16. South Carolina has won two in the last six years with Notre Dame, Baylor, Stanford and LSU winning the others.
"They added two potentially top 10 players in the country to a good returning team with a really good coach," Feinberg said of Hailey Van Lith of Louisville and Aneesah Morrow of DePaul. "It's a team that really knows how to win. They've won a championship, so that obviously helps. The question is how do you fit players (together) with only one basketball? I have complete faith that coach Mulkey will figure ways out to keep everyone happy and do really well."
First team All-America forward Angel Reese and SEC Freshman of the Year Flau'jae Johnson both return to highlight LSU's returning starters along with guard Kateri Poole.
Mulkey signed the top two players – Van Lith and Morrow – from the NCAA transfer portal and brought in the nation's top freshmen class in McDonald's All-Americans Mikaylah Williams of Bossier City and Aalyah Del Rosario of Bronx, New York.
"She did something at once that's pretty hard to do," Crème said Mulkey. "She won the transfer portal and the traditional recruiting wars. The talent there is immense. It goes to the modern coach and those who become more modern faster are the ones that we've seen succeed quite a bit. Embracing the portal, leaning into NIL and Kim's done both."
UConn will be at full strength with the return of 2020-21 national player of the year, guard Paige Bueckers, back from a knee injury that sidelined her all of last season. Guard Azzi Fudd has also missed 36 games the last two seasons and combines with Aaliyah Edwards to give the Huskies a strong trio.
Clark, last year's AP National Player of the Year, will be back to lead Iowa's fortunes with South Carolina being the SEC's next highest ranked team after LSU at No. 4 by the AP and No. 8 by ESPN. The Gamecocks lost their entire starting five to the WNBA, including No 1 pick Aliyah Boston, but coach Dawn Staley will rely on 6-foot-7 center Kamilla Cardoso and Oregon transfer Te-Hina Paopao and fellow guard Raven Johnson.
Virginia Tech, which visits LSU on Nov. 30 in a rematch of their national semifinal won by the Tigers, has one of the nation's top combinations in center Elizabeth Kitley and guard Georgia Amoore. Another familiar opponent is Utah, a team LSU defeated 66-63 in last year's Sweet 16, is ranked No. 5 by ESPN and No. 7 by The AP and led by Pac 12 Player of the Year Alissa Pilli.
Utah is one of six teams from the Pac 12 among the nation's top 25 teams along with UCLA (No. 3 in ESPN, No. 8 in AP), Stanford (No. 13 in AP, No. 16 in ESPN), Colorado (No. 18 in AP, No. 23 in ESPN), USC (No. 21 by AP) and Washington State (No. 25 in ESPN).
LSU, South Carolina and Tennessee (No. 9 in ESPN, No. 12 in AP) lead a strong SEC contingent that also includes Ole Miss (No. 11 in ESPN, No. 16 in AP) and Mississippi State (No. 21 in ESPN). Texas A&M, Georgia and Arkansas also received votes from The AP.
"We thought South Carolina was going to win every game and was going to win the national championship and then they didn't," Crème said. "I think we'll have a few left turns and maybe enough left turns getting us back to LSU being the best team. I don't know if we'll all agree LSU's the best team all season long."