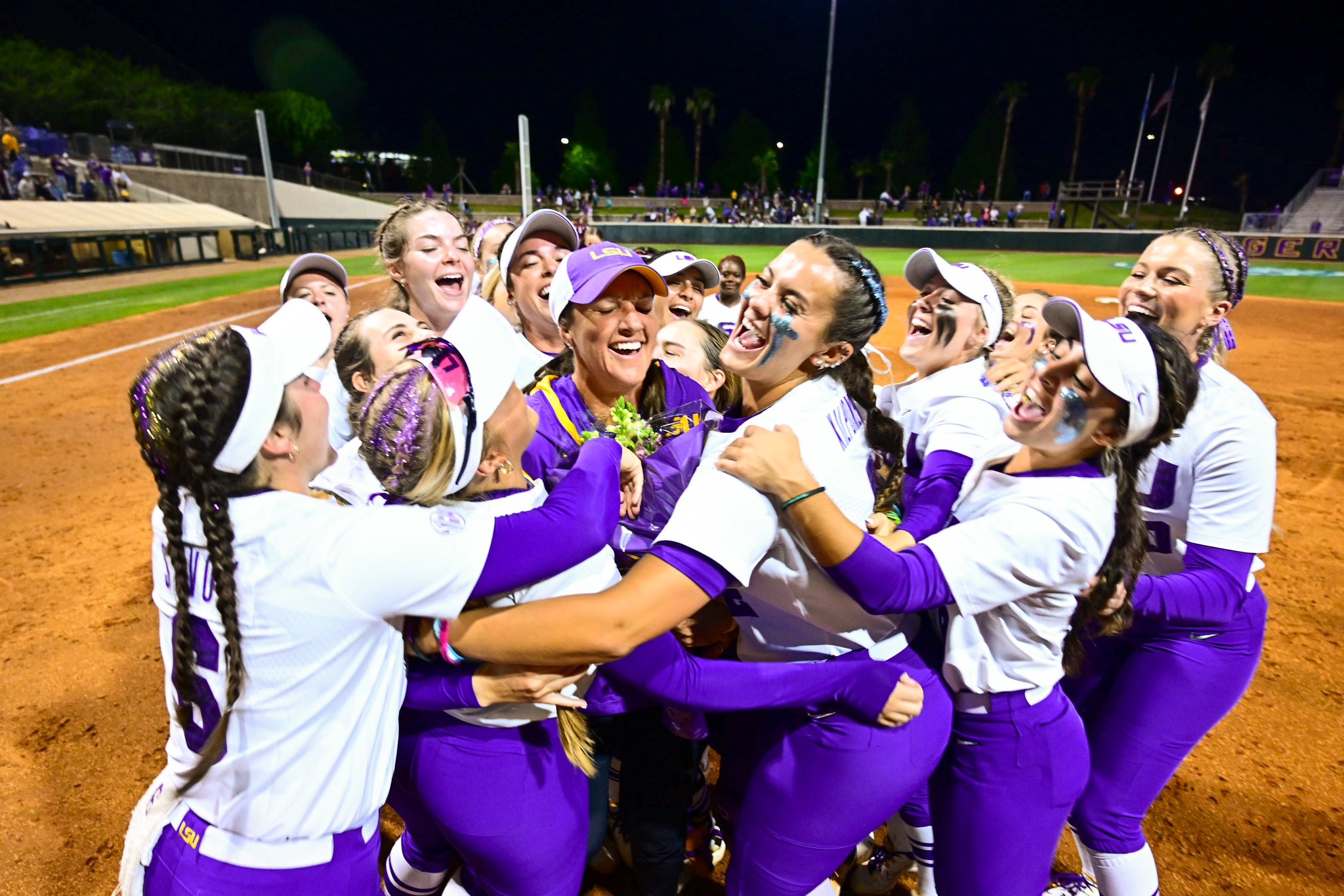 The knock on the door you hear is this year's LSU softball team arriving at the doorstep of another NCAA Regional.
Not counting the season's shutdown because of the COVID-19 pandemic in 2020, the Tigers have been in the exact position 11 times under head Beth Torina, with the expectation of moving deeper in the NCAA tournament and to the Women's College World Series.
"I think we're knocking on the door all the time," said Torina, who has guided LSU to four trips to the WCWS. "We're at the top of the group of 300-something softball programs. We're finishing in the Top 15, Top 10 consistently. That's where you want to be. Once you get to the Super Regional, I feel like it takes just a little bit of luck, a little bit of the ball bouncing the right way and we've just come up short a couple of times. It's our goal every single year to be in the College World Series and hopefully this is the team that goes."
LSU (40-15), the nation's No. 10 seed, begins that journey from the comforts of home at Tiger Park at approximately 5 p.m. Friday against Prairie View A&M (33-15). The Tigers' regional also features UL-Lafayette (46-13) and Omaha (33-15) meeting in Friday's opener at 2:00 with the two winners meeting Saturday at 1 noon.
That LSU hasn't been to the WCWS since 2017, the third of four trips under Torina, isn't lost on the Orlando native. She understands that after taking the program to Oklahoma City in her first season in 2012, where they finished fifth, that lofty standard remains the objective that's only superseded by the thirst to win the program's first national championship.
It's a vision Torina shares and remains relentless in her pursuit. It's part of allure that's kept her at LSU, not only raising her own family of three daughters with her husband Nick, but steadily cultivating the Tigers' program into one of the nation's upper echelon.
When other schools within the Southeastern Conference have experienced turnover, Torina remains a pillar amongst her peers and it's been her success – both on and off the field – that's enabled her to withstand the test of time.
"She just makes it fun," LSU junior shortstop Taylor Pleasants said of Torina. "She coaches you while still having fun. She'll laugh with you; she'll laugh at you, and she'll be direct with you. She's what you want in a coach."
Only four other coaches in the SEC have coached at their current school longer than Torina, who is 624-329 overall in 16 years and 495-218 at LSU.
Alabama's Pat Murphy, who created the opening for Torina at LSU after accepting then declining the job, is the conference's longest tenured coach at 25 years followed by Tennessee's Karen Weekly (21 years), Florida's Tim Walton (17) and Kentucky's Rachael Lawson (17).
"Once you get to a place like LSU it's tough to find better," Torina said. "This is really the top of the top when you're talking about the sport of softball. This is it. We have the best facilities; we have incredible support. I can't think of something that would be better. Staying is always a challenge and I'm always going to make sure we deserve to wear the letters (LSU). We don't want to do this halfway, second best. We're striving to be the best all the time and that's the challenge."
Torina's ability to maintain a strong culture has been a selling point for her players that have been able play for the same full-time assistant coaches in Howard Dobson and Lindsay Leftwich, who have been with Torina the entire time.
"It was a big deal with my decision," Pleasants said. "Being able to come here and it felt like home was huge."
Torina's longevity allowed her to experience a couple of milestones during the year – the eighth 40-win season of her career.
She picked up her 600th career win in a 9-1 road win on March 11 at South Carolina and more than a month later in the Tigers' 7-1 home victory over Mississippi State on April 21, she coached in her 699th game at LSU – surpassing former LSU coach Yvette Girouard for No. 1 in the program's history.
"You have look at all of the joy and opportunity it brings," Torina said "What an opportunity for my family to be a part of his LSU family and all of things we're affording our little girls because we get to do this job. It has been a really incredible run. There have been some obviously challenging moments, but of course the positives truly outweigh that."